Where Are They Now: EPT Season 1 Barcelona Champ Alexander Stevic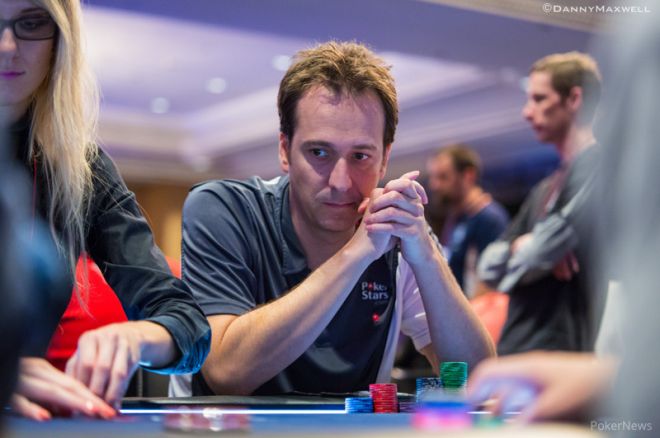 Way back in 2004, the European Poker Tour was in its infancy, evidenced by the €1,000 Main Event in Barcelona, which attracted 229 entries and created a prize pool of €229,000. The man who emerged victorious that season was Sweden's Alexander Stevic, who took home €80,000 for the win. Within the poker world, Stevic slipped into oblivion in the years that followed, but he recently resurfaced at the EPT10 Barcelona, which is where PokerNews caught up with him for a special edition of Where Are They Now.
Before we get to that, here's a look back at the EPT1 Barcelona Final Table:
EPT Barcelona Season 1 Final Table
| Buy-in | Entrants | Prize Pool |
| --- | --- | --- |
| €1,000 | 229 | €229,000 |
| Place | Player | Country | Prize |
| --- | --- | --- | --- |
| 1st | Alexander Stevic | Sweden | €80,000 |
| 2nd | David O'Callaghan | Ireland | €41,000 |
| 3rd | Luca Pagano | Italy | €20,000 |
| 4th | Adam Robak | Poland | €12,600 |
| 5th | Garry Bush | Great Britain | €8,500 |
| 6th | Stefan Rapp | Austria | €7,500 |
| 7th | John Kabbaj | Great Britain | €6,400 |
| 8th | Andreas Pournaras | Greece | €5,300 |
Stevic also made the final table of the Season 1 €10,000 EPT Grand Final in Monte Carlo, where he navigated a field of 211 players to finish third for €178,000. Stevic looked as if he could become on a star born out of the EPT's early days, but then things slowed considerably over the next eight years.
He earned a modest $12,660 in tournament winnings in 2006 and then disappeared from the poker landscape the two years after that. His next cash came in 2009 when he took third in the Campeonato Espana De Poker €600 No Limit Hold'em for €18,750, before he was shut out again in 2010. In 2011 and 2012, Stevic put in a little more volume and managed to cash for $32,693 and $30,074 respectively, though he still focused the majority of his time playing cash games
PokerNews: This is a broad question, but what have you been up to since winning the EPT Barcelona way back in Season 1?
Playing. After that tournament I played tournaments all the time for two years with less success. So I stopped after a while and just played cash games. I played one tournament per year maybe, but normally not very big ones.
Before this year, when was the last time you played the EPT Barcelona Main Event?
Season 2.
What brought you here for the EPT10?
For this one PokerStars called me and said they wanted to invite me because I won the first one and now it's the tenth anniversary. It was really nice, really cool of them because they don't owe me anything. They invited me to do all of this and it's nice, I feel really good. I hope I can do something extraordinary.
You had a good Day 1a and finished with over 100K in chips. How are you feeling thus far?
I feel really good, but I also know I need to be luckier than the players that usually win it because poker has evolved so much that they are better than me in tournaments—and probably cash games, too! I'm trying. I know with a little luck I can go far. Take one day at a time.
Aside from the game evolving, what has changed at the EPT Barcelona from Season 1 until now?
It's so much bigger. So, so much bigger, and that's a good thing. Also, the players are better. That's just the way it is with everything. You have to adapt. If you're not good enough then you have to stop. Even though it's tougher, it's more legal now and it's actually more fun in many ways. It's fun to enter a TV set. I like it.
You had an epic heads-up battle against Ireland's Dave O'Callaghan, one that has gone down in EPT history. Can you reflect on that a little bit?
We played for many hours. The thing is I had him all in with the best hand a few times and I lost. I was actually very unlucky in that heads-up battle. I don't say that I'm much better than him, but I was unlucky. I had a lot of chips though. He caught up several times coming from behind, but in the end I won. I almost lost it.
Did you ever think the EPT would become as big as it has?
Yeah, I did. Maybe not as big as it is now, but I knew it would evolve a lot and be big. Look at the economy here the last seven or eight year. It's crap but the EPT is still really big. A lot of people say maybe they've reached the limit now, but I don't think so. When the economy grows again I think it'll be even bigger. I might be wrong.
Do you have a great deal of pride when you think back on your win?
I mean I would prefer to win a lot of money, maybe be runner up in the fourth or fifth year, but still being the first one is something special. They have over 90 winners, people don't remember most of them, but the first one—most people don't remember even [laughs]. It's still the first though, my name is there, I was first. It makes me feel extraordinary, super, mega special. That's the feeling I have now.
What are your plans after this year's EPT Barcelona?
I will play more tournaments because I really enjoy this so much. It's only been a couple days but I feel like I have to go back to doing [tournaments]. My passion for poker is coming back. Lately I've just been playing for the money, but now I want the glory again. I want to be the big star. Right now I'm just a nobody, anonymous, and it's a good thing playing cash games, but I can't explain very well, but I want to start playing tournaments again.
Qualify for EPTs, WSOPs, UKIPTs and many more live tournaments by signing up for PokerStars today!
Follow Stevic's progress in our live blog for the the EPT10 Main Event. Just click here.
Get all the latest PokerNews updates on your social media outlets. Follow us on Twitter and find us on both Facebook and Google+!
Executive Editor US, PokerNews Podcast co-host & 2013 WSOP Bracelet Winner.