Where Are They Now: 2005 WSOP Main Event Final Tablist, Steve Dannenmann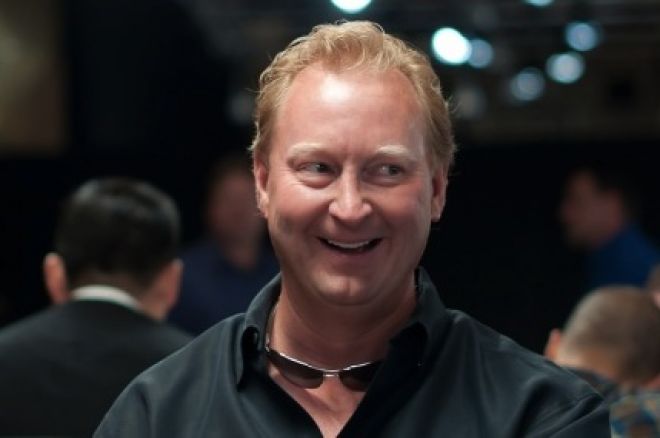 Perhaps the most iconic or at least most watched World Series of Poker Final Table of all time was in 2005 when a former Australian chiropractor topped a field of 5,619 to claim the world championship and win $7.5 million. Joe Hachem became an overnight star, which continues to shine in the poker world; however, but for the turn of a few cards, another man could be donning the championship gold bracelet. I'm talking of course about Steve Dannenmann.
If you watched the 2005 WSOP Final Table, you no doubt remember the outgoing and awestruck Dannenmann. The CPA from Maryland was simply happy to be there and was looking to "have a good time." It was the premiere event in poker, and Dannenmann acted as if he was seated in his home game playing for $20. It was that attitude, sprinkled with his childish bewilderment and aloofness, that endeared Dannenmann to millions, making him that year's everyman.
The 2005 WSOP final table was filled by characters like Mike "The Mouth" Matusow, Andrew Black, Scott Lazar, and Aaron Canter, but none were quite as memorable as Dannenmann (with the exception of Matusow). We caught up with Dannenmann to find out what he has been up to since 2005 and how the final table changed his life.
Since your appearance at the 2005 WSOP Main Event Final Table, what have you been up to?
Nothing has absolutely changed in my life. I do everything that I used to do. Sounds boring doesn't it? I have a CPA firm in Glenburry. I've been in the business like 21 years, so nothing has really changed except I play more poker tournaments. I was playing more $10,000 back then and I said, "I got too many tax returns to make up for $10,000," so [I cut back]. Of course there aren't as many $10,000 tournaments anymore, so I don't play poker too much. I go to the Borgata and Vegas, that's pretty much it.
I play my home game. I usually have a home game like Tuesday or Wednesday of each week, except for the summertime because I'm too busy at the beach and having a good time.
[B][I]Were you at the WSOP this year?[/I][/B]
I was. I did really good this year, I made it through a third day. I didn't make any money, but I made the third day [of the Main Event].
[B][I]As far as celebrity goes, did the 2005 WSOP final table propel you into fame?[/I][/B]
Yeah, everyday of my life I get recognized by someone. Wherever I go, it doesn't matter. I was in the Bahamas last week and there was a group of New Jersey police officers who recognized me. No matter where I go, someone pretty much always recognizes me on a daily basis, and Joe Hachem said, "No one ever remembers second place."
[B][I]Speaking of Hachem, do you keep in touch with him or anyone else from the final table?[/I][/B]
Everyone asks the same question, do you keep in touch with Joe? You're sitting at a poker table, it ended, you went about your ways, not like you exchanged numbers. What would you do, you'd call up and say, "Hey Joe, how's it going? How's the family?" No one really cares. To answer this, no I haven't kept up.
I see Joe in the halls once in awhile and say, you know, "Hey Joe, how's it going." I bought him dinner one night anonymously, he never thanked me, but he never knew it either. It was like a $2,000 bill, like two years ago at the Italian place in the Rio.
I come across Matusow sometimes. I saw Matusow at the Rio this year during the WSOP in the bathrooms. He says, "Steve, how you doing? Where have you been? I haven't seen you anyplace?" He says this all in like one sentence, he's like, "I only have $400,000 to my name. I'm broke. How am I going to survive this Full Tilt thing?"
I'm like, "I don't know, Mike, maybe you ought to go out and get a job like other people do."
[B][I]Aside from poker, what else have you been up to?[/I][/B]
I actually do a lot of real estate now, I flip houses. Which is so cool, I've done 40 house. I buy foreclosed houses, go in, I managed contractors in fixing them up, and then sell them right away.
When I flip a house, it's like making final-table money every time. Maybe not the World Series, but a nice-sized event. Every time I flip a house, I know it's just like going right to the final table. Whether it's a grand slam or a nice double, it's just fantastic.
The thing about poker, poker's boring to me. You're sitting there at a table with 10 people, alright, and probably about two to three guys who are actually intelligent at the table, that can actually hold a conversation that's meaningful. The rest of the guys care about poker, they're grumpy, they're not making any money, they're getting bad beated, they think they're the best poker players in the world and that they should win the tournament. They're just grumpy people for the most part.
I'm there to have a good time. People ask me what I do for fun. I play poker for fun. I go to work to make money, I play poker for fun.
[B][I]When you made the final table, did you get approached by any of the online sites for sponsorship?[/I][/B]
No, no one came up to me. Back then, someone made a very interesting statement. He said 2005 was the best year ever in poker as far as the final table because at that point there was maybe one or two guys who had patches on. The other guys who didn't have patches on, they actually had characters, you actually had people who had a personality. Andrew Black had a personality, Matusow, myself, Joe had a personality, Scott Lazar, all these guys pretty much had a personality.
Now, you look at the final table and their personalities are hidden behind their patches . . . Those patches have ruined poker, not what it meant, but the whole story of poker . . . you never saw a patch on me. Even afterwards, I turned down all the Internet companies. The other thing is, once you brand yourself, then that's it, you're Full Tilt. You're associated with Full Tilt or something like that.
[B][I]What was it like playing heads up against Hachem?[/I][/B]
The truth of the matter is, I read that [B]Dan Harrington[/B] book three days before I started the tournament, and when I got to the heads-up part I thought, "what the hell do I need this for?" That's a true story[I] [laughs][/I]. I wrote notes as I was reading the book by the side of the pool, when I got to the heads-up part I was like, "What do I want to read this for, I gotta make it past the first day."
[B][I]During the final table you used a little globe that became quite recognizable. Do you still have that?[/I][/B]
I do, it's actually sitting on my island right now because I unpacked my backpack from the WSOP. I always take it to the WSOP. In fact I'm looking at it right now, still there. You think I could sell that on eBay and get something [I][laughs][/I]? But then I'd be giving my luck away. By the way, I wasn't good, I was lucky, and I'd rather be lucky any day of the week.
[I]Stay up to date on all the latest news by [URL="http://www.twitter.com/pokernews"+]following us on Twitter[/URL] and [URL="http://www.facebook.com/pokernewsdotcom"+]liking us on Facebook[/URL].[/I]
Executive Editor US, PokerNews Podcast co-host & 2013 WSOP Bracelet Winner.