The WSOP on ESPN: Matusow's Misdeal, Obrestad Ousted and More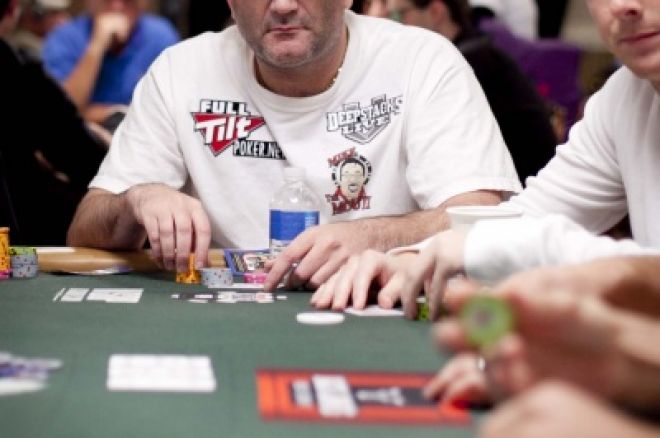 "Here we go again," Lon McEarchern announced as ESPN began its coverage of the 2010 World Series of Poker Main Event. Although 7,319 players entered this year's "Big One" and created a prize pool of $68,798,600, this week's installment focused exclusively on Days 1a and 1b. The first hour of broadcast highlighted the 1,125 players from Day 1a who began play in pursuit of the world championship and $8,944,138 first place prize. Before action got under way, last year's world champion, Joe Cada, was featured in a montage devoted to his journey to the final table and subsequent victory. As he stood in front of the ESPN final table, Cada remarked: "This is the table, and the journey to get to this table begins now."
Quick Start for the Mouth: On the first hand at the featured table, the blinds where at 50/100 when Alex Carr raised to 250 from early position with
. Mike Matusow made the call from the cutoff with
, as did Gerhardt Maurer from the button with the
and an unknown card. Allen Carter called from the big blind with
and the first hand of the tournament was contested four-handed. After the
flop, action was heads-up between Matusow and Carter. When the
hit the turn, Carter bet 1,050 and Matusow tested the waters with a raise to 3,000. Carter called but mucked after Matusow bet 4,400 when the
came on the river. Matusow was off to a quick start by taking down the first hand and a pot worth 12,650.
Table Two: The secondary feature table was home to 1988 Main Event runner-up, Erik Seidel. In a hand against Matt Groves, Seidel held
on a flop of
against the
Groves. Seidel coyly checked and Groves bet 675, which Seidel smooth-called. The action was the same but the bet size was 1,650 when the
appeared on the turn. The river was the
and once again Seidel checked. Groves threw out 3,825 and Seidel called, turning over his cards and taking down the pot.
Day 1a Notables: A number of recognizable faces were shown spread around the tournament floor including 2009 World Series of Poker Europe Main Event Champion Barry Shulman and six-time bracelet winner T.J. Cloutier. Ted Forrest, also present, was short-stacked early and called all-in with
on a flop of
against Laurie Hilton's
. The turn delivered the
and the
hit the river, giving Forrest quads and doubling his short stack.
Weight Loss Prop Bet: Lon McEarchern and Norman Chad mentioned Forrest's new weight loss bet with Matusow. Forrest needed to lose another 20 lbs., in addition to the 25 he had already lost, to win $2 million. Later in the broadcast, a feature explored the bet in detail, showing Forrest in the gym and Matusow's rampant criticisms. The bet's origin began when the 5'11" Forrest claimed he could weigh less than 140 pounds. Matusow bet $1 million to Forrest's $50,000 (20-1 odds) that he couldn't do it by July 15 and another $1 million to $100,000 that it couldn't be done by September 24. That meant if Forrest weighed less than 140 lbs. by July 15th, he'd win $2 million. Since the WSOP was filmed before the deadline, the broadcast didn't report the outcome.
Spoiler Alert: Forrest weighed in at 138 lbs. on July 15 and Matusow was out $2 million.
Main Event Advice: ESPN asked poker's biggest-name players what advice they had regarding the Main Event. Even though there was a plethora of advice from various players, Phil "The Unabomber" Laak put it best when he said, "Everyone is bleeding in this thing, the trick is to bleed the slowest."
Former World Champions: Bobby Baldwin (four-time bracelet winner and 1978 Main Event champ), Chris Moneymaker (2003 Main Event champ) and Greg Raymer (2004 Main Event champ) were among the former world champions in action. Raymer's day started off badly when he found himself calling John Bennett's all-in with
on a board of
. Raymer needed to improve against Bennett's
but couldn't do so when the
hit the river. Raymer was left with only 1,200 and was eliminated a short time later when his pocket eights ran into an opponent's pocket aces.
A Women's World: Two of the Main Event's past "Last Woman Standing" were in action on Day 1a in Tiffany Michelle (17th in the 2008 WSOP) and Maria Ho (38th in the 2007 WSOP). Both Michelle and Ho's performances brought them notoriety in the poker world and led to their being cast on the hit reality television show The Amazing Race.
Speaking of TV: Ray Romano of Everybody Loves Raymond fame, was playing in his fourth WSOP Main Event and looking to improve on his best finish back in 2008 when he advanced to Day 2.
Scrabble Boots: Erik Seidel told a story about his mother being hustled in a game of Scrabble by a man named "Teddy the Kid" to the tune of $160-$170. Seidel explained: "I was just so enraged at him that he actually came into my home and, you know, hustled my mother that I went and waited for him and we ended up playing backgammon and I beat him out of all the money he had." He went on to tell a story of how they played for Teddy's boots and Seidel won. "He had to walk home in the snow in his socks," Seidel laughed, "I still have that boot too . . . that's my favorite trophy."
Checkmate: Jeff Sarwer, a former chess prodigy who won the Under Ten World Championship at the age of eight and then disappeared (his family lived in Europe under aliases), was shown in a hand against Peter Feldman. There was 4,850 in the pot with a board reading
when Feldman checked and Sarwer bet 2,000, forcing his opponent to fold. Sarwer's reemergence saw him cash three times at the 2010 WSOP in addition to his first Main Event appearance.
Grinding: Michael "The Grinder" Mizrachi, who won the $50,000 Poker Player's Championship a couple weeks back on ESPN, was in action and bet 6,000 on a board of
. Brendan Reid called and mucked after seeing Mizrachi's
full house. Mizrachi had an awesome WSOP in 2010, and it appeared his Main Event was following suit.
Cloutier Ousted: T.J. Cloutier solemnly made his exit from the tournament with his hands in his pockets. He walked off the tournament floor to his awaiting scooter, sat in the seat, and made a hasty exit from the Amazon Room in a scene that seemed like it could be its own Hoveround commercial.
Dealer Error: Matusow was on the short stack when the dealer accidently exposed an ace as his first card, which was put into the muck. "If this other one is an ace I vomit and puke right now, that's all," Matusow said as he squeezed out the
. Matusow then flipped up the card in disgust and said, "Can a human being really, truly run worse than that?"
Romano Roasted: Ray Romano was all-in with
on a board of
and was up against Martin Schirp's
. The river was the
, giving Schirp a straight flush and sending Romano to the rail. Apparently not everybody loves Raymond.
Matusow Silenced: Shortly after boasting, "I think I've gone broke on Day 1 twice in twelve years," Matusow found himself all-in on a flop of
with
. He was about to eat his words as Allen Carter was ahead with a flopped set of eights. Matusow couldn't find help and became one of the 359 players eliminated on Day 1a.
The second hour of ESPN's broadcast featured the participants of Day 1b, including Dan Harrington, Erick Lindgren, Phil Laak, Bertrand "ElkY" Grospellier, Jean-Robert Bellande, Gavin Smith and the long-awaited debut of Annette Obrestad, who won the 2007 WSOP Europe at the age of 18. Day 1b saw 1,489 hopefuls pony up the $10,000 buy-in for their shot at poker glory.
Bad Start: Annette Obrestad's Main Event debut was looking good when she looked down at
and the flop came
. Brenan Steffens, who held
, called Obrestad's 1,025 bet on the flop and was in bad shape. The
turned the tables and Steffens picked up a better full house. Obrestad bet 2,550 and Steffens smooth-called. When the
hit the river, Obrestad bet 5,050 and was reraised to 12,000 by Steffens. She looked dismayed and said, "So sick, so ugly." Surprisingly, Obrestad slid her cards into the muck as she explained, "I'm gonna look like a donkey if I was wrong."
Batman: Dan Harrington was in a pot against an opponent dressed in a Batman costume when his bet forced the caped crusader to fold. "Alright," Harrington muttered, "Batman's arch enemy wins this round."
All That Glitters Is Not Gold: Jamie Gold, who won the Main Event in 2006, made his exit early on Day 1b. "That was fast," he said as he left the tournament floor. Since his win four years ago, Gold has not made it past Day 1.
Year of the Woman: The 2010 WSOP was anticipated to be the year of the woman, but that wasn't the case. In fact, the Main Event was the last chance for a woman to take down an open event and there certainly were a number in contention. In addition to Obrestad, other Day 1b ladies included Liv Boeree, Thuy Doan and Erica Schoenberg.
Lindgren Loses: Erik Lindgren, the significant other of the aforementioned Erica Schoenberg, was short-stacked and checked a flop of
holding
. His opponent, Fabricio Ascari, bet 4,500 only to have Lindgren move all-in for 7,350 more. Ascari made the call but fell behind when the
hit the turn. Lindgren was in great shape to double with his flush, but the
on the river sent Lindgren packing and his streak of never cashing in the Main Event continued.
The Right Mindset: For months, the poker world has been infatuated with Sam Chauhan, the mindset coach who has worked with the likes of Phil Hellmuth, Antonio Esfandiari and Gavin Smith. Chauhan made his WSOP television debut in a feature alongside Smith, who attributed his first bracelet win to his positive attitude, which he cultivated with Chauhan's help.
Grospellier Gone: Bertrand Grospellier was all in holding the
on a board of
and was in trouble against the
straight of his opponent. The
river was no help and Grospellier couldn't improve on his 122nd place finish from 2009.
Celebrities: Robert Iler from The Sopranos, Jennifer Tilly and 1988 World Series (of Baseball) MVP Orel Hershiser were just a couple of the celebrities playing in Day 1b.
Fun Flop: Gabe Walls four-bet Steven Thomsen all-in preflop with
and Thomsen made the call for his tournament life with
. There was 41,225 in the pot when the flop came down
, giving Walls trips and Thomsen a flush draw. "That's a fun flop," Walls said as the
hit the turn. Thomsen shot up from his seat in celebration when the
came on the river to give him the come-from-behind victory.
The Curtain Falls: Annette Obrestad's debut came to an end when, on a flop of
, she reraised to 19,950 (leaving herself just one blue 100 chip behind) with
and was called by Chris Bjorin's
. Obrestad's last chip went in when the
appeared on the turn, but the
on the river was no help and the young phenom was eliminated from the tournament as Day 1b came to a close.
Coverage of 2010 World Series of Poker Main Event continues on Tuesday evenings at 8 p.m. EDT on ESPN. Check your local listings and as always, follow us on Twitter for up-to-the-minute news.
Executive Editor US, PokerNews Podcast co-host & 2013 WSOP Bracelet Winner.