WSOP Main Event on ESPN: Fossilman Takes on Costanza, Hand of the Week, and Our MVP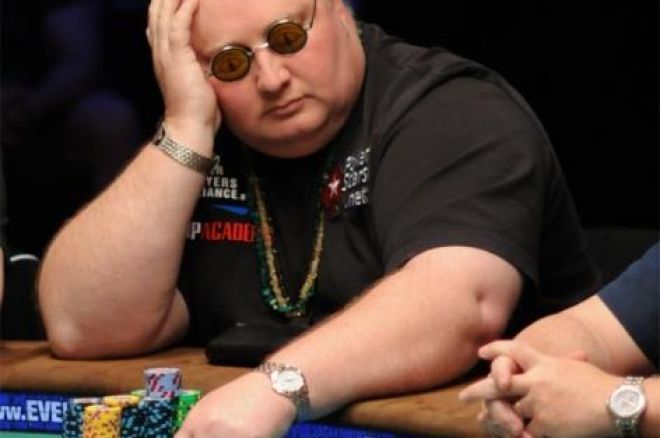 In this week's installment of ESPN's World Series of Poker Main Event coverage, two of Hollywood's top comedians set out to prove that they could "play with the best of them." Brad Garrett provided endless entertainment for his table full of pros. He even got them all to stand up whenever someone was all-in. Meanwhile, Jason Alexander found himself seated to Greg Raymer's left on the TV-featured table. When these two weren't "shticking" it up for the cameras, they actually managed to hold their own and play some solid poker, Alexander ultimately surviving to play Day 3.
Cast of Characters: Both hours of coverage featured Raymer and Alexander on the main TV table while 2009 Pot-Limit Omaha-8-or-Better bracelet winner Roland de Wolfe and 2000 Main Event champion Chris Ferguson held down the secondary featured table. Todd Brunson, Alex Kravchenko, and Berry Johnston all found themselves contending with Brad Garrett at different parts of Day 2A, while Johnny Chan, Lex Veldhuis, Mike Matusow, Gus Hansen, Dewey Tomko, Eli Elezra, Pro Boxer Kili Madrid, Jennifer Tilly, Phil Laak, Joe Sebok, Barry Greenstein, Vitaly Lunkin, Greg "FBT" Mueller, Tom Schneider, Pam Brunson, Erik Seidel, Gavin Smith and Jonas "nebuchad" Danielsson all earned some face time.
Norman Chad's New Schtick: "Roland de Wolfe hangin' on, like K-Fed did to Britney."
Interesting Tidbits: Twenty former Main Event Champions played in the 2009 edition of the "Big Dance." Fourteen survived Day 1 and seven continued their quest on Day 2A.
Blink and You'll Miss It: PokerNews Tournament Reporting Manager Garry Gates and blogger Don Peters donning sunglasses behind Dewey Tomko's table.
"The Nuts": In this week's segment, Norman Chad went up against Tomko on the golf course in a putting contest. Although Chad had a shot to win it, his final shot bounced off the rim of the hole, giving the match to Tomko.
A Moment He'll Never Live Down: World Series newbie Dennis Baltz lays down pocket kings preflop after Raymer four-bets him with jacks.
New Poker Terminology: Pocket fours have a new nickname, the "Obama," for the poker-playing 44th President of the United States.
Week 3 Fashion Highlight: Roland de Wolfe's (apparently lucky) Viking hat.
MVP — Greg Raymer: He suffered one bad beat and hit a few lucky draws but more than anything showed why he deserves to be called one of the world's best No-Limit Hold'em tournament players. In every hand he played on Day 2, Raymer seemed to either extract maximum value or lose the minimum on his way to nearly tripling his Day-1 stack.
Hand of the Week — Raymer turns a bigger boat: Alabama musician Mark Terry limped in for 400 with the
, Albert MinnJoullin limped behind him with the
, Jonathan Lewis completed the small blind with
and Greg Raymer checked his option in the big blind with
. Lewis hit trip eights when the flop came down[ Jd][ 8c][ 8d] and led out for 1,500. Raymer called, Terry called and Minnullin folded. Everything changed on the turn, however, when the
hit, Raymer making jacks full to Lewis' eights full. Lewis checked to Raymer, Raymer checked to Terry, and Terry checked as well, taking us to the river card. It was the
, a disaster in disguise for Terry, as it made him a king-high flush that was the third-best hand. Lewis bet 3,500 and Raymer raised to 12,000, leaving Terry to a decision for all his chips. He made the call, putting the action back on Lewis who made a deft lay-down. Raymer took down the pot, eliminating Terry.
Notable Bustouts: Jennifer Tilly, Todd Brunson, Barry Greenstein, Johnny Chan, Phil Laak, Lex Veldhuis, 96-year old Jack Ury, Mike Matusow, Kili Madrid, Gavin Smith, Brad Garrett, Eli Elezra, and Amarillo Slim.
Quote of the Episode: "He'll save with a mighty hand, every man, every woman, every child with a mighty FLASH!" - Greg Raymer, treating the TV-featured table to a falsetto rendition of the Flash Gordon Theme.