The WSOP Main Event on ESPN: Meet Darvin Moon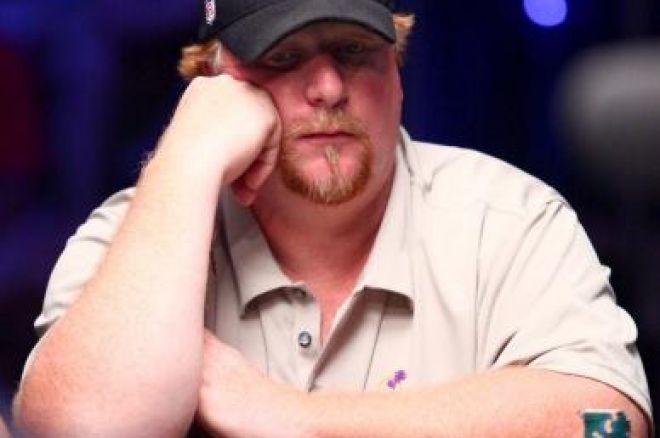 This week, ESPN viewers saw the World Series of Poker Main Event field shrink from seven tables to only three. A number of final-table contenders began to emerge, including a bracelet-winning magician, a hedge-fund manager, and a logger from Western Maryland on his first trip to Las Vegas. The last of this group, "November Nine" chip leader Darvin Moon, finally took center stage riding a hot wave of cards as he sat down at the TV table and proceeded to baffle his opponents with under-bets and over-raises on his way to building a monster stack. Also making significant gains were Phil Ivey, whose chip count cracked the 10 million mark, and Billy Kopp, who moved into the chip lead at the end of Day 7.
Who's left?: At the top of the first hour, only 64 players remained in contention for the 2009 Main Event title including Tom Schneider, Antonio Esfandiari, Dennis Phillips, Prahlad Friedman, Leo Margets, Phil Ivey, Joe Sebok, Jeff Shulman, and Eugene Katchalov. Esfandiari, James Akenhead and Ryan Fair drew seats at the main feature table during the first hour while Shulman, Margets, and Eric Buchman were in front of the cameras at the secondary. In the second hour, big stacks Kopp and Moon checked in to the main featured table to log some hands under the bright lights.
Interesting tidbits: Darvin Moon doesn't have a credit card or an email address and he's never played a hand of online poker.
Got Shronk?: Joe Sebok broke out his "Got Shronk?" shirt on Day 7 in memory of his close friend and PokerRoad collaborator, Justin Shronk.
"The Nuts": Mike Matusow claimed in this segment that many years ago, he, along with Erick Lindgren, originated the poker term "donkey." (Really?)
Worst Beat: If not for this lucky catch, Eric Buchman never would have made the November Nine. All-in with pocket eights, Buchman ran into Jonathan Tamayo's pocket kings and didn't get any help on the
flop. The
on the turn gave him an open-ended straight draw, and in dramatic fashion, the
on the river filled it to save Buchman's tournament life.
Phil Ivey can smell that bluff from a mile away: Holding A-T unimproved on a 3-3-9-9-7 board, Ivey gazed into his opponent's very soul and called a 360,000 river bet, believing his ace-high was good. His opponent had nothing more than Q-T and the seven-time bracelet winner took down the pot to a chorus of "Ivey! Ivey! Ivey!" from his number-one fans, Mel and Pat Humphries.
Here come the bailout jokes: "Steve Begleiter spent 24 years at Bear Stearns. That seven on the river might be the best bailout he's seen all year!"- Norman Chad
How Tom Schneider learned patience: "That's my baby! Stack 'em! Stack 'em! To the top!" Julie Schneider shrieked, her voice echoing off the walls of the near-empty Amazon Room. Her husband Tom had just seen his top two pair fade a flush draw to earn a big pot and seemed to want to crawl into a hole and bury himself as his opponents exploded in laughter at his wife's antics. Things wouldn't go as well for the "Donkeybomber" later in the day. He got the rest of his chips in with A-7 against pocket nines and found no help on the board, his Main Event run ending in 52nd place.
You gotta know when to fold'em: Though we saw November Niner Jeff Shulman open up his game a bit more during this broadcast, we also saw that he's still capable of making extremely disciplined laydowns. After Eric Buchman opened for 140,000 with
, Shulman looked down at
and made it 500,000 straight. Jonathan Tamayo four-bet all-in with pocket queens, a move that chased Buchman away and left Shulman to a decision for almost his entire stack. Not wanting to risk his tournament life on what he knew could be a coinflip at best, Shulman mucked his hand and lived to play on.
Don't mess with the Moon: Darvin Moon made his first appearance at the main featured table and the hole card cameras confirmed what Moon has been telling everyone for months—he was a card rack. Moon had already shown down pocket aces when Eugene Katchalov opened for a raise with A-T offsuit. Moon made it 5 million to go, the action on Antonio Esfandiari who looked down at pocket jacks.
"Why'd you raise so much?" Esfandiari asked.
"I'm new at this game," Moon replied.
Esfandiari mucked his jacks, leaving Moon heads-up with Katchalov. Sure enough, Moon showed pocket kings, leading Esfandiari to gaze heavenward in thanks. The board ran out
, Moon's set of kings knocking out Katchalov in 39th place.
Later on, Moon picked up A-Q and check-raised Esfandiari when the flop came down Q-3-3. Holding
, Esfandiari came in with a reraise, believing he could move Moon off his hand, but instead was met with a four-bet shove. Esfandiari mucked, and learned an important lesson in the process. You don't mess with the Moon, especially when he's running hot.
Now that's a brutal way to go: All Dennis Phillips wanted was a chop when he got the rest of his chips in the middle, holding
against Francois Balmigere's
. Instead, he got a sweat on the flop, which came down K-6-4 with two spades. The turn was safe, falling the
but the
hit the river to end Phillips's quest for back-to-back final tables with a 45th place finish.
MVP - Billy Kopp: Known online as "patrolman35," BKopp took a commanding chip lead on Day 7 after winning two key pots. First, he claimed John Martin's entire stack when his set of sixes held up against Martin's straight and flush draws. Then, he got another huge chip infusion when Jonathan Tamayo made a huge misread, believing his A-K high was good when Kopp had flopped trip queens and bet them the whole way.
Hand of the Week - Moon flops the joint: Darvin Moon continued to run like God when he flopped a Broadway straight holding the
against Francois Balmigere's set of tens. Moon smooth-called Balmigere's flop bet, then came in with a raise on the turn. Balmigere called, but didn't look nearly as confident as he did earlier in the hand. Another blank hit the river, and Balmigere slowed down, checking over to Moon who made a 2,000,000 value bet into the 6.47 million pot. Somehow, Balmigere found a fold, shaking his head as he made the amazing laydown. Although Moon didn't show his hand at the time, he told Balmigere he had the nuts.
Notable Eliminations: Prahlad Friedman (64th), Joe Sebok (56th), Tom Schneider (52nd), Bradley Craig (50th), Adam Bilzerian (47th), Dennis Phillips (45th), Eugene Katchalov (39th), Ryan Fair (31st).
Quote of the Week: "I'm too fat to climb the tree. I stay on the ground." - Darvin Moon on his logging career.
The World Series of Poker Main Event airs Tuesday nights at 9 p.m. EST on ESPN. Check your local listings, and follow us on Twitter while you're at it.