The WSOP Main Event on ESPN: Prahlad Friedman Returns to Rapping, Peter Eastgate and Joe Hachem Chase Down History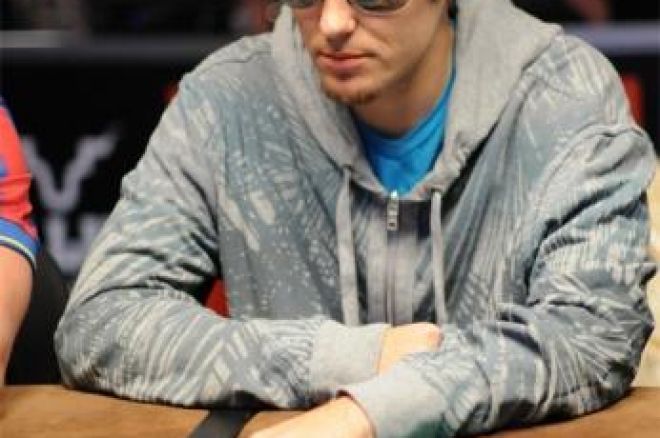 Day 5 of the 2009 World Series of Poker Main Event saw 230 players return to the fray including three women, two brothers, and the defending champion. Peter Eastgate, however, wasn't the only world champ left in the field, with 2005 winner Joe Hachem still hunting for a second title.
The final 25 tables of the Main Event were littered with pros this year, so much so that many, for example Jordan Morgan, Carl Olson and Cole South just to name a few, didn't pick up a lot of airtime. Even Phil Ivey was relegated to the background as Adam and Dan Bilzerian, 2007 WSOP Player of the Year Tom Schneider, and the tournament's longest-lasting ladies (Leo Margets, Nichoel Peppe, and Estelle Denis) enjoyed their moments in the spotlight.
Cast of Characters: Bertrand "ElkY" Grospellier and Jeff Shulman remained on the main feature table during the first hour. Joe Hachem later joined them while Peter Eastgate took up residency at the secondary. Prahlad Friedman and Tom Schneider drew the main feature in hour two, while Leo Margets and Nichoel Peppe paired up on the secondary featured table. Out in the field, Eastgate and fellow '08 November Niner Dennis Phillips had a little reunion when they were both drawn to Joe Hachem's table. Also finding the camera's lens were Phil Ivey, Kenny Tran, Joe Sebok, J.C. Tran, Antonio Esfandiari and Lou Diamond Phillips.
Are Norm and Lon reading PokerNews?: ESPN's dynamic duo referred to the Dennis Phillips/Peter Eastgate/Joe Hachem lineup as the "Table of Death."
Interesting Tidbits: One Bilzerian brother, Dan, is a Navy SEAL. Adam renounced his U.S. citizenship.
Enter the "Nine": For the first time, Darvin Moon's name turned up on the leaderboard and was shown winning a hand during the second hour. Jeff Shulman spent another episode at the main featured table and began amassing chips while maintaining a stone-cold poker face. And in the first televised "Nine on Nine" hand of the year, Steven Begleiter chopped out over half of James Akenhead's stack after rivering two pair in a 2.8 million chip pot.
Four chips and a chair: Bradley Craig battled back from a crippling hand that left him with only 400 in chips to make the money and finish in the top 100.
"The Nuts": This week's segment revealed some pros' thoughts on who among their peers would excel on a reality television show. Most responders pointed to Mike "The Mouth" Matusow, the always quotable Scotty Nguyen, and Phil Hellmuth, who has apparently already received at least one offer from Dancing with the Stars.
He shoulda practiced avoidance: After a three-year rapping hiatus following his smash 2006 debut single "Poker is Fun," Prahlad Friedman at last offered up a new tune, "In the Main Event." Although the track starts out promisingly with a catchy bass line and some tight rhymes (In the Main Event / ain't been knocked out yet / friends and fans got another cold sweat), by the second stanza he's mumbling about mixing up his play, betting the minimum, and something about his arsenal. Say what?
Worst Beat: J.C. Tran put in an opening raise to 32,000, and a short-stacked Estelle Denis moved all-in for her remaining 142,000. However, despite pushing her single tower of chips forward as well as verbally declaring her intentions, the dealer spaced out and mucked her hand. Lead Supervisor Steve Frezer was called in for a ruling and after he was unable to retrieve her hand from the top of the muck, he unfortunately had to declare her hand dead. Additionally, Denis had to forfeit the amount of the initial raise (32,000) because of the dealer error. Denis lost nearly a quarter of her chips on the hand through no fault of her own and even worse, she was holding pocket aces.
MVP - Prahlad Friedman: He may not be winning a Grammy anytime soon for his MC skills, but there's no denying that Prahlad Friedman is one helluva poker player. In one key hand against Finland's Mika Puumalainen, Friedman rivered two pair holding
on a
board and after leading out for 200,000, faced an all-in reraise.
"I knew I should have checked," sighed Friedman. "It would be so incredibly sick if I folded a winner here."
Friedman did find a fold, and his instincts were accurate. Puumalainen turned a set of jacks and would have felted him.
Hand of the week: In one of the best power bluffs we've seen thus far, Andreas Flakstad put Antonio Esfandiari to a decision for all his chips, moving all-in over the top of his river bet. Holding pocket queens on a jack-high board with three hearts, Esfandiari decided to play it safe and folded, only to have Flakstad show his pocket eights.
Notable Eliminations: Dan Bilzerian, Estelle Denis, Lou Diamond Phillips
Quote of the week: "From a bathroom perspective, these levels are about a half hour too long" - Tom Schneider to a speechless Prahlad Friedman
The WSOP Main Event airs Tuesday nights at 9 p.m. EST. Check your local listings, and don't forget to follow us on Twitter.