The WSOP Main Event on ESPN: A November Nine Reunion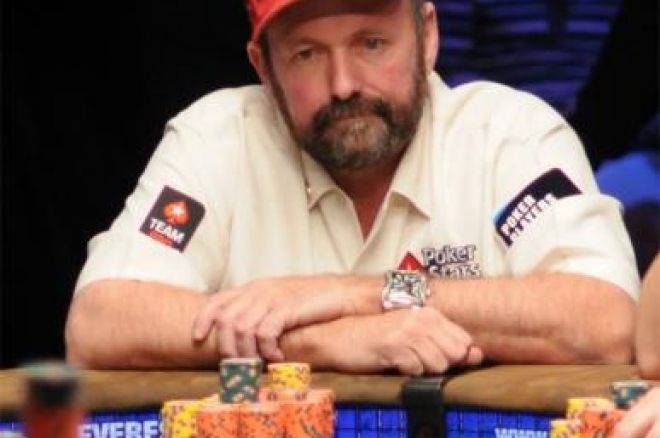 As play marched on during Day 6 of the World Series of Poker Main Event, the gang at ESPN had to be slapping high fives as a dream lineup materialized at the featured table: two former Main Event winners including the defending champion, a two-bracelet winner considered by many to be the best no-limit hold'em tournament player in the world, and a likable everyman with an army of clones who followed him to Las Vegas.
In the most star-studded feature table we've seen in some time, Joe Hachem, Peter Eastgate, J.C. Tran and Dennis Phillips were seated together, resulting in a little reunion between the two breakout stars of last year's "November Nine, " Eastgate and Phillips By day's end, however, three of these four found themselves on their way to the cashier's cage as the Main Event played down to its final 64 hopefuls.
Cast of characters: While the star quartet occupied the main featured table, Phil Ivey sent shivers down the spines of his opponents at the secondary table. The second hour saw Joe Sebok join the main featured table along with chip leader Darvin Moon who moved into Eastgate's seat. Still out in the field doing their best to survive Day 6 were Bertrand "ElkY" Grospellier, Kenny Tran, Tom Schneider, Antonio Esfandiari, Prahlad Friedman and Noah Boeken.
That's pretty accurate: J.C. Tran downplayed the rather unglamorous life of a professional poker player to Lon McEachern. "Too much travel and too much bad food."
Enter the "Nine": Joe Cada made his first ESPN appearance this week, picking up some airtime after being drawn to Tran's table. Cada would turn out to be "Sick Call Kenny's" executioner when his pocket eights held up against Tran's
. James Akenhead was shown eliminating Randy Propson when his
hit a runner-runner straight against Propson's flopped top pair with A-8. Moon's story also began to emerge this week as he seized the chip lead on Day 6. He has made no secret of the fact that he was a card rack during the Main Event and fans saw a taste of it as Jamie Brown met his tournament end, running his pocket kings into Moon's aces.
Railbird of the Year: If you were anywhere near the Amazon Room on Day 6 of the Main Event, it was impossible to miss the shrieks and squeals of Tom Schneider's overly enthusiastic wife Julie. Her cries of "Stack, em! Stack 'em! To the top!" reverberated off the walls of the Rio like a coluratura soprano in the glassware section of Pottery Barn.
Blink and you'll miss it: Blair Rodman is still in this tournament? Seriously? Rodman's double-up through Ivey with pocket eights against A-9 was his first on-camera appearance that we can recall this year. That, and we're shocked that Norman Chad couldn't dig up a reference to the oh-so-apropos title of Rodman's tournament strategy book "Kill Phil."
How many times can Dennis Phillips pick up aces?: According to this broadcast, at least three times in one day.
"The Nuts": This week's edition of "The Nuts" clued amateurs in on what the pros really mean when they say "nice hand." Like "You're an idiot" (Howard Lederer) or "go f**k yourself" (Erick Lindgren).
Worst beat: All-in with pocket kings against pocket aces, Ludovic Lacay hit a miracle two-outer on the river, spiking a king to survive and keep his final table hope alive.
This one was pretty bad too: Dennis Phillips laid a major cooler on Thai Tran when they both turned trip aces on a
board, Phillips holding
against Tran's
.
The last woman standing: After Nichoel Peppe ran her
into Adam York's pocket aces, Spain's Leo Margets was left as the only remaining woman in the 2009 Main Event. Our friends at Wicked Chops Poker even gave her an award for that.
MVP - Antonio Esfandiari: Although the Magician didn't get a lot of airtime this week, he put up one of the largest chip gains on Day 6, moving from 1.2 to 5.8 million. Esfandiari put the hurt on Bobby Law when he flopped the nut straight holding K-Q against Law's A-K, then picked off a huge bluff from Wesley Ismay who committed the rest of the stack drawing dead with Q-8 against Esfandiari's A-K on a king-high board.
Hand of the Week - Don't mess with Phil Ivey or he will four-bet you light: Akenhead's instincts were correct. Facing a 110,000 opening raise from Ivey and a flat-call from Ryan Fair, Akenhead looked down at
and decided it was a good spot to put in a squeeze raise. Akenhead made it 390,000 to go and while Fair quickly dumped his
, Ivey gazed deep into the young Brit's soul and four-bet him to 990,000 with
. Akenhead sighed and made the fold.
"You know I can have a hand once in a while, right?" quipped Ivey with a sly smile.
Notable eliminations: Joe Hachem, J.C. Tran, Bertrand "ElkY" Grospellier, Peter Eastgate, Kenny Tran, and Hac "trex313" Dang.
Quote of the Week: "If I had an ace and a Snickers wrapper they were going in!" – Joe Sebok, short-stacked and card dead.
The World Series of Poker Main Event airs Tuesday nights at 9 p.m. EST on ESPN. Check your local listings, and follow us on Twitter while you're at it.