Where Are They Now? Harrah's New Orleans Poker Dealer Darrell Guillory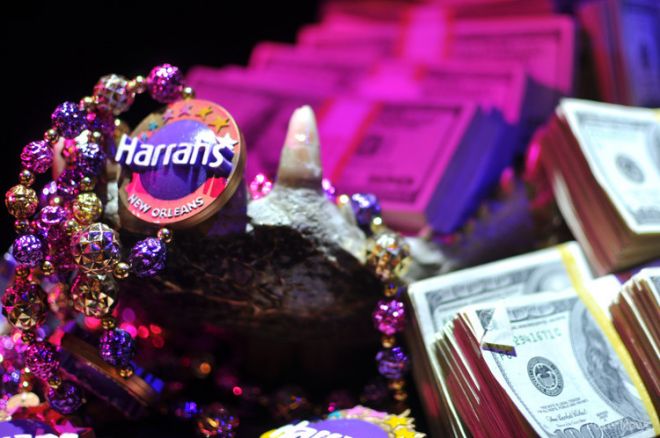 Earlier this week, the broadcast of the 2013 World Series of Poker continued on ESPN with the National Championship from New Orleans, Louisiana. PokerNews was there for that event, and while we were busy live reporting, we saw a familiar face — Darrell Guillory. You may recall Guillory, who moved to New Orleans in 1988, as the dealer made famous by ESPN during the 2006 WSOP Circuit broadcast which featured Allie Prescott and Gavin Smith.
Most people recognize Guillory as the dealer who shared his Hurricane Katrina struggles with the poker world, which included the loss of his dog, but what many fail to recognize is that the working family man was also a player. Guillory was prone to take frequent trips across the border to nearby Biloxi, Mississippi where he excelled in events at the IP. In fact, between 2007 and 2008, Guillory amassed $18,848 in winnings at the IP Poker Classic, including two runner-up finishes for $4,100 and $4,838. Nonetheless, dealing is and always will be Guillory's passion.
Check out the following video to watch Guillory's ESPN segment:
We caught up with Guillory, who has been dealing poker at Harrah's New Orleans since 2002 (there are only five others that have been there as long as him), to see what he's been up to since his 15 minutes of fame seven years ago.
PokerNews: What was it like to be featured on ESPN during the height of the poker boom?
Guillory: Man, it was a blast. It actually took off. It was real good. A couple came from Hawaii, said they came down just to meet me. At that point I was like, "Wow." People were asking me for my autograph, it just kind of blew up. I actually went to Vegas the next year and people were coming up to me and were like, "Hey, you the one who knocked Gavin Smith out?" [Laughs]. It was great though, I had a blast. They say 15 minutes of fame is strong, and it was.
Many years have passed since that broadcast. Do you still get recognized?
On ESPN Classic they may run it like once a month and I'll get some people who will come in and say they pulled it up on YouTube. It's still going on. It's subsided, but I still have a lot of people coming up to me and telling me they saw me on TV. I've actually gotten the moniker "The Terminator" now from my locals coming in and calling me that.
Did your appearance increase your tokes at all?
It did, it definitely did. Some people said they saw me on TV and came to see how good of a dealer I actually was. Of course my ego exploded, but my wife and my kids did their best to keep me level. It was a blast.
Can you tell us a little bit about what it was like to be in New Orleans during Hurricane Katrina?
The Hurricane Katrina, after it hit, I said to my mom that I wasn't going to leave. My mom finally called me, she lives in St. Charles which is about three hours now, and told me it was time for me to get out. My family finally convinced me so we ended up going to Lake Charles, stayed there for about two weeks. Here come Hurricane Rita, which took us all the way up to Arkansas. We're sitting in Arkansas and two exits down from where we were staying two tornados hit. So that made us think it was time to get out of there. We were actually going to move to Texas, looked at a house but decided to stay in New Orleans and rebuild.
How did you become a poker dealer?
I was a pit boss in table games and a guy came one day and asked if I wanted to deal poker. I said absolutely. That was back in 2002, and I haven't looked back since.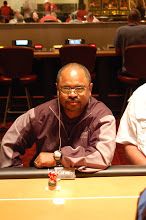 New Orleans has a Bad Beat Jackpot. Have you ever dealt it in your 11 years on the job?
To be honest with you, I'm the leader in the room. I've dealt 14 bad beat jackpots since 2002. The next person may have six. The thing is, I haven't dealt the jackpot since three days before Katrina. Three days before I dealt a $56,000 Bad Beat Jackpot and let's just say I wasn't suffering when we left [to avoid the hurricane].
Do you play poker?
I was a very, very strong tournament player at one point. I've won my fair share of tournaments. I just love poker. I used to tell my customers that I'd do it for free. Those guys tipping me, it was luxury.
Can we expect to see you playing on the tournament circuit anytime soon?
It's funny you should ask. Me and my wife just had a son. He's two years old. I played up until about three months before he was born and I made her a promise. I told her a day after my son's fifth birthday I'll start playing poker again. So I can't play poker. I haven't played for two and a half years, and I won't play again until February 16, 2016. All I've got to say is you guys better watch out because I'm coming focused and hard.
Get all the latest PokerNews updates on your social media outlets. Follow us on Twitter and find us on both Facebook and Google+!
Executive Editor US, PokerNews Podcast co-host & 2013 WSOP Bracelet Winner.