Where Are They Now: 1981 World Series of Poker Main Event Runner-Up Perry Green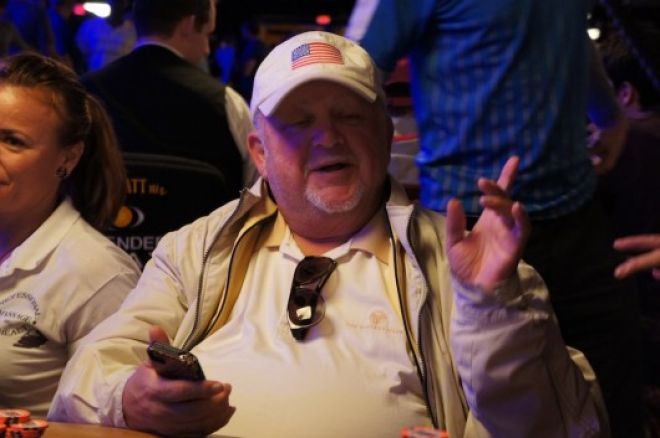 There's no doubt that poker has changed drastically over the last decade, and even more so since the inception of the World Series of Poker in 1970. Finding players who have remained consistent over the years is rare, but one recently showed up at the 2012 WSOP: three-time bracelet winner Perry Green, who finished runner-up to the legendary Stu Ungar in 1981.
Born in Seattle in 1936, Green worked as a successful fur trader in Alaska for the vast majority of his life. In 1976, he ventured to the WSOP where he took down Event #4: $1,000 Limit Ace to Five Draw for $68,300 and his first gold bracelet. The next year, Green won Event #6 $5,000 Limit Ace to Five Draw and then returned two years later to win Event #6: $1,500 No-Limit Hold'em Non-Pro for $76,500.
With three bracelets under his belt, Green made a go at the 1981 $10,000 Main Event, which attracted 75 players including Johnny Moss, Hal Fowler, Betty Carey, "Amarillo Slim" Preston and Jesse Alto. The field was reduced to just 38 players by the end of Day 1, and those 38 were reduced to 17 on Day 2. On Day 3, Doyle Brunson was eliminated, leaving Bobby Baldwin and Ungar, the defending champ, as the only former winners remaining. Both went on to make the final table.
1981 WSOP Final Table
| Place | Player | Prize |
| --- | --- | --- |
| 1 | Stu Ungar | $375,000 |
| 2 | Perry Green | $150,000 |
| 3 | Gene Fisher | $75,000 |
| 4 | Kenny Smith | $37,500 |
| 5 | Bill Smith | $37,500 |
| 6 | Jay Heimowitz | $30,000 |
| 7 | Bobby Baldwin | $15,000 |
| 8 | Andy Moore | $15,000 |
Green went on to finish as runner-up to Ungar, who claimed back-to-back Main Event titles. Green returned to the WSOP over the next three decades, amassing 24 WSOP cashes for $645,427.
Recently, Green made another deep run by navigating a field of 6,598 in this year's Main Event with his wife of 56 years, Gloria, by his side, though she refused to sweat the action. "I don't watch anymore. Ever since he started doing well in 1981, I stopped going," Gloria told PokerNews at this year's WSOP. "I can't take the pressure. It doesn't bother him, but it does bother me. When we were dating, we were able to go out to eat because he would win the money, actually from my brother and my cousin, he would play cards with them. We would go out on dates because he would win the money. I always thought if I took the money when he wins, I could put up with it." Green finished in 152nd place for $52,718.
It's not every day you come across a poker player from Alaska. Were you born there? What is it that you do in Anchorage?
My father was there in 1922, but I was born in Seattle. I was a fur buyer, and I operated five purse stores. I used to go to the Eskimo villages.
How did you learn to play poker? Likewise, how did you first hear about the WSOP?
Well, I was a teenager and played a little bit, then I went into the Army and supplemented my Army income. Afterwards, we used to have a little game once a week in Anchorage. I stumbled onto the WSOP by someone saying 'Come on down to the Horseshoe, they've got a great game down there.' The first time I went down there they played lowball and I won a lot of money in the cash games, I didn't even know about tournaments.
Two of your bracelets are in lowball. Is that your favorite game?
Absolutely, I cut my teeth on five-card low, six-card low, and then seven-card low. I think it's a terrible shame they don't have the ace-to-five lowball at the WSOP anymore. You ought to talk to them about it.
Have you been playing the WSOP every year since 1976?
Off and on. I really haven't played much. I've only entered the Main Event eight times, I would say. Over the years I've been busy. I've been working. I'm really an amateur and when you have responsibilities, five children, it's much more important to take care of you responsibilities than play poker. But I combine them pretty good.
Are there opportunities for you to play back in Alaska?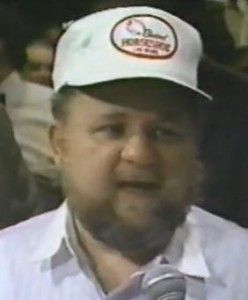 I play in a friend's game, it's just a very small game. I play about five or six times a year.
In 1981 you finished second to Stu Ungar. Do you have any good stories from back in the day?
Oh yeah, I remember how I had Stu all-in three times in that tournament. I had him all-in early when I had 10♣9♣ and he had 5x5x, and the two fives stood up. I had him all-in, I had AxKx and he had AxQx, and the board came 2x3x3x, and then it came another 3x and then another 2x, so we split the pot. I also remember I was going real good and was way ahead, having fun. In those days, I really played for the fun of it. My wife was watching on the side, and Doyle Brunson was in back of me. It was opened [on the flop] for like 8,000. I made it 16,000. He came back and made it 35,000, and I put him all-in after the flop, which was J♦9♣8♣. He was mortified that I came back over the top of him, and he had the only hand that he would probably call me with. Besides two aces, he had A♣J♣.
I turned around to Doyle, pointed my finger at Doyle, which shows you what my mood was, and he jumped up and said, "Ten-deuce of clubs?"
I said, "Yes," because I figure I have a straight and I have a flush draw. He really had me cornered, but I could have still caught a red queen, or a red seven, I could have made tens and deuces, it could have come deuce-deuce, and that was the one that crushed me. It really was sad. That was the same year I took second place in the Super Bowl of Poker, as well. David Sklansky ranked the top 16 poker professionals in the world and put me number six. I was the only amateur among them in 1981.
Obviously that distinction and recognition meant a lot to you?
Oh yeah, I used to go there to have fun and play. When they used to play hold'em, I'd never join in the games at all. I didn't know a thing, and then I bought Doyle Brunson's book. After I read it I said, "Oh, ohhh, ohhhhhhh, this is a pretty good game." Then I played it a little, but I still love my games of lowball ace-to-five.
Did you think poker would ever grow to be as big as it is today?
I think Jack Binion had the right idea. I think he was the real father of making this as gigantic as it is . . . I thought, "My gosh, who would ever be interested in poker?" Lo and behold, the interest in poker is so intense it's phenomenal. I really credit Jack Binion over anybody with the expansion of poker. Of course, when you have it legitimized by ESPN , and it shows the face, breadth and width of poker, it makes it a sport people can enjoy whether they're in a wheelchair or an Olympic athlete . . . It's played in nursing homes, and it's played in private homes. It's played in casinos, bars, and it's played by everyone.
Look at how the international community has embraced the game. And the youngsters. I have six grandchildren older than 60 percent of the remaining 282-player field [in the WSOP Main Event]. None of my grandchildren play at this level.
What do you think of today's fields? Is it harder to navigate?
You asked me earlier about Stu Ungar. I think that Stu would have a tough time with these young phenoms because as great as he was, and believe me he was a great player, there's about 90 percent of today's players that are within a hair's breadth. It's kind of like trying to compare Barry Bonds to Babe Ruth or Reggie Jackson, you know, from different eras.
What has become of your WSOP bracelets?
I have three bracelets. My wife has one, my son has one, and I have one. I didn't even know I was getting a bracelet [for my first win], I didn't even know you got bracelets. Jack Binion was so generous and so great. Great with the players. In the old days, you knew the brush people, the floor supervisors, dealer, the names, and every player's, where they came from, whether they were married, and whether they had leaks in their play. Now you get to the table and you're forever finding information that you need to know. It's on-the-job training.
Get all the latest PokerNews updates on your social media outlets. Follow us on Twitter and like us on Facebook now!
Executive Editor US, PokerNews Podcast co-host & 2013 WSOP Bracelet Winner.