Where Are They Now: WPT Season IX Foxwoods Poker Finals Champion Jeff Forrest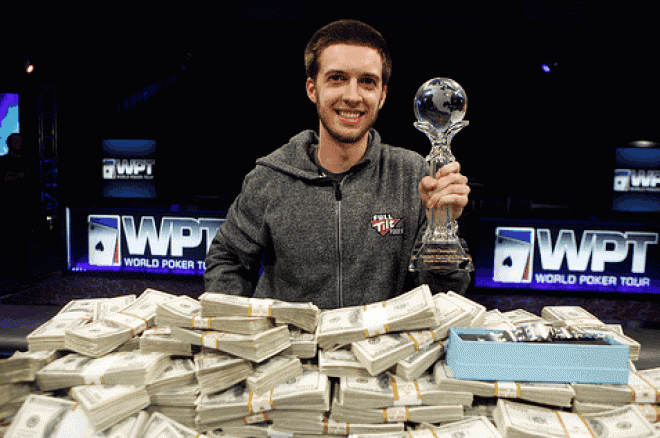 The latest broadcast of the World Poker Tour Season X on Fox Sports Network featured the World Poker Finals from Foxwoods Casino in Connecticut. We thought it would be a good idea to catch up with last year's winner, Jeff Forrest, for our latest Where Are They Now piece.
Now, we admit that Forrest's victory wasn't that long ago, and that he is certainly still active in the poker world, so the question shouldn't be about where he is now. The question should be about what he has been up to lately.
For those who don't know, Forrest is a professional poker player from Orlando, Florida, who made a big splash in the poker world in October of 2010 when he won the WPT World Poker Finals for $548,752. That marked the biggest cash of his career, surpassing a score of $117,291 from a second-place finish in a $1,500 No Limit Hold'em event at the 2010 PokerStars Caribbean Adventure, a tournament he lost to Michael "Timex" McDonald.
PokerNews caught up with Forrest, who has $788,563 in career tournament earnings, while he was at the WPT Seminole Hard Rock Showdown to see what he's been up to since his big win.
We know this is a very broad question, but can you tell us a little bit about yourself?
My full name is Jeffrey Paul Forrest, I went by "jp4est" on PokerStars back in the good ole days. I was born in Orlando, Florida, and have lived there my whole life. I learned to play poker online from my roommate, Travis Klein, freshman year of college at FSU. After playing a couple of SNGs and small MTTs online, I quickly became addicted to the game. The feeling of winning a tournament can't be matched, so I grinded my way up the stakes and was playing all high-stakes MTT's until Black Friday. Luckily, Foxwoods happened before Black Friday, and I've been able to transition right into playing live tournaments consistently since.
How did you come to play the WPT Season IX Foxwoods World Poker Finals?
I was offered a freeroll by Jason Somerville. He covered the buy-in, I would get 20 percent of whatever I made in the tournament. I'd actually never played a WPT before that one.
The final 12 of that event was stacked with players like Hoyt Corkins, Jason Mercier and Sorel Mizzi. What was it like playing against such players? Intimidating? Did you like your chances?
I have tons of respect for all those guys. Sorel bubbling the final table was pretty crucial for my chances of winning, and having Tom Marchese on my direct left at the final table wasn't ideal either. The guy was at the top of every player-of-the-year race in 2010 and couldn't lose. But I don't really get intimidated playing with anybody. It's my job to have confidence in myself and just make adjustments based on whom I'm playing and how the game is flowing. Plus I'd already had good experience and results before Foxwoods.
Aside from winning, what's your best memory from that tournament?
My best memory is from Day 5 with two tables left. I started the day as one of the chip leaders but immediately dropped to the bottom half of the field early. Then my dad surprises me and pops up on the rail, he had flown in from Orlando to watch. It gave me a good boost, and I was able to turn it back around and finish that day strong.
Did you do anything fun with your $548,752 prize? Make any big purchases?
The only purchase I made after the event was a big flat screen TV. Other then that, I was just happy to have a good new bankroll.
You've obviously had success at Foxwoods. Where would you rank this in terms of casinos you like?
I've won a tournament both times I've been there, so if I keep getting results and winning money, I'll keep going back.
Have you been doing a bit of traveling since your win?
Since the win in late 2010, I've been traveling a bit more. I play most of the good tournament series that run in Florida and get to Atlantic City and Vegas every now and then. I'm down in Ft. Lauderdale now for the $10,000 WPT and then heading to Jacksonville next week for the WPT there.
Before Black Friday, you played online. How influential was online poker in your life?
I still see myself as an online player first. It's been nice over the years getting to meet the people I used to grind against online and putting screen names with faces. I'm looking forward to online poker returning to the U.S., whenever that may be, and am debating going abroad to get back on the grind sooner. I will say I'm planning to keep my new account names a secret when sites open in the U.S. It's such an advantage to be an unknown player.
Do you have any money stuck on Full Tilt Poker?
No money stuck, but I was supposed to get paid to wear their patch at the Foxwoods final table and never did. It's a lesson to not connect my name with just any company in the future.
Aside from poker, what sort of things do you do for fun?
I really enjoy playing racquetball, though I'm still new to the game and learning the ropes. Go to the gym as much as I can. Always been a video gamer, but all I play these days are FIFA 12 and I just picked up the new Call of Duty recently. I'm big into music, so I try and see great performances when they come to Orlando.
What are your plans for the next few months? Can we expect to see you at the WSOP? If so, which event do you plan to play?
I'll be living in Vegas from May through July and plan to play a lot of events all summer. I hope to go deep a lot and would love to get my first gold bracelet. There are still a couple more WPT's coming up before then, ending with the season finally WPT Championship in a few weeks. I'd like to get a second title with them just as much as I'd like a WSOP bracelet.
If you love poker, be sure to follow us on Twitter and like us on Facebook for all the latest updates on the World Poker Tour.
Executive Editor US, PokerNews Podcast co-host & 2013 WSOP Bracelet Winner.