Where Are They Now: Fabian Quoss Announces His Exit from Poker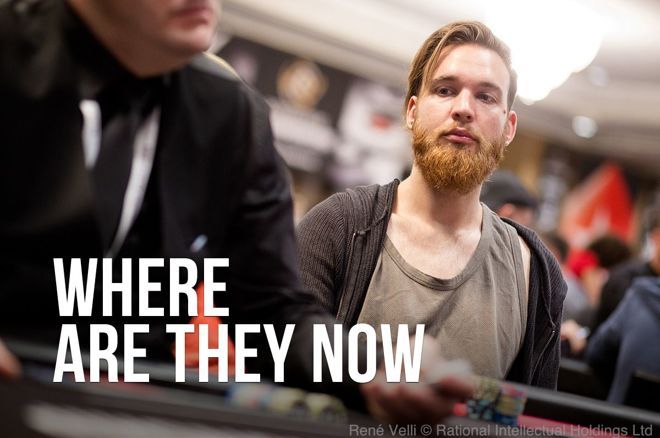 A little over a week ago, high roller champ and long-time poker crusher Fabian Quoss took to Instagram to discuss his poker career and, as he put it, to "announce my exit."
After notching more than $2.7 million in tournament earnings in 2016 – second only to the $3.1 million he won in 2014 – Quoss largely disappeared from the poker world. He won just $41,024 in 2017 and has no results in the current year.
"Since I haven't played in a while now, a lot of people messaged me asking why," Quoss wrote on social media. "I'm starting to be more active on social media these days, so I wanted to share a few thoughts."
Quoss went on to say that dedicating his life to becoming a world-class poker player left no time to spend on other endeavors. That tunnel vision became an "unhealthy obsession" and he eventually became "interested in exploring other possible focus points." Hence his hiatus, and subsequent retirement, from the poker world.
Quoss concluded: "I respect all players who are still grinding it out, who are still passionate enough about poker to make it their main mission in life. But, for me personally, spending most my time on poker just isn't an option anymore."
Quoss: "I think poker can provide tremendous opportunities for people but I have also seen many people who use it as an escape mechanism."
Quoss was kind enough to chat with PokerNews to elaborate more on his surprise post.
PokerNews: What sort of passions/projects/etc. have you been pursuing outside of poker?
Quoss: My main goal was to give myself some time and not rush into anything new right away. I think one of my biggest sources of discontent during and before poker was the fact that I've always felt the obligation to myself to constantly optimize everything in my life, keep proving myself and keep my mind occupied.
As I've mentioned in my Instagram post, as soon as I start something I just go down a deep rabbit hole and quickly become obsessed with it. So actually learning how to let go and be OK with that was a challenging and teaching experience.
I want to try out many different things and learn how to suck at something and still enjoy it without feeling the compulsion to "solve it" or become really good at it before going all in again on the next thing. To me it was important to take a sabbatical and learn more about myself and to learn how to be kind to myself.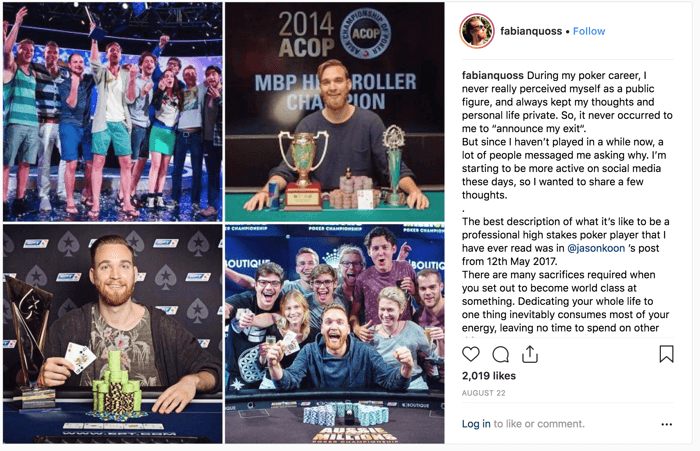 How have you been spending your time away from poker?
Quoss: I have done several courses (i.e. at the "School of Life" in Melbourne), a one-month yoga intensive retreat in Thailand, Skype coachings, stuff like that. Like almost every other poker player, I also was getting into educating myself on cryptocurrencies more intensively. For a while I was trying to learn about it, going to a few conferences, etc.
I rediscovered my passion for basketball and was playing daily with a bunch of guys in Vienna and I've been hitting the gym hard and consistently. I still love reading, podcasts, just educating myself on a variety of topics. I am still trying to meditate daily.
Quoss: "I'm also not completely ruling out the chance that at some point I decide to make poker a big part of my life again, I doubt it though."
It's been a while since anyone has seen you in the poker world. Was there a time/event/moment that you decided to step away or was it a gradual process?
Quoss: I guess it was kind of both. At the end of 2016 I was going through a few things in my personal life so that might have played into the loss of motivation. I just was playing and studying less and less and lost the passion that is necessary to compete on a certain level.
Then I had a short period March 2017 to July 2017 where I got motivated again but at the end of the 2017 WSOP I realized that I didn't want to do that anymore. Since then I've only played poker twice I think.
Some poker pros, like Vanessa Selbst, have announced their retirement from poker but still play from time to time. Do you anticipate playing occasionally or are you stepping away completely?
Quoss: I won't play any poker this year, but I'm sure at one point I will hop into a main event or two again. I'm also not completely ruling out the chance that at some point I decide to make poker a big part of my life again, I doubt it though.
In your eyes, what is your legacy in poker, or what do you hope it'll be?
Quoss: I'm trying not to make too many ego-based decisions in my life – often failing at that still — and I've never really understood the obsession with rankings, legacies, etc., especially when we are talking about playing a card game. For me personally, it is way more important that the people who have met me during my poker career have gotten to know me as a kind and sincere human being and remember me that way.
Are you happy/content with the game of poker? Is your outlook on the game positive or negative?
Quoss: I guess I feel neither especially positive or negative about poker. There is almost nothing in my life that I think about in a black or white fashion like that. For me it was the greatest thing that could have happened to me back then when a friend of mine invited me for a few beers and a home game for pennies and I got introduced to the game of poker.
But I have never romanticized the idea of being a poker player. It was a great way to have the freedom to travel, get to know great people, and compete at a very high level at something. But for me it was always a means to an end. I think poker can provide tremendous opportunities for people but I have also seen many people who use it as an escape mechanism and a way to just drift through their lives.
Do you still have your famous beard?
Quoss: Yes.
Executive Editor US, PokerNews Podcast co-host & 2013 WSOP Bracelet Winner.