Where Are They Now: 2007 World Series of Poker Main Event Final Tablist, Raymond Rahme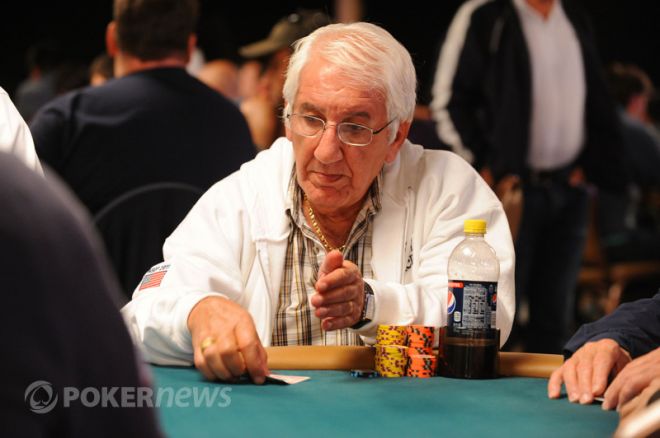 In 2007, the amiable Raymond Rahme was introduced to the poker masses after making the final table of the World Series of Poker Main Event, becoming the first person from Africa to do so. Rahme, then 62, the elder statesman at the final table, outplayed some tough competition on his way to a third-place finish and $3,048,025 prize.
Rahme, married with six children, still lives in Johannesburg, South Africa, and continues to play poker, a hobby he has enjoyed for more than three decades, though he spent the vast majority of that time playing stud. So how did a 62-year-old retired bed-and-breakfast operator come to play in the WSOP? He actually won a travel package after taking fourth in the 2007 "All Africa Poker Championship", the largest poker tournament ever held in Africa.
Since his final table appearance, Rahme has racked up some notable tournament cashes. In November 2007, he took first in the All Africa Poker Shootout Tournament for $15,038 and then won another All Africa Poker tournament in May 2008 for $142,371. In addition, he has other cashes from the Aussie Millions, European Poker Tour, WSOP, and WSOP Europe.
PokerNews caught up with Rahme at the 2012 Aussie Millions Poker Championship to find out what he's been up to since 2007 and how making the final table changed his life.
What have you been up to since your final table appearance at the 2007 World Series of Poker?
I had two and a half good years. I won all the major tournaments in South Africa, cashed in Europe, cashed in London, Italy, and Monte Carlo. Some very good cashes, but no wins, unfortunately, no final tables. Close to it though. I've had two Aussie Millions cashes, a 36th and 46th, and Europe also in the thirties, just missing the final tables.
I started to run a bit cold and I also slowed down on the traveling. I have a very big family. A lot of children, grandchildren, a big family, brothers and sisters, so I slowed down on the traveling to spend time with them. I had a bit of a break, about a year and a half. Played a little in between. I played the World Series Main Event, made it down to Day 4 or 5, that's why I'm having a bit of a bad run. So I just slowed down with it and am starting again this year.
When you made the WSOP final table, did it result in any sort of "boom" in South Africa?
Yes, very much so. It's still going well there, still big there. Since then there have been a couple of South Africans who've had good showings at the World Series like Warren Zackey, who finished took 22nd in 2009, and Konstantinos Mamaliadis, who took 13th in the Main this last year. So we've had a couple of good years.
The poker boom was not as big as Australia's. We've only got a certain demographic of the population that plays, but it's been good.
After your third-place finish, did you make any big purchases?
Just tiny investments. Some were good, some were bad. Properties have been bad, as you know, and I did invest in a bit of property. It's been rough, but not damaging. That's about it.
In 2007, they didn't have the concept of the November Nine, which was introduced in 2008. Is that something you would have liked when you made the final table?
It's got its pluses and minuses. I think, going into the final nine, I probably would have liked it. The pluses were that you had four months to negotiate deals, whereas I signed a deal when we were down to 37 players. They approached me and I signed then, so the deal I got wasn't as lucrative as what they're getting today [with the November Nine]. So that's the pluses.
The minus is, as a poker player, if went deep and if I got to the November Nine, I may have wanted to play it out. You're running hot, and you can continue running hot. Yes, it can change, but I thought I could continue running hot and go deeper. [With the November Nine] they have four months to check out the other players and see their style of play . . . To play to win, I think I'd like to play throughout.
What did your family think of your deep run? Were they in Vegas with you?
Only my wife was with me. I had a couple of relations based in Vegas, a lot of South Africans who weren't family, but they were good to me. Back home, my family never slept. They are nine hours ahead of America, and the kids, my grandchildren, didn't go to school, because they were watching the updates. My son-in-laws and daughters all sat up. They were very ecstatic.
You spent some time as a Team PokerStars Pro. What was it like being a sponsored pro on the circuit?
I was one for two years. It was very good, they were very good to me. I have no qualms with them. I think they were buckling down a bit, with the perks that they were giving, and maybe I wasn't happy with it. At the same time, there was just too much traveling. You play ten tournaments abroad, and I was playing tournaments in South Africa, it just became a lot. I opted to go my own way. Also, you go to the same places all the time, and I decided I wanted to go to different places.
Speaking of different places, the Aussie Millions has become quite popular. How long have you been coming to Melbourne?
I've been playing this for maybe six years now, since 2007. The tournaments are unbelievable. You can't say they're better than the World Series, which gets 7,000 players . . . but outside of that, the Aussie Millions is one of the best tournaments in the world.
Stay up to date on all the latest news by following us on Twitter and liking us on Facebook.
Executive Editor US, PokerNews Podcast co-host & 2013 WSOP Bracelet Winner.