My First: Randy Dorfman Discusses the 2011 Aussie Millions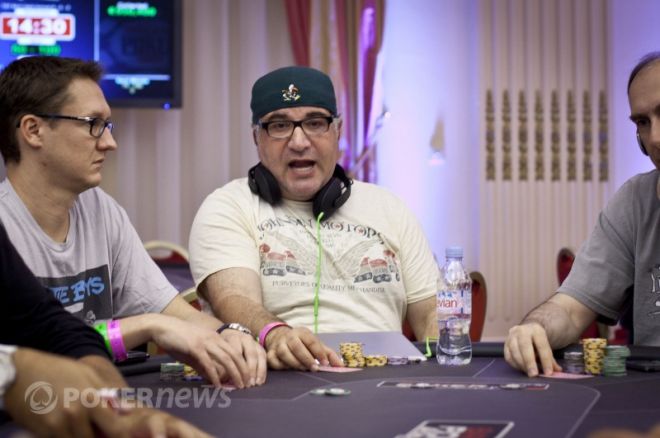 Randy Dorfman played in his first World Series of Poker in 2007. Since then, he has amassed $1,421,130 in tournament cashes, with his biggest score of $601,546 coming in May 2009 at the £25,000 European High Roller Championship at the European Poker Tour Grand Final in Monte Carlo. Less than two years later, Dorfman made his first trip to Australia and took part in the 9th Annual Aussie Millions Poker Championship, a jaunt that would end up putting him on the poker map.
The 2011 Aussie Millions was a highly anticipated event, attracting notable players like Phil Ivey, John Juanda, and Tom "durrrr" Dwan, just to name a few. With the eyes of the industry focused on Melbourne, Dorfman had an incredible week and dominated the poker headlines.
First, he played in the AUD$1,000 No-Limit Hold'em with Rebuys event, which attracted 86 entries who accounted for 255 rebuys. With a AUD$341,000 prize pool on the line, Dorfman navigated a tough field and finished in second place for AUD$71,610.
As if that weren't enough, Dorfman made waves in the Main Event a few days later, finishing as the chip leader on Day 2. He went on to bulldoze his way to the final table, which he also began as chip leader as he faced off against Patrik Antonius and Chris Moorman, among others. Unfortunately, a devastating river card sent Dorfman to the rail in fifth place.
Dorfman returned to Melbourne for the 2012 Aussie Millions and sat down with PokerNews to discuss his first trip Down Under.
"It's been about a year and I'm still not over it. I'm a type-A personality; I'm very competitive and I hate losing to a point that it's not really healthy. I'm very, very competitive. You never get over it, you just always replay it. When I spoke to Erik [Seidel] about how he handles it, you just have to realize that it's poker. It happens, and you can go a year or two running bad and then all of a sudden you just start running good. You've got to accept the fact that you're going to lose, even though you might think you're the best player there.
"There were no nerves or anything like that [going into the final table]. There were just two people at the table that I was worried about — Patrik and Chris Moorman. The rest of the field I really didn't pay any mind to. Having the chip lead doesn't usually last, so it really makes no difference as it seems the short stacks always come back to win these things anyway.
"Patrik was the first one out and Moorman was out early. Patrik got out early when he limped in with pocket kings under the gun, I called with
, and David Gorr called with
. I probably should have raised Patrik, but it was just so early I thought I'd see a flop, which came with a queen and a ten. Gorr flopped two pair, Patrik put it all in on the flop, and that was the end of Patrik.
"I felt good [after Antonius and Moorman were gone], but I've witnessed quite a few final tables and I've never seen anybody run as lucky as Gorr. I've never seen more four-card flushes in my life and he was just hitting every hand known to mankind. Against Samad Razavi, David had the
in his hand and Sam had
. The flop was all spades and David turned a flush on Sam, who quite amazingly laid down his hand.
"In my last hand, I got three-outed on the river. Small blind versus big blind, I think I had 25 big blinds left, and I had pocket tens, which knocked me out this year, too. I need to learn to never play pocket tens anymore. Anyway, I shipped it because he had so many chips, and I know he's going to call me with any small pair, but I didn't think he'd call me with a weak ace. He called me, the board was dry, and then boom, the lucky ace on the river as Barry Greenstein would say. Had I won that hand, I think I would have won the tournament. It was devastating.
"If anybody was to win it, I was so happy David won it. He's a grandfather, this is his hometown, and he was a total gentleman the whole tournament. You couldn't have found a nicer man to win the tournament. In fact, when I saw him here three days ago, he came over, hugged me, and said hello.
"You know, you try to replay what you did, and I can't even remember what I did. I just tried to stay out of really bad situations and I got lucky. I had aces against kings, and avoided getting sucked out on. I don't even recall ever going all in at any time during the tournaments except at the final tables, where I got three outed on the river. Pretty much cost me the tournament. It's really just staying out of trouble and playing the field. They play their own brand of poker here. They open very large, and they tend to bluff off their stacks pretty easily."
After leaving the PokerStars Caribbean Adventure in 2011, Dorfman and his wife, Joy, took a trip to Sydney, Australia, for a week before heading to Melbourne for the Aussie Millions.
"To me, Melbourne is just the most amazing city. I've been all over the world and it's just a young, vibrant town. The structure and the way that they run the tournaments here have just been amazing. The field has been, in my opinion, very soft and a lot of fun to play.
"Last year was a great year and I really hope to repeat it. I'm very glad that was my first time in Australia and I plan on coming back every year. They schedule the Aussie Millions at the perfect time of the year; it's the summer and the weather is just beautiful. You've got the Australian Open going, so any off day or off night we've been going to watch tennis. I'm a big tennis fan. I just love hanging with my wife and going there.
"The restaurants here are just amazing. We really didn't do much of the nightlife or clubs because I'm with my wife. Next year I'll leave her at home and try to sneak out to a club, but I don't know if that will happen [laughs]. We got married in November of [2010], and [the 2011 Aussie Millions] was pretty much our honeymoon. We scheduled it to come to the Aussie Millions, and after that we went to New Zealand for a couple of days and then we went to Bora Bora for 10 days, which was just amazing. It broke up the trip a lot, so it wasn't that bad. Flying from L.A. to Australia really isn't that bad because you leave at night. You just sleep on the plane, wake up in the morning and you're already here. It's pretty good."
The PokerNews Live Reporting Team is currently onsite at the 2012 Crown's Aussie Millions Poker Championship to bring you live updates from the Main Event.
Stay up to date on all the latest news by following us on Twitter and liking us on Facebook.