Top 5 Hands from 2020 Aussie Millions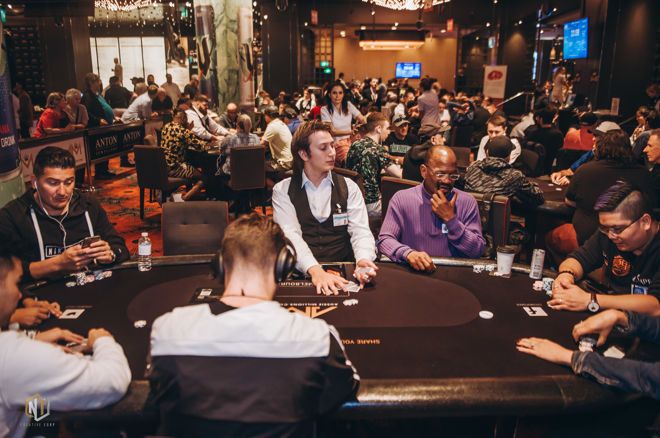 Aussie Millions wrapped up at the end of January, bringing a close to another chapter of one of the longest running and most prestigious poker tournaments in the world.
With almost a month of action in the rear-view mirror, much of it covered by PokerNews, it seems as good a time as any to look back at some of the biggest and best hands played with a reporter standing nearby at Crown Melbourne.
If anyone had any doubts whether Stephen Chidwick has an ounce of fear in him at the poker table, the British crusher put those to rest when he bluffed off his stack to kick off the A$100,000 Challenge.
The tournament began 250 big blinds deep at 500/1,000/1,000 but a monster pot developed right away when Seth Davies (button), Alex Foxen (small blind) and Chidwick saw an 8♦A♦5♥ flop for what looked to be a single raise from Davies. Action checked to Davies and he bet 6,000. Foxen raised to 19,500 and Chidwick called. Davies came along for the 10♦, which was checked around. On the 8♠ river, Foxen bet 70,000 after using a time extension.
That's when Chidwick made his move with an all-in shove. Even Davies seemed to have something to think about as he didn't fold right away before eventually giving it up. Foxen needed several time extensions of his own but found a call with 7♦6♦ for a turned flush. Chidwick had been bluffing with A♥5♣ and he found himself in for two bullets in a hurry.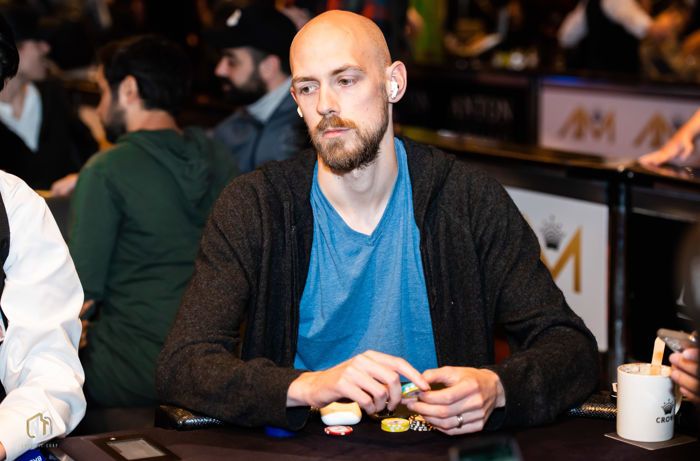 Sam Greenwood turned in a big bluff of his own in the A$50,000 Challenge. Unlike the last one, this one came up at the final table with huge money on the line. Just like its counterpart, the hand ended with its executor executed.
Just four players remained with everyone having A$397K locked up and playing for A$1,073,790. Greenwood sat a distant third in chips with Michael Addamo and Cary Katz having piles at the top. Still, Greenwood's stack of 820,000 was good for 82 big blinds.
Addamo opened things with a raise to 22,000 first to act, and Katz called. Greenwood made it 105,000 out of the big blind and Addamo came back with 230,000 to chase Katz out. Greenwood shoveled it in there on a five-bet and was met with a quick call and Addamo's A♣A♦. What little chance Greenwood had with K♠Q♠ quickly evaporated as A♠4♠4♣ flopped.
Addamo rode his chip lead to a seven-figure victory.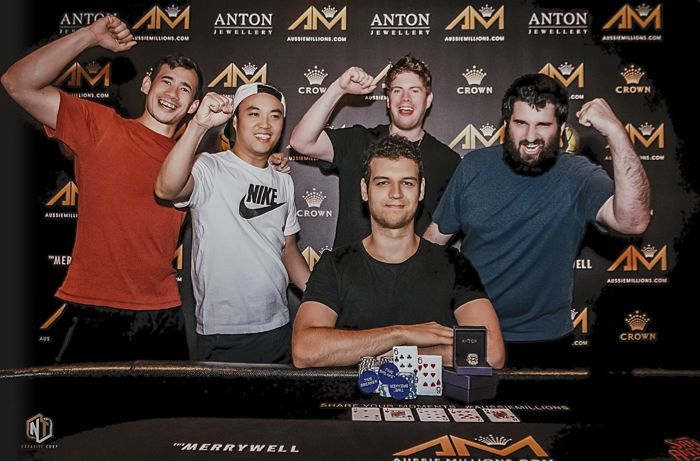 Players at the A$100,000 Challenge final table were not afraid to mix it up without having big hands, as this clash between two airballs showed.
On a A$300,000 bubble with the chip lead, Kahle Burns found himself in a dream spot to put pressure on his opponents. That didn't stop Aaron van Blarcum from defending his big blind with 7♥3♥ when Burns made it 120,000 at 25,000/50,000/50,000 with 5♥4♠ in the cutoff.
Both players checked to the turn, where the board read Q♣8♣J♥9♥. Van Blarcum checked again and then called 100,000. On the A♣ river, van Blarcum came out betting with 220,000. Burns used a time extension then put in a small raise to 475,000. That earned him the pot with each man playing the board, as van Blarcum gave up his own bluff.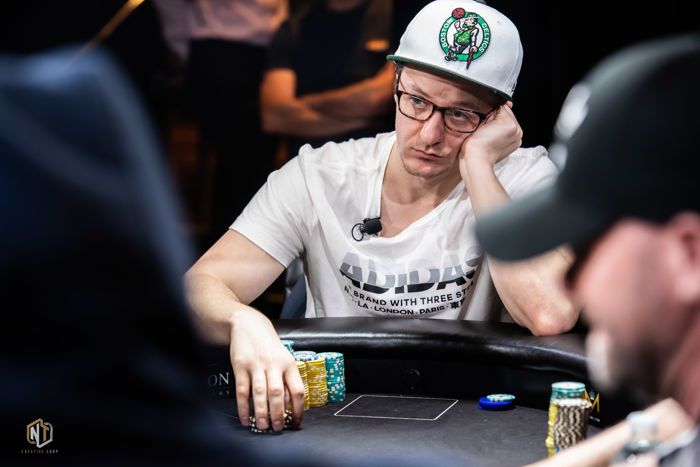 Deep in the A$10,300 Main Event, a wild hand developed with 11 players left featuring an unlikely ending, swinging several fortunes in the process.
At Level 25 (20,000/40,000/40,000), local favorite Michael Sideris raised to 90,000 and got action from both blinds, Vincent Wan in the small and Oliver Weis in the big. On the J♣3♠2♣, action exploded as Sideris' continuation-bet of 100,000 was met with a raise to 300,000 by Wan and a shove for 1,295,000 by Weis.
After a five-minute tank, Sideris went with his hand, sticking in his 1,675,000. Wan had everyone well covered and snap-called.
Wan: 3♦3♥
Sideris: A♣7♣
Weis: 6♣5♣
The 10♥ missed everyone but the 4♥ river gave Weis a winning straight and a triple up to 4.1 million. Wan collected a much smaller side pot and busted Sideris in a hand that had the whole room buzzing.
At the final table of the A$25,000 Challenge, Farid Jattin and Steve O'Dwyer began as the top two stacks but started off moving in opposite directions as Jattin increased his lead while O'Dwyer slid back into the pack. They clashed in a sizable hand at 12,000/24,000/24,000.
Jattin raised to 54,000 in the cutoff and O'Dwyer called out of the big blind to see a K♥Q♠6♦ flop. Jattin continued for 75,000 and O'Dwyer stuck around to see a 6♥. Jattin bet much bigger this time, but O'Dwyer called 333,000.
A J♦ river prompted a final check from O'Dwyer. Jattin shipped it in for O'Dwyer's remaining 750,000. After several minutes in the tank, O'Dwyer released his cards and Jattin rolled over 7♠4♠ for a start-to-finish airball.
The zero-equity bluff propelled him further from the rest of the players and he'd ride his chip lead to a heads-up chop in which he claimed the lion's share of the money.