PokerNews Jet Set: Melbourne, Part 1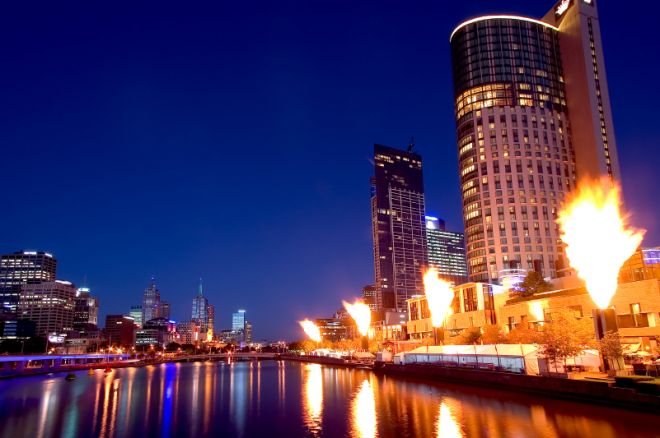 For those fortunate enough to win a seat and make it to Melbourne for the 2010 Aussie Millions, the Crown Casino will undoubtedly become a "home away from home" thanks to its impressive lineup of eateries, bars and nightclubs, and entertainment venues.
Crown has a little something for everyone, so make sure to explore the hotel as a first priority to enjoy the best Melbourne has to offer without having to leave the premises.
Lucky for you, we've made it a bit easier for you in part one of our guide to Melbourne, which focuses solely on the casino and all it has to offer. Later this month, part two will explore some of the great places to visit outside the Crown in beautiful Melbourne.
Eat like a King
Crown offers gourmands a choice of 40 restaurants, cafes, and snack bars — more than a small country — so you have no excuse for not indulging your cravings and experimental whims. Why eat the same old stuff!
There are too many venues to list in this article, so we selected several that should appeal to poker-playing punters at the Aussie Millions.
Nobu
Crown plays host to Australia's only Nobu restaurant. Highly regarded by Japanese cuisine aficionados, Nobu is considered a top dining destination for food fanatics from around the world. Gourmet Traveller describes it as "rollicking good times whether on a budget or a blow-out."
Although you can opt for numerous succulent dishes including baby tiger prawn tempura with creamy spice sauce and beef tenderloin with wasabi, make sure to check out the Tapas menu, which lists a variety of delicacies for those looking for light fare such as yellowtail sashimi with jalapeno, lobster sashimi tacos, and the house specialty, cod with miso. Vegetarian fare is also available.
Giuseppe Arnaldo and Sons
Inspired by third millennium Roman trattorias, this restaurant offers traditional Italian food with a hint of Aussie flair, and it's usually packed enough to need a reservation.
Gourment Traveller says the atmosphere is "...pure theatre; you wouldn't be surprised to spot Tony Soprano conspiring at a corner table."
The inspiration of Maurizio Terzini and Robert Marchetti, owners of two popular Sydney restaurants, this almost hidden restaurant on the Crown's promenade level gives Italian food lovers plenty of reasons to rave. Dishes include aged cheeses, antipasta meals like "Gambaretti" (oregano-dusted shrimp, lemon, and Aioli) and Spaghetti "Arrabbiata" (crab with tomato and chilli), which is baked in a paper bag to give it a unique taste.
Bistro Guillaume
Run by Guillaume Brahimi, the award-winning chef and proprietor of Guillaume at Bennelong in the Sydney Opera House, this high-end dining destination for French cuisine offers gastronomical delights you won't find in too many places.
Want something to write home about? Try the chicken and duck liver parfait with pear and ginger chutney or Hunter Valley snails with beurre persille.
Designed to satisfy the sophisticated palate, and called a "tour de force" by Gourmet Traveller, this luxurious restaurant is popular, so make sure to reserve ahead if you want a prime spot for the evening
Escaping the Felt
After you've spent your day building your stack, you may want to blow off some steam. Crown has you covered on this score with a number of different ways to break free of the poker madness.
To simply relax and unwind, belly up for a drink at any of the Crown's numerous bars or just order bottle service while you catch a flick at the hotel's movie house.
If you want a different kind of break to get your head straight, Crown offers other options.
Crown Spa
The Crown's spa staff performs over 10,000 massages a year on guests. A relaxing one-hour massage can be had daily from at anywhere from a simple $95 AUD muscle-relaxer to $345 for a two-hour aromatherapy massage in a deluxe pampering suite.
If you know ahead of time that you'll want a massage, you can schedule an appointment when you make your accommodations or restaurant reservations. Some of the styles offered include relaxation massages, deep tissue, Thai, Chinese, and reflexology.
For you high rollers who want a little peace after a grueling day, consider an in-room massage where you can fall asleep during or after.
Village Cinema
This ridiculous movie house offers fans a choice of ways to enjoy the latest Hollywood flicks including Village Max (similar to Imax), Village 3D (3D films such as A Christmas Carol and Avatar), and traditional theater formats.
If you've got some extra cheddar to burn and you want to enjoy movies the way real Hollywood celebrities do, take in a private screening in one of the Gold Class theaters. This unique experience lets you and your special friends relax in recliners while enjoying full bar service during your personal screening.
Fusion
Considered one of Melbourne's top nightclubs, Fusion features a variety of DJs and offers three state-of-the-art bars as well as a VIP mezzanine for all you big ballers. Open Thursday night through Sunday morning, Fusion's enchanting dance floor offers different beats on different nights for music aficionados. Thursday night's Rythmalism offers world beats, Friday's Sound of Fusion is for traditional house jams, and Saturday's (Re-Play) should suit you pot-limit Omaga lovers perfectly.
With so much to offer you may need to plan a trip to Crown every year for the next five years for the Aussie Millions to experience it all, especially since this is just part one.
Seats to the Aussie Millions are still out there for the taking. Click here for a full listing of sites offering 2010 Aussie Millions packages.