Where Are They Now: 2007 World Series of Poker Main Event Final Tablist, Phillip Hilm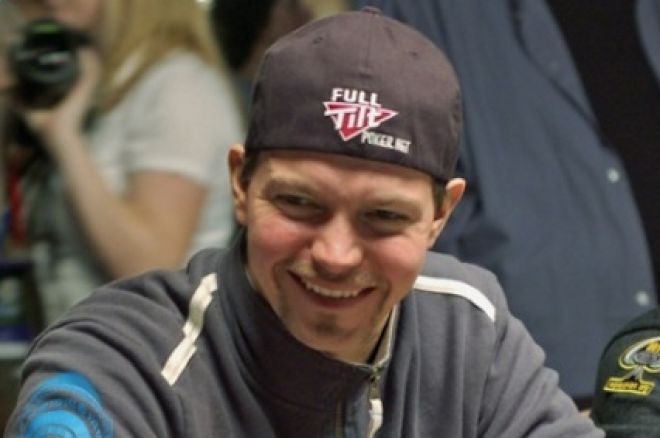 Ever think back on past World Series of Poker Main Event Final Tables and think, "Whatever happened to that guy?" You're not the only one. Instead of just wondering, however, we've put our resources to the test and tracked them down. In our inaugural piece, we caught up with 2007 WSOP ninth-place finisher, Phillip Hilm. More than four years ago, Hilm began the final table as the chip leader with 22.07 million but ended up as the first casualty in what some deem the biggest meltdown in Main Event history. Whether or not that is true, the fact remains that it took just 15 hands for Hilm's aggressive approach to take him from the top of the pack to out the door.
During that time, Hilm squared off against Jerry Yang, the only other player who came prepared with an aggressive game. Needless to say, there was only room for one bully at the table, meaning either Yang or Hilm had to go. In what would be Hilm's final hand, Yang opened for 1,000,000 holding
and was called by Hilm who was holding
in the small blind. The two were heads-up to the
flop, which hit both players. Hilm checked his pair and flush draw, Yang fired out 2 million with top pair, and Hilm called. The harmless
turn saw Hilm check once again, opening the door for Yang to bet 4 million; however, this time Hilm woke up with a check-raise, moving all-in for 12.4 million more. Yang made the call, and the
river sent Hilm packing in ninth place for $525,934.
Since then, Hilm has disappeared from the circuit; in fact, he hasn't added any cashes to his poker résumé. PokerNews recently caught up with Hilm while he was on vacation in Greece to get the lowdown on what he's been up to, how the final table changed his life, and exactly what happened in those 15 hands that took him from the favorite to the fallen.
What have you been up to since your final table appearance in 2007?
At first I was still grinding online a lot, as I used to do. You know, my routine, and then I slowly just started playing less and less. I was focusing on making investments, real-estate investments, choosing, picking the right places to invest in, and stuff like that. It's turned out really well.
Is it safe to assume your poker playing has declined since then? Do you still find time to play?
I choose not to play, there's a difference.
When was the last time you played a major event?
I don't know, maybe not the WSOP this year, last year I think. I wanted to close one of my online accounts and I found out I had some points on their Frequent Player Points, so I turned the points into a WSOP Main Event entry.
Is real-estate investment something you'll be continuing with into the foreseeable future?
Oh, for sure. Yeah, it's going really well. We just finished our first project and we're going on with a second one, just commencing the second project. So it's nice.
How do you find that kind of life versus a poker life?
There are two major differences, I'll say. First of all, I don't have the swings. The swings you have playing poker can be kind of unsettling. There are ups and downs in poker, every professional player knows that. You can be in a great mood when you win, you're going to look down when you lose a lot. I don't have that when I'm investing.
The other thing, is that there's a great sense of satisfaction because I'm actually creating something, I'm building stuff, I'm building apartments, I'm not just playing a game. You can actually see the results of my work.
Did poker put you in the position to pursue other things in life, like investing?
Yes, definitely. I took my poker winnings and that's what I've invested.
Is your decision not to play poker permanent, or do you see yourself playing from time to time?
Oh, I'll play again. I'll play again from time to time. I would even now if opportunity was more available, I would say. I live in Prague with my family, we have a daughter of almost two years, and we're expecting another one here late November, so I'm busy being a father. I love the family life, I love spending time with my child, soon to be children. I'm a bit fed up with the online grind. I'd love to go to a casino every now and then and play, but in the casinos the games are running from midnight onwards. That doesn't really fit well with family life.
So, if I'm out playing all night, I'm sleeping all day when my family's awake, that doesn't really work well. And they don't have the no-smoking policy as in Vegas. In Prague, you can smoke everywhere and casinos hand out free cigarettes to all the players now. I don't know if you can imagine half a table full of Asians chain smoking, that's pretty scary to me.
Can you tell us about the last time you played the WSOP?
I busted pretty fast the last time I was in the Main Event, but I did some side games in the casinos in Vegas, and I loved that. It's a great atmosphere, you know, no smoking, friendly service, everything is nice. The dealers and the staff, they know the rules, I cannot always say the same in Prague. It was really nice. I love playing the side games every now and then.
Have you been keeping up with what's been happening in the poker world, like who has made this year's November Nine?
I follow the news every now and then to see what's going on. I'm really interested in high-stakes action, like the cash games. I follow the tournaments a little bit too, but the November Nine . . . if you have nine new players almost every year I would say, then I'm more interested in what happens after they win, what they achieve in the long run.
In 2007 they didn't have the November Nine like they do today. Is that something you would have like back then, or did you prefer playing straight thru to a winner?
That depends on what you're after. For me personally, I don't think it made that big of a difference. I say that because I'm not really interested in pursuing a long-term poker career, at least not anymore. But being interested in a long-term poker career, it's a great thing. You get a lot more promotional value. You get time to do a lot more interviews, and there's a lot of attention on you when you go to that final table, and if you have a few months to prepare for that, it's a great advantage to the players I'd say.
How did your life change immediately after the 2007 WSOP final table?
I didn't realize really what was different immediately. I got a good amount of dollars out of it that I later on put to work in my investments, but I think life went on pretty much the same as it used to. But once it was aired in the States on ESPN and all the channels, I went on and played the PokerStars Caribbean Adventure in the Bahamas, and everyone recognized me, everyone came up to me, everyone wanted an autograph, a picture, or something like that. That was pretty crazy.
Do you keep in contact with anyone from the final table? Did you become friends with any of them?
Hevad Khan, he's a really nice guy and we usually chat if we meet somewhere in the casino or something like that. He's a very nice guy.
I'd be remissed if I didn't ask. When you busted from the final table in ninth place, did you have a hard time dealing with that?
I really understand you asking a question like that, and that most people would perceive it like that, but for me it was no hard time at all. I'd already achieved what I came for, to make a good enough amount of money that I could proceed with investments. I mean, for me, the difference from half a million to one million to two million, stuff like that, I didn't see the big difference there. I got a good amount of money and it was enough to invest. I knew once I started investing, I could turn it into whatever I wanted.
So the perception of the money wasn't really any issue. Then there was the thing that if I was to do anything else than bust out where I busted out, then I wanted to win, just to win the whole thing. So a lot of people actually question the way I was playing and saying 'Why didn't you show a little bit more patience? Climb up the places a little bit, get a higher cash prize?' I'm like, I wasn't there to do that. I was satisfied with the money I got, and if it wasn't that, then I wanted to just win everything, be number one.
It seemed like you and Jerry Yang, who went on to win, were the only two players at the table with that mentality.
It was bound to be one of us. There was a very decisive hand* between us, and if he'd lost that one, he could have been the first one out.
*Check out the hand, as well as Hilm's elimination hand in the clip below.
If that hand had gone your way, do you think you would have had a good shot of capturing the title?
I feel I would have won it almost 100 percent, yeah.
Don't forget to follow us on Twitter and like us on Facebook.
Executive Editor US, PokerNews Podcast co-host & 2013 WSOP Bracelet Winner.