Where Are They Now: 2007 World Series of Poker Player of the Year Tom Schneider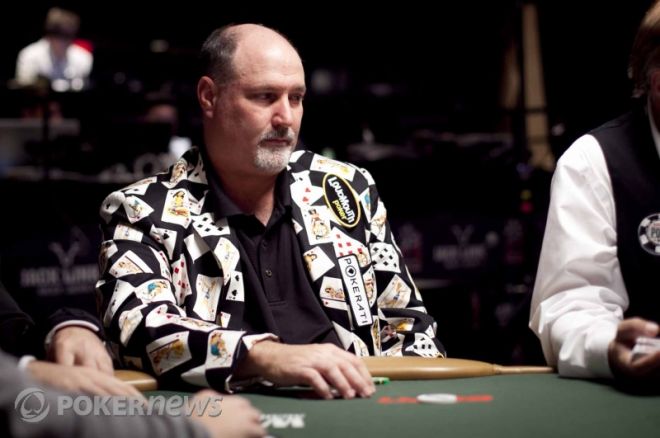 To ask where 2007 World Series of Poker Player of the Year Tom Schneider is really isn't a fair question. The Arizona native has remained relevant by making the pilgrimage to the WSOP every summer and amassing at least five-figures in earnings each year since capturing his two WSOP gold bracelets. Even so, we thought it'd be fun to catch up with the man known as the "Donkey Bomber."
For those who need a reminder, Schneider captured the WSOP Player of the Year after an incredible Series in 2007, specifically June. He won his first bracelet in the $2,500 Omaha/Seven-Card Stud Hi/Lo 8-or-Better event for $214,347, and then took fourth in the $2,500 H.O.R.S.E. event for $54,769 less than a week later. At the end of the month, Schneider captured a second bracelet when he took down the $1,000 Seven-Card Stud Hi/Lo 8-or-Better tournament for $147,713.
In addition, Schneider received some TV time on the World Poker Tour, first for taking third in the 2006 WPT World Poker Challenge in Reno for $256,115 and the fourth in the 2007 WPT Legends of Poker for $228,625.
Schneider was kind enough to sit down with PokerNews to talk about the WSOP, appearing on a popular TV show, and his plans for the summer.
This is a broad question, but what have you been up to lately?
I am consulting with Loudmouth Golf as their Chief Financial Officer, doing mathematical and marketing consulting for Turbo Gaming, a casino game developer, writing and publishing country music, writing articles for Southwest Poker News, and playing a little golf in between all of that, oh and I'm trying to lose a little weight — five pounds oughtta do it.
I try to be funny on Twitter once in a while too @donkeybomber. I wrote a song about the Sandy Hook tragedy. You can find it by going to YouTube and searching Tom Schneider Music. It's called "Just Another Day". Can you stop making me plug this stuff? I'm so glad you didn't ask me about my book Oops, I Won Too Much Money. That would have been over the top. OK, I'm done.
You actually got involved with poker before the boom of 2003 and have a couple of results in the 2002 WSOP, including a 36th-place finish in that year's Main Event. Can you give us a little background on how you first ventured into the poker world?
I started playing poker with my Mom and some of my friends. She was not a particularly good player. I think it was her way of spreading a couple a bucks around to my friends and me. Then she started taking some photography classes in the summer and asked me to babysit my little sister while she was at class. I took the $5 she paid me and used it to start my daily poker game — oh yeah, and watched my sister very closely. From there, I played all through high school and college. I made a few trips to Vegas before I was 21. A full, heavy beard kept me from getting carded.
Then when I was about 23, I heard that Fort McDowell, near the Phoenix area, had poker. I couldn't believe it. I drove out with my friend to check it out, and he said to me when we got to the parking lot, "our lives have changed". It turns out mine did, and his didn't for some reason.
In 2007 you won Player of the Year at the WSOP after winning two bracelets. One was in the $2,500 Omaha/Seven-Card Stud Hi/Lo 8-or-Better event for $214,347 and the other in the $1,000 Seven-Card Stud Hi/Lo 8-or-Better event for $147,713. Which bracelet are you more proud of and why?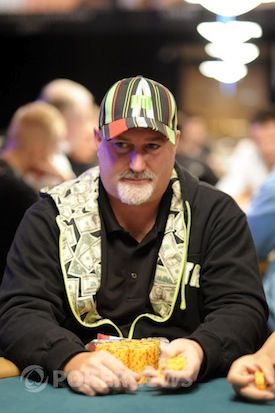 I would like to say the combo event, because it was two different games, but I have to say the stud-8 event for two reasons. In 2007, I had made up my mind to never give up. During that event when the betting limits were 200/400, I had just 375 in chips. I folded a couple more hands that most people would have tossed in their money and said "get me outta here" — I didn't give up.
The other reason that tournament was so memorable is that I was playing in a live game and telling one of the players that I hate stud-8. I had already registered and was trying to find a way to unregister. A player at the table told me to play it and he would take half of me. I asked at what price. He said he would put up $500 for half. I was insulted — OK, not really, but I told him forget it, I'm going to play and win it, and he will be disappointed that he was so greedy. We laugh now, or at least I do.
What have become of your bracelets? Do you wear them or do they sit in a safe or the like?
I gave one of my bracelets to my dad and he wears it every single day. I tried giving one to my mom, but she was too afraid that she would lose it. That one sits in my closet. The bracelet is just a thing, so it doesn't mean that much to me. The memory is what's important.
What are your thoughts on the WSOP POY back then compared to today? Is it more difficult to get POY? Is it any more or less prestigious?
First, let me say that since they have disbanded the WSOP Players' Committee, I haven't been following many of the changes made to how the WSOP POY criteria has changed, so forgive me if I say things that are not factually correct. Also, I want to make it clear that I'm a big fan of the WSOP, and believe for the most part, they get a lot of things right. I have three pretty big disagreements with some of the things that I believe have changed regarding the POY points.
First, I heard they are now including all events around the world that are named WSOP in the POY calculation. By doing that, they are limiting the possibility that a non-pro or a non-sponsored pro, will win it to about 0%. Prior, a non-traveling or non-sponsored pro could set POY as a goal, because they could take a shot in a couple early WSOP-Vegas events, and if they win, decide to play a bunch of events later in the schedule. That happened to me for the most part.
Since events occur prior to the WSOP in Vegas, all players that don't play in the Asia-Pacific series will be well behind and won't have the opportunity to go back and get points. This change makes it so much easier for the players that have sponsorships and get their travel and entry fees paid to win POY. I think that is the wrong direction to go. POY is something that all players should be able to reasonably aspire to. This change gives the big name pro too big of an advantage to win POY. Maybe they could have an International POY and a Vegas POY.
Second, the WSOP schedule is finding more ways to play no-limit hold'em. Out of 62 events this year, only 19 of them are non-hold'em events. I believe POY should represent skill at all games and not be so heavily weighted toward one game. I understand that NLHE events draw more people, but the POY is not about who the best all-around poker player is during the Series anymore. Most of the new events are just another cool way to play NLHE.
Finally, I haven't looked at the formula for earning points recently, but the last time I looked, I thought the points were too heavily weighted for the Main Event. Someone has to win the Main, so someone is going to get a ton of points for one event. I don't know if the charity events are included in the POY, but I don't think they should be for many reasons.
In the two years after winning POY you managed to earn six-figures, but after 2010 that dropped off. In fact, in 2011 you earned just $10,517 in tournament earnings. Did you cut back on playing or was this just variance?
I had my worst WSOP ever in 2011. I hardly bagged chips and played in a bunch of events. It all stems from me using the handicapped toilet one day — bad karma, I guess. As (I think) Seinfeld says, "I was handicapped when I went in there".
What's the deal? Why did you fail to mention my six cashes last year, 2012? Hater!
On past WSOP broadcasts we see your wife Julie cheering you on with her memorable, "Stack'em, stack'em, stack'em to the top." Do you find that motivating or distracting?
She is the best. It is hard to remain calm around her, but I'm used to the excitement. She is a tough poker player herself. I was sick when I made that deep run in 2009 in the Main, so I think she was trying to pump me up. I was so sick I was ALMOST wishing I wasn't there. She did that cheer one time and ESPN missed it and asked her to do it again, so they just focused the cameras on her every time I won a pot, as if to say, "come on, do the stack'em thing". I thought it was so cool that Brett Richey did a wrap called "Stack'em to the Top".
Do you and your wife still enjoy playing poker and is she as supportive as she was back then?
She is the most understanding poker wife I know. She loves to play poker more than me. I'm looking to do different things in life than poker. Poker has been very good to me, but I feel something missing. Other than the WSOP, I don't travel for poker anymore. I would be happy to be in business and write songs the rest of my life, but a man's gotta eat — wait, I'm on a diet.
We understand you're a fan of deuce-to-seven. How do you feel about the WSOP removing the $1,500 tournament from the schedule this year?
I have already expressed my disappointment with the WSOP schedule with you and with them. I think it is a big mistake not to keep a good variety of events. Poker is about a way of thinking and it applies slightly differently to all forms of poker. It is important to keep most all of the game types alive, by offering various levels of buy-ins. The WSOP is the keeper of tradition and by moving so much toward NLHE, I think we are losing some of that, but I guess the WSOP has to eat, too.
You recently appeared on an episode of CSI. How did that opportunity come about and what was that experience like?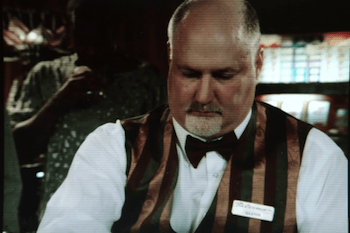 A few years back, I played golf with the Producer of CSI. He is a poker fan. We talked poker a couple times, and then out of the blue, he called me and said he needed a technical director for a poker episode. Julie and I both went over, and it was a blast. The writer had written a scene where the dealer was supposed to palm a card. I told them that a dealer wouldn't do that, but he might deal a second or do a false shuffle. I showed off some of my old magic tricks, and they asked me to deal.
We've seen you wear some crazy clothing over the years. Do you still have a loud wardrobe?
I'm the Chief Financial Officer of Loudmouth Golf. They make loud, crazy, cool clothes, so yes, I will be wearing some interesting looking stuff at the series.
Can we expect to see you this summer at the WSOP? If so, do you have an idea of what your schedule will look like?
I will probably be up for the whole series. It always depends on how things go, and if I can stay away from the amazing brownies in the poker kitchen.
Get all the latest PokerNews updates on your social media outlets. Follow us on Twitter and find us both Facebook and Google+!
Executive Editor US, PokerNews Podcast co-host & 2013 WSOP Bracelet Winner.