Where Are They Now: 2006 WSOP Main Event Final Tablist, Dan Nassif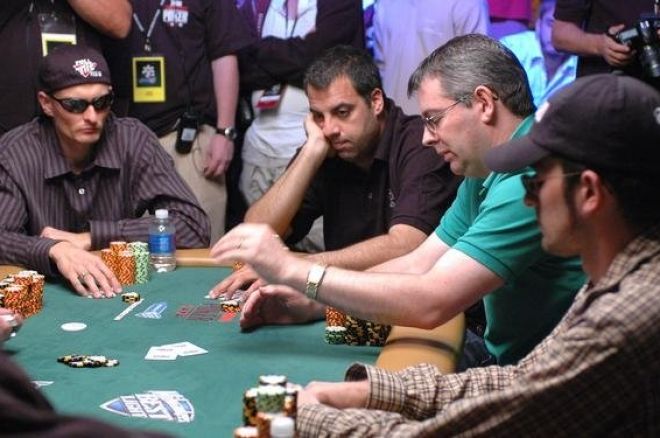 If you were asked who finished in ninth place at this year's World Series of Poker Main Event, you'd likely be able to answer Sam Holden, especially if you watched the live broadcast Sunday on ESPN . If you were asked who finished in the same spot in 2006, you might have a more difficult time. The answer is Dan Nassif, and he is the subject of our latest Where Are They Now piece.
Nassif, a then 33-year-old account executive from St. Louis, came to the final table of the 2006 WSOP Main Event as the short stack after having pocket kings cracked by Michael Binger's pocket queens. Unfortunately for Nassif, he was card-dead from that point forward and unable to make a comeback, exiting the tournament in ninth place for $1,566,858. Not a bad payday for the man who qualified for the Main Event via a PokerStars satellite.
Since then, Nassif has fallen off the poker radar. In fact, his only cash since 2006 was in April this year at the WSOP Circuit Harrah's St. Louis where he finished 25th in a $345 no-limit hold'em event for $1,260. PokerNews recently reconnected with Nassif to see what he's been up to since his final table appearance, and how $1.5 million changed his life.
What have you been up to since making the 2006 WSOP Main Event final table?
It's been five years. I can't believe it's been that long, but I've been in the medical field the past couple of years. I was in advertising before, for a local newspaper here . . . and I did that up until '08, and then I opened up, invested in a restaurant, and then got into medical sales, and played some online poker, until of course Black Friday.
Have you been playing much live poker since 2006?
No actually. I went down to Tunica and played in the WSOP Circuit event in January of 2007. I made the second day and then got knocked out around 66th place. Then I played in the Main Event in '07, and that was really all the live poker I played for a little bit.
In 2010 I played in the WSOP Circuit event here in St. Louis. I played in the $1,000 buy-in event and didn't do well in that. This past year, in the Circuit event in St. Louis, I played in the $300 buy-in and got 25th. So I haven't played a ton of live poker, I just didn't have time because I was always working. I didn't quit my job, I didn't try to go pro or anything like that.
How did you make the Main Event in 2006, satellite or direct buy-in?
I satellited in on PokerStars. I started playing online poker in '04, and then on PokerStars in early 2005. I satellited in in '05 in the double shootouts. [In another tournament] I chopped heads-up for $80,000, so I had a nice little bankroll for poker. I went up there with high hopes and got knocked out in about six hours. It was definitely a reality check, that's for sure.
After being eliminated so quickly in 2005, what was your game plan going into 2006?
My plan was basically I didn't care what happened. I was willing to play and looking at it like a vacation from work. The longer I made it through, the longer I was in Vegas and the less I was in a cubicle at the office, so I just took it one day at a time.
I realized there were like 9,000 people. The year before I really wanted to win and tried to win it all on Day 1, and that obviously doesn't happen. So I took it day by day. If I lost a pot, big deal; if I won a pot, big deal. You always try to keep an even keel about it.
After making the final table, did your life change as far as fame accompanying your fortune?
When I got back, it was something I wasn't used to because of the media presence and what not. It was on TV and newspapers and stuff; I bought that newspaper actually. It was a little bit different. I got some calls from people I hadn't talked to in a long time, and I got some calls from some past girlfriends, as well. It was neat, and it lasted a few months. There would be times I was at a bar and someone would buy me a drink or what not, which was cool, but other than that it wasn't too bad.
You pocketed $1.5 million for ninth place. Did that money change your life? Did you make any big purchases?
I put it all in the market pretty much. I paid off my house, and that was it. I still have a lot invested in the stock market. I didn't buy anything.
Have you played the WSOP at all since 2006?
Just in '07 when I played in the Main Event. I lasted maybe nine to 10 hours that day. I didn't play well at all, I really didn't, and I played terrible.
Back in 2006, they didn't have the concept of the November Nine. What are your thoughts on that? Is it something you would have liked to have had back in '06?
You know, I would have liked whatever was best for poker. Poker needs ratings. I would have gone with whatever was best for the game. If they thought it was the November Nine, then great, that's what you do, you have a few months' break. I really didn't care. We had one day off in between in '06, and that was fine with me. They could have had the November Nine in 2006 and that would have been fine, too.
What was it like playing with Allen Cunningham at the final table? Likewise, what was it like playing against the big stack of Jamie Gold?
When I made the final table, I had, I think 19 big blinds, like 2.5 million in chips . . . then I was just card dead. With Allen Cunnningham to my left, Paul Wasicka to my right, and Jamie Gold's big stack, I couldn't do anything. I had no capability at all, so I kind of just dwindled away waiting to pick up a hand. When I started, I knew my plan was numbered. I either needed to get a big hand right away and double up or I was toast. I was in a bad spot with my stack, and I picked up
and tried to do what I could.
What are your thoughts on the Jamie Gold Rule, namely that his antics made it so players can't talk as much at the table, with some tournaments banning table talk altogether?
I think it's kind of ridiculous. Why can't you talk? If he's actually talking you into doing something you don't want to do, then you've got your own problems. I don't understand why that's an issue, you should be able to talk.
Do you think Gold's ability to talk during the tournament helped him win? How did you deal with it?
I think it helped him against some people in certain situations. It didn't hurt him at all, that's for sure. My experience playing with Jamie was not a lot. We played maybe a few hours together on Day 5, he was sitting right next to me. I heard him doing it, but because he was a big stack and I was to his left and I didn't know how he played, I tightened up and tried to pick my spots.
He was talking to people, but he was being honest in what he was saying. If he wanted a call, he'd tell the person that they should call, and it worked. I saw him win huge pots doing that. When he had the worst hand, the other person folded; when he had the best hand, the other person called. So he knew what he was doing and did it right. We really didn't get involved in a hand until the last one.
Stay up to date on all the latest news by following us on Twitter and liking us on Facebook.
Executive Editor US, PokerNews Podcast co-host & 2013 WSOP Bracelet Winner.