Where Are They Now: 1996 WSOP Chinese Poker Bracelet Winner Gregg Grivas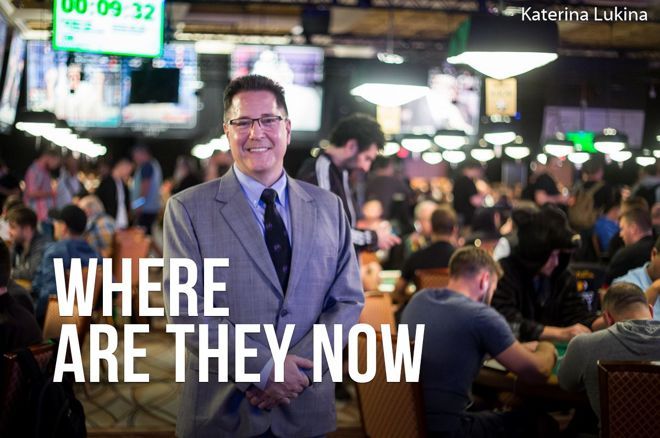 Table Of Contents
Chinese Poker is played with players each receiving 15 cards and then setting those hands into two five-card hands in the middle and back, and a three-card hand up front (or on top). The back must be the highest-ranking hand, while the middle must be between that and the front, the lowest set of the three hands.
Players then compare their hands against one another and earn points, as well as royalty bonuses, based on their winners. It's a fun game that in recent years has spun off different variations including Open-Face Chinese (OFC), Pineapple OFC, and Pineapple 2-7.
While regular old Chinese Poker isn't played nearly as much these days – an evolution not unlike limit hold'em morphing into no-limit – it does have a long history in poker. In fact, four World Series of Poker gold bracelets have been awarded in the variant back in the mid-1990s.
"I woke up early, came downstairs, and they had a satellite for the Chinese Poker tournament for $300."
At the 1995 WSOP, John Tsagaris won the $1,500 buy-in Chinese Poker, while Steve Zolotow took down the $5,000 buy-in tournament. The following year, it was Jim Feldhouse who won the $5,000 buy-in while Gregg Grivas topped a 62-entry field to win the $1,500 title for $37,200.
Since then, Chinese Poker has disappeared from the WSOP schedule.
PokerNews caught up with Grivas to chat about his victory more than two decades ago and to find out what he's up to these days.
Parlaying $300 into WSOP Gold
Grivas, now 58 years old, has had a lifetime of poker dating all the way back to when he was just a youngster.
"As a child my grandmother back in Pittsburgh taught me how to play stud when she babysat me in the 60s," he said. "About 1981, when I was 21 years old, I was down in San Diego and Oceanside card Club needed dealers, so I went in and started dealing, started playing. Back then you had to play at the casino you worked at when you weren't working to get hired."
He continued: "In 1992 I was pretty much a full-time poker player. I had a jewelry business too, but I was doing so well in poker that I pursued it. My brother, Rich, wanted to go to Las Vegas. We went in 1996. The first day of the World Series. We were staying at the hotel. I woke up early, came downstairs, and they had a satellite for the Chinese Poker tournament for $300. Of course, I win the satellite, then I win the tournament, and it was all smoke and mirrors after that."
It was also during that tournament that Grivas made some lifelong friends in the poker world.
"It was a great year for me. Men 'The Master' Nguyen and I became friends early in that tournament. He won a bracelet that year. Linda Johnson was there. This was the first day of the WSOP and they both stayed up to watch me win my bracelet. They're my friends forever. Everyone at the event knew each other. Most of the events were small back then so everybody knew everyone."
Grivas' win was good for $37,200, and it wasn't a fluke. A couple of months later he traveled to Los Angeles for the 1996 California State Poker Championship $330 Chinese Poker and he topped a 32-player field to win that too, good for $11,880.
"They had surrender back then," he said of the game he crushed. "You could look at your hand, and based on your chip count you could just surrender your hand and lose the minimum to all three players. We played five handed and one sat out."
Reigning Champ 23 Years Running
Grivas can still be spotted playing along Vegas, but most folks recognize him from his work as a floor man at Planet Hollywood.
"I love poker, I play and still make money at it, still enjoy it, I don't think that's ever going to change."
"My official title is the assistant tournament poker director. I'm more your average, everyday hard-working floor person. I like what I do, I like people. They have me overseeing all the charity events. I'm a people person, I love doing that. Raising money to help different organizations is really what I love to do at this point in my life."
The summer is always a busy time for Grivas, not only because of Planet Hollywood's Phamous Poker Series Goliath, but because he makes a concerted effort to grind.
"I try to play every single day this time of year. That's my goal," he revealed. "I love poker, I play and still make money at it, still enjoy it, I don't think that's ever going to change."
One way to spot Grivas at the table is to look for a gold bracelet around his wrist. Grivas is among the former WSOP winners who opt to don their hardware.
"If I don't wear it I'll end up losing it. I'm misplacing things all the time," he said. "I'll hid it at home someplace crazy and forget where I hide it, so I said the hell with it, I'll just wear it from now on."
As for whether or not Grivas wants to see Chinese Poker return to the WSOP, he's ok either way.
"I will forever and ever be reigning champion if it doesn't," he said with a smile.
Executive Editor US, PokerNews Podcast co-host & 2013 WSOP Bracelet Winner.