Where Are They Now?: The 1989 WSOP Main Event Final Table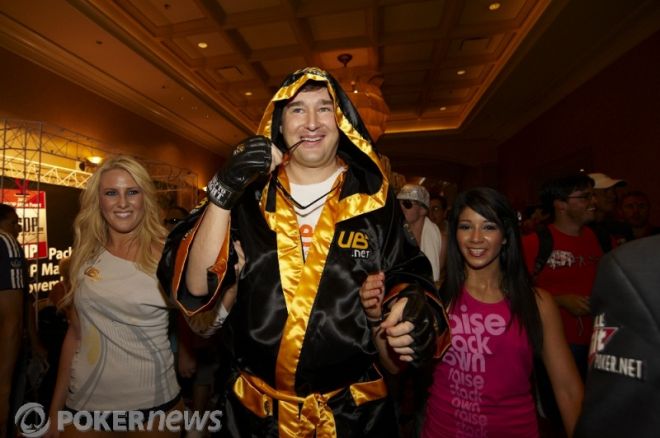 In only his second year at the World Series of Poker, a brash 24-year-old from Wisconsin was the only man standing in Johnny Chan's way as he chased a record third consecutive WSOP Main Event title. Chan had to settle for second that year, as Phil Hellmuth won his first WSOP bracelet, becoming the youngest player in history to win the Main Event. Hellmuth held on to that record for 19 years, went on to win ten more bracelets, and in the post-boom era successfully marketed his "Poker Brat" persona to the tune of millions of dollars in endorsements. But what of the eight players he defeated en route to his title? Crank up that Duran Duran record, it's time to take a trip back to 1989.
Ninth place, George Hardie ($22,650)
When George Hardie made the final table of the 1989 Main Event, he was still the owner of the Bicycle Casino — at the time, Los Angeles' largest card club. Although federal agents raided the club in the late 80's during a money-laundering investigation, Hardie was cleared of any wrongdoing. In 1990, however, U.S. Marshals seized the Bike following the racketeering convictions of four men associated with the club. The feds took over the Bike, profits declined sharply, and Hardie resigned as general manager four years later but still retained his partnership. In 2004, Hardie sued the federal government for running his business into the ground and an arbitrator ruled in his favor, awarding Hardie and his partners $93.6 million. The suit is being appealed.
Since finishing ninth at the 1989 Main Event, Hardie cashed three times at the WSOP and made the final table of the $3,000 World Championship Seven-Card Stud Hi/Lo event in 2007. At the 2009 WSOP Main Event, Hardie landed on the TV-featured table alongside Joe Hachem and Jeffrey Lisandro but did not finish in the money.
Eighth place, Mike Picow ($30,200)
The 1989 WSOP was the pinnacle of Mike Picow's poker-playing career. He made two other final tables in addition to finishing eighth in the Main Event, cashing for over $65,000. Like so many unfortunate souls, though, Picow succumbed to Las Vegas' dark side. In 2008, his daughter Natalie made a documentary called Strike Dice!: Betting on My Father. In the film she travels to Las Vegas and finds her father bedraggled, bearded, and living on the streets, his life ravaged by a gambling addiction. Picow's last recorded tournament cash was a 12th-place finish in an ace-to-five lowball event at the 1995 WSOP.
Seventh place, Fernando Fisdel ($45,300)
Seven years after his trip to the final table of the "Big Dance," Fernando Fisdel had another near-miss at a world championship, finishing eighth in the 1996 WSOP Main Event. A longtime fixture in the sports betting world, Fisdel was convicted on money-laundering charges in 1999 and served 32 months in federal prison. Upon his release, he made a few cash finishes in smaller buy-in events in Costa Rica but never returned to the World Series. Fisdel passed away on June 14, 2009, and is survived by his widow and three children.
Sixth place, Noel Furlong ($52,850)
Ten years after his sixth-place finish, Noel Furlong won the 1999 WSOP Main Event for $1 million, defeating a final table that included Huck Seed, Chris Bigler, Erik Seidel, Padraig Parkinson, and Alan Goehring. Although Furlong has not cashed at the WSOP since his Main Event win, he still plays in smaller events in his native Ireland and returns to Las Vegas for the WSOP nearly every year.
Fifth place, Lyle Berman ($67,950)
Over the last 20 years, Lyle Berman has enjoyed a thriving career both in the business world and on the felt. From 1994 through 2000 he was the CEO of the restaurant chain Rainforest Café and later was instrumental in the poker boom as the chairman of the board of the World Poker Tour. Berman is still very active in the poker world, regularly playing in high-stakes cash games in Bobby's Room at Bellagio. He has also enjoyed continued success at the WSOP, making twin fifth-place finishes in the 2008 $10,000 Heads-Up No-Limit Hold'em event and the $50,000 H.O.R.S.E. event. Berman made another deep run in the 50K this year, finishing in 12th place.
Fourth place, Steve Lott ($83,050)
Steve Lott's 1989 trip to the WSOP Main Event final table wasn't his first and wouldn't be his last. Lott finished seventh in 1986 and followed up his fourth-place finish in 1989 with a ninth-place finish in 1994. All told, Lott has seven career cashes in the Main Event, his most recent in 2004. Lott is still playing tournament poker — he competed in the $10,000 L.A. Poker Classic Main Event in 2009 and played the WSOP Main Event this year.
Third place, Don Zewin ($151,000)
Don Zewin was a Las Vegas cash-game fixture throughout the 1990s and can still be found behind a chip stack almost daily. Zewin made three cashes and one televised final table on the World Poker Tour, 15 cashes at the WSOP, and has over $1 million in live tournament earnings — not too shabby for a guy who doesn't play too many of them.
Second place, Johnny Chan ($302,000)
A ten-time WSOP bracelet winner, Johnny Chan is one of the most popular and enduring figures in the game today. His WSOP Main Event win over Erik Seidel was immortalized in the 1998 film Rounders and he was one of the 20 players the public voted in to the 2010 WSOP Tournament of Champions, where he finished third. Chan has $8.5 million in career tournament earnings, 43 WSOP cashes, and has been a steady presence on television, appearing on the Poker Superstars Invitational, Poker After Dark, and the NBC National Heads-Up Championship.
First place, Phil Hellmuth ($755,000)
Poker has afforded Phil Hellmuth a great life and he lives it out loud. He flies on private planes, sips his beloved Dom Perignon, and rubs elbows with celebrities and athletes at exclusive clubs. At heart, the 11-time bracelet winner is a family man and a devoted father, but he's still as volatile as ever at the tables, reminding his opponents at every turn that they "don't even know how to spell poker." Hellmuth's ostentatious Main Event entrances have become a Day 1 fixture at the Big Dance over the last several years; this year he dressed as an MMA fighter, donning a black and gold silk robe (see photo above). Hellmuth is fourth on the All-Time Money List with more than $11.4 million in career tournament earnings, has cashed 79 times at the World Series of Poker, and if you don't know all this, he'll remind you.
Are you following us on Twitter yet? Well why not?