The WSOP on ESPN: Cada and Moon Headline Day 1c and 1d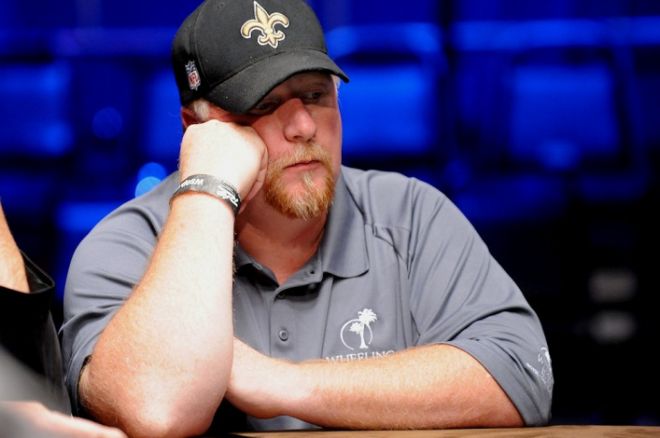 This week's two-hour block of coverage of the 2010 World Series of Poker featured two of last year's breakout stars. We all knew Joe Cada would be back to defend his title, but did anyone count on Darvin Moon emerging from the Maryland woods to give the Main Event another whirl? Both men ended up on ESPN's featured table, Cada in the first hour and Moon in the second, joining an eclectic mix of pros, amateurs, athletes, and Hollywood luminaries onscreen. Missed the action? We have your highlights reel right here.
Cast of Characters: Eight world champions started their Main Event on Day 1c, including Cada, Johnny Chan, Scotty Nguyen, Joe Hachem and Phil Hellmuth. A number of former November Niners were also taking their shots at a second Main Event Final Table. Among them were Jeff Shulman, Phil Ivey, Steve Begleiter, and Dennis Phillips. We also caught glimpses of Eric "Basebaldy" Baldwin, Billy Kopp, Patrik Antonius, Doyle Brunson, Jason Mercier, WSOP Player of the Year leader Frank Kassela, boxer Jeff Fenech, NFL legend and "Dancing with the Stars" champ Emmit Smith, and actors Jason Alexander and Hank Azaria.
Well, it's better than that flamingo hat: Legendary not only for his online play but for the appalling number of prop bets he has lost to Peter Jetten (who could forget the array of flamboyant hats he was forced to don at the WPT Championships), Tom Dwan sat down on Day 1c wearing an oversized button bearing the image of Jetten hugging a koala.
A Hellmuthian spectacle: After arriving for the Main Event dressed as a NASCAR driver, General Patton, and Julius Caesar, Hellmuth arrived decked out in full MMA regalia in an entrance even Norman Chad dubbed as "lame." After sitting down at the secondary featured table, Hellmuth discovered that each player had put up a $100 bounty on him — whomever busted Hellmuth would collect all the Benjamins.
Hellmuth's Main Event didn't end up lasting past Day 1. Hellmuth three-bet all-in with two red jacks, Marian Hering shoved behind him with
and Daniel Aldridge called with pocket queens. The board ran out
, Aldridge rivering a flush to eliminate both opponents.
Cada gets cooking: Cada opened
for 800, Nils Bardsley three-bet to 2,200 with pocket kings and Cada called. Cada flopped sevens full when it the first three fell
. Both players checked. The
on the turn gave Bardsley a flush draw and not knowing he was drawing dead, he called Cada's 3,600 bet. The river was the
making Bardsley the nut flush. Cada bet 11,000 and Bardsley found enough control to merely flat-call, Cada taking down a pot worth nearly 39,000.
Only a short time later, Cada was paid off on another big hand, flopping trip nines. He also managed to river a two-outer full house with pocket treys after his opponent turned a king-high flush. Cada put in a river raise and once again got paid off. That hand took him up to 61,725, more than double his starting stack.
One, two, three, four Mizrachis: The entire Mizrachi clan started play on Day 1d — $50,000 Players' Championship winner Michael, his twin brother Eric, PLO bracelet winner Robert, and youngest brother Donny. Robert had the fastest start to his Day 1, eliminating Clement Thumy with pocket kings against pocket queens.
Magician makes Chau vanish: Antonio Esfandiari and Chau Giang found themselves at the same table and clashed in two major hands. First, Giang got the rest of his stack in against Esfandiari, holding pocket tens against ace-queen. The flop? Ace-ten-queen! Although Giang's set held up against Esfandiari's two pair in that instance, he wouldn't be as lucky in their next confrontation. Holding
on a
board, Giang bet 7,000 with his straight, Esfandiari raised holding
for two pair, Giang shoved and the Magician snap-called. Esfandiari rivered a boat with the
fell, Giang leaping out of his seat, totally flabbergasted at his elimination.
Durrrrrrrty: Speaking of dirty river cards, Tom Dwan was all-in on the turn holding
for top two pair on a
board against Robbie Talebi's
. The river, however, fell the
and Talebi made his straight, sending Dwan to the rail.
You learn something new every day: When Darvin Moon checked behind on the river with the nut flush, he said he was doing so simply so he could see what his opponent was holding, believing that he would not have called a bet. When several players at the table informed him that it was illegal to check the nuts on the end, the floor supervisor gave Moon a one-hand penalty. Moon clearly didn't know he was violating a rule, which is put in place to protect players against soft-playing and collusion.
Ooops: Rather than the traditional "shuffle up and deal," Emmit Smith called "shuffle and play" to snickers around the room. He was eliminated only a few levels in, amateur Chris Donnelly collecting his chips.
Best group costume: If you've spent any time inside the Rio Convention Center, you know how cold it can get in there. The players at Table #63 found themselves positioned right below an air conditioning vent and were so chilly they all put on identical blue and white Snuggies, purchased for them by a thoughtful railbird.
Unfortunate fashion moment: Jeff Lisandro, topping off his eggplant-hued hoodie (worn Unabomber-style) with a black fedora. Hat on top of hood = never good.
Quote of the week: "Always here for my failures! Where are you for my big triumphs?" – Jason Alexander, as the ESPN cameras caught him losing a hand
Phil Ivey fun fact: Ivey has played 10 WSOP Main Events and has finished in the Top 25 four times.
Bad beats save lives: With 54 players remaining in last year's Main Event, Dennis Phillips was all-in against Steve Sanders holding queens against aces, but sucked out a win when he rivered a four-flush. Well, that bad beat may have saved his opponent's life. Sanders was crippled on the hand and eliminated a few minutes later. He had been having pains all day but played through them. After returning to his hotel room, the pain worsened, so he went to the hospital. One hour later, he was in surgery for an aortic aneurysm.
Sanders made a complete recovery and when he ran into Phillips this year, told him the story.
"I guess that card came more for Steve's sake than mine," Phillips said.
That old Moon magic: Darvin Moon opened for 1,600 with
and Miguel Gonzalez smooth-called with
in the small blind. Gonzalez checked the
flop over to Moon, who bet 2,500 despite having missed. Gonzalez raised to 7,550, Moon three-bet-bluffed to 12,000 and Gonzalez shoved. It was only 4,300 more for Moon to call, and getting 10-1 odds, he did so (unlike the infamous king-queen hand from last year). Moon picked up a few more outs when the
hit the turn, and like a lightning bolt, the
fell on the river, making him aces up. Just like that, Gonzalez was out and Moon was up to 89,500 in chips.
Who's in? Who's out?: Barry Greenstein made Day 2, John Juanda didn't, and neither did Hachem. Mercier and Ivey did, so did Chris "Jesus" Ferguson, Jason Alexander, Steve Sanders, and all four Mizrachi brothers.
The World Series of Poker airs Tuesday evenings at 8 p.m. EDT on ESPN. Check your local listings.
If you like big tournament action, there is still time to qualify for our first $20,000 William Hill Pay Day Freeroll this weekend.
Are you following us on Twitter yet? Well why not?