Where Are They Now: 2007 World Series of Poker Runner-Up Tuan Lam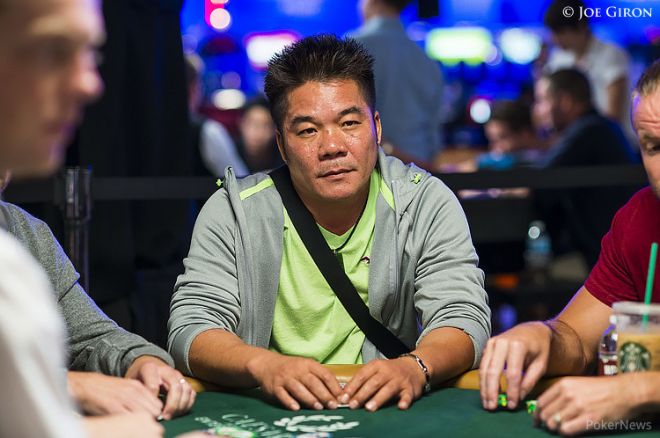 When I did my very first Where Are They Now article back in 2011, I caught up with 2007 World Series of Poker finalist Philip Hilm, who if you recall blew the chip lead to finish in ninth place while Jerry Yang went on to capture the title. Since then I have provided updates of other 2007 WSOP finalists such as third-place finisher Raymond Rahme, fifth-place finisher John Kalmar, and seventh-place finisher Lee Childs; however, one man I've never been able to track down was that year's runner-up, Tuan Lam.
Since finishing second to Yang for $4,840,981 in 2007, Lam has disappeared from the poker world; in fact, that seven-figure score remains his last documented tournament cash. I've tried to contact Lam in the past, but all of my efforts failed. He doesn't use Twitter, he's not active on Facebook, and no one in the poker world seemed to know what became of the Canadian. It was a mystery. In fact, there is a TwoPlusTwo thread devoted to Lam titled Where is Tuan Lam?
"I happened to be seated at the dining counter in Bellagio's Noodles Saturday about 6 p.m. and Tuan was seated next to me," user "M8Ludi" posted on July 7. "He is a very nice person and our conversation went on for quite awhile before it became apparent that he was the man who came in second to Jerry Yang in 2007. He is a gentleman, not a diva. You cannot say that about most of the American douche bags who get more than their fair share of boobtube face time."
For the better part of seven years, Tuan had vanished, but suddenly there was a sighting during the 2014 WSOP Main Event. Sure enough, that same day, Day 1c of the tournament, my colleague Mo Nuwwarah spotted Lam in the field. I cautiously approached Lam and asked if he'd be willing to speak with me at the end of Level 2. He was a little surprised someone recognized him, but he hesitantly agreed.
"I play cash games at Bellagio with my friends," Lam explained when I mentioned that someone had seen him there. "I want to hang out with my friends. We talk and this and that. I relax a little bit."
The conversation spun from there, and when asked where he's been since breaking through in 2007, Lam divulged that his time and efforts have been focused elsewhere.
"I was busy in Vietnam, and I didn't feel well physically," he said. "Even this event, I don't feel well either. I don't know why, it's sort of frustrating sometimes. I go back and forth to Vietnam. Sometimes I can't stand the snow. It's too cold for me and my health is bad. I was not in good shape."
Lam declined to elaborate on his health issues, but he revealed that his trips to Vietnam were charity based.
"I do a lot of charity work," Lam continued. "I've been giving people rice and donating money to the poor people. I go around and help people, that's what I wanted to do. I feel good when I do that. I was busy with all the paperwork needed to go to Vietnam. It took me years to do that. I got frustrated, but I said I've got to do it, I promised, so I didn't give up."
After that, Lam was also more than willing to reminisce his run in 2007.
"I remember that year, when I came to Vegas, it was my second time," Lam said. "I was up about $40,000 playing cash games. One day I lost it playing big limits — I lost it all back and I was down after that. So I said to myself, 'I need to do it, I need to do something on that trip,' and I did it. I was very dazed, but no matter what people say, I kept myself calm."
So what did Lam do with the $4,840,981 payday? He didn't buy a car, nor a house, but he does admit he's given a little back playing online. "I've given back some money online. Sometimes it was boring at home, and when I went to Vietnam I sometimes stayed home and got lonely, so I played online and gave some back. I don't do that anymore. I don't like taking risks. I've kind of settled down a little bit."
Even after losing some online and giving more to charity, Lam has saved enough to live a content life. "I feel very comfortable with the money, with my life, stuff like that," he said. "My life was changed after that."
As the 20-minute break came to a close, Lam's attention turned back to the Main Event, the first and only tournament he played at the 2014 WSOP.
"At the beginning, I was doing very well," Lam said as he launched into what was akin to a bad beat story. "I was in a good mood, but somehow I threw a card away and it went down the table and jumped off. The way the dealer acted made me feel very bad about it, and now many of my chips are gone because the dealer got me upset. He said, 'Floor, come over,' but everyone at the table knew it was a mistake, and he knew it too, so I don't know why he tried to piss me off so much. Since then, my chips are gone. I don't even care, I want to go home."
Lam, who hasn't spoken to anyone from the 2007 WSOP final table in the years that have passed, didn't appear to have the passion he once had for the game. He seemed genuinely upset by the aforementioned situation with the dealer, and there was no doubt he wanted to be anywhere else than at the poker table.
Not surprisingly, Lam busted a short time later in Level 3 at the hands of Filipp Khavin. According to our PokerNews report, action started when someone opened for 800, Lam called, and Khavin three-bet to 3,600 from the small blind. The initial raiser folded and Lam called. The flop brought out
and Khavin bet 3,000 after which Lam moved all in for 7,000. Khavin called and the following showdown went like this:
Khavin:

Lam:
The turn was the
giving Lam a flush, but the river was the
giving Khavin a bigger flush to knock Lam out.
Where Lam goes from here is anyone's guess, but chances are he'll slip back into poker obscurity, which is just where he wants to be.
Relive Lam's finish in the 2007 WSOP in the video below:
Get all the latest PokerNews updates on your social media outlets. Follow us on Twitter and find us on both Facebook and Google+!
Executive Editor US, PokerNews Podcast co-host & 2013 WSOP Bracelet Winner.