Where Are They Now: 2007 PCA Champion, Ryan Daut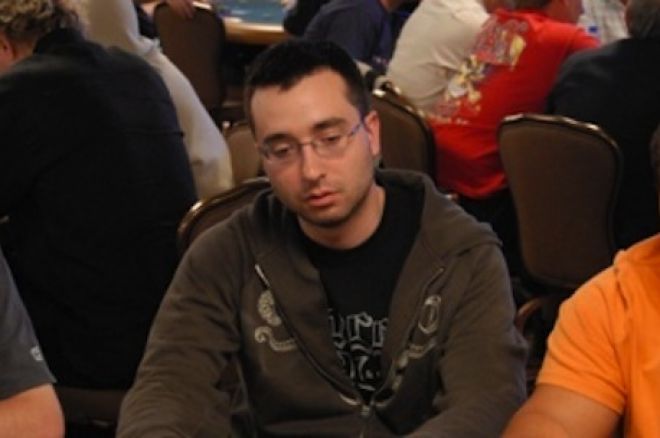 The PokerStars Caribbean Adventure has a rich tradition dating to 2004 when Gus Hansen outlasted 221 players to capture a $455,780 first-place prize aboard a cruise ship. Now, nine years later, the PCA returns to Paradise Island in the Bahamas from Jan. 5 through 14, and continues to attract some of the best players in the world.
In preparation for the 2012 PCA kickoff, we caught up with 2007 PCA Main Event Champion, Ryan Daut, who outlasted a field of 937 to win a $1,535,255 first-place prize. To do so, he overcame a stacked final table that included Isaac Haxton, Robert Ford, Robert Mizrachi, Jonathan Little, and Frank Rusnak.
At the time, the PCA was a part of the World Poker Tour and aired on the Travel Channel; you may recall that final table was played outdoors. Check out the following hand, which features some pretty sick bluffing.
Since his win, Daut has stepped out of the poker spotlight. He still plays but prefers to play online and chooses his live events sparingly. Aside from some small cashes at the World Series of Poker, none for more than $17,000, Daut's only other notable cash came at the 2007 WPT $15,000 Doyle Brunson Five Diamond World Poker Classic where he finished sixth for $192,715.
What have you been up to since your PCA win in 2007? Are you still living in New Jersey?
Back in 2009, I stopped traveling the live circuit, so I moved out of my parents' house and moved to Scottsdale, Arizona, with a few friends. Then about a year ago, I moved out to Orange County. For the past five months, I've been traveling back and forth to Vancouver so I can continue playing online.
Did you consider going back to the live circuit after Black Friday as opposed to relocating to Vancouver?
I've always been mainly a cash game player and just played a handful of good tournaments on the side, so after Black Friday I first tried to grind it out at the Commerce. After three grueling sessions, I knew I couldn't handle being a live poker player. It's just far too slow, and I'm used to playing a few two-hour sessions a day, which just isn't possible with the commute and wait time to get in games at a casino. So a couple weeks later I deposited some money on Merge and tried to make a living there, but I wasn't making enough money, so in July I decided that after the WSOP I would make the move to Vancouver and continue grinding online.
Do you have a lot of money stuck online as a result of Black Friday?
I have a little over $100,000 on Full Tilt and maybe $1,000 to $2,000 on Absolute. I actually bought another $10,500 on Full Tilt for $4,500 about six weeks ago because I feel confident now that the deal with Groupe Bernard Tapie will go through.
What games and stakes do you prefer to play online?
Over the past three to four years, the online cash games have gotten a lot tougher, so I've been progressively moving down in stakes over the years and actually made the switch to pot-limit Omaha. I would have to put in far too many hours to be a pro playing no-limit hold'em cash since the $2/$4 and higher games online are very difficult now.
On the side I probably play about 15 Sundays a year. I wouldn't be able to handle playing tournaments full time because of the variance and the small edges nowadays, but Sundays are still very soft and I can deal with tournaments one to two days a month. I actually got pretty lucky last year and chopped the Sunday Million and a WCOOP for $208,000 both times, so I will probably just keep grinding mid-stakes cash and playing Sundays on the side in 2012.
How did you enter the PCA in 2007? Did you satellite in, buy in, etc.?
In 2006, I played very few tournaments and almost exclusively cash games. It was my first year as a pro, and I managed to have a $100,000 year. I had a few friends going down to the Bahamas, so I played two super satellites and ended up bubbling them both. I decided that since it was a one-time tourney I would just buy in direct for about 8 percent of my bankroll.
It was only my second live tournament at the time, but I had played probably 50 hours of live cash and thought the tourney would have a good enough structure to favor a cash game player, so I played it and ended up getting pretty lucky there.
How did your life change after the win? Did you make any big purchases with your $1.5 million?
After I won, I started playing a lot more live tournaments, jumped up in stakes from $3/$6 to $10/$20 to $25/$50 and started a backing business, which I still have going today. I'm not really a big purchase kinda guy. I got my parents a pretty nice car a few years ago, but besides that I don't think I spent more than $5,000 on any one thing.
What was it like playing such a major tournament outdoors? Likewise, what was it like playing against a tough final table that included Isaac Haxton, Robert Mizrachi, and Jonathan Little?
At the time, the five younger guys were pretty much all unknowns, but from a limited amount of time playing with them I knew they were all pretty good players. At that point, the only thing I knew about Robert Mizrachi was that he was the Grinder's brother, and on Day 1, one of my buddies was really beating the Grinder's brains in all day, so I wasn't intimidated going into the final table
The only thing I remember about playing outdoors was that the sun was in my eyes and it was pretty windy, so we had to be really careful with the cards all day. I wouldn't want to do it again.
With the event being televised, did you acquire any fame and recognition?
I was definitely recognized a bunch after the tournament aired, but I've never been much of a self promoter, and since I've only been on TV twice for final tables and rarely play live tournaments anymore, I don't get recognized nearly as much as other people who had big results from that time period.
Will you be making a trip to this year's PCA?
I won't. I haven't been back there since 2008. In the past few years, the only tournaments I play have been the LAPC Main Event and a handful of WSOP events. This year I may also consider playing the EPT Madrid Main Event, but other than that I don't have any live tournaments planned in the near future.
What are your thoughts in regards to the future of online poker in the U.S.?
With the recent statement from the DOJ that the Wire Act only applies to sports betting, I suspect that legislation will go through sometime this year and that a casino site owned by someone like Caesar's Palace will open early to mid 2013. I don't think the sites will be huge immediately though, so my hope is that PokerStars is let back into the U.S. market sometime next year
Stay up to date on all the latest news by following us on Twitter and liking us on Facebook.
Executive Editor US, PokerNews Podcast co-host & 2013 WSOP Bracelet Winner.