Packing Up to Play Poker: Vancouver, Canada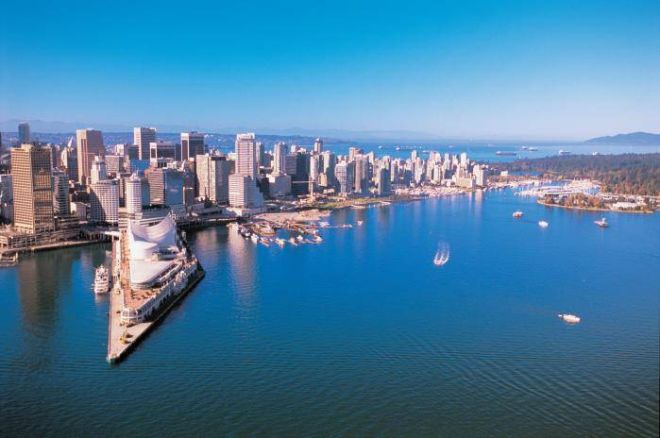 Although the events of Black Friday have decommissioned online poker in the United States, hundreds of players have decided to relocate to other countries to pursue their livelihoods. We've been exploring some of the more popular destinations that have attracted players, including Malta, London, and Tijuana. This week, we've decided to turn our gaze north of the border to Vancouver, British Columbia, Canada.
With the likes of Brian Hastings, Phil Galfond, Randy "nanonoko" Lew, Maria Ho, Christina Lindley, Tom Marchese, David "Doc" Sands, Erika Moutinho, Shane Schegler, and William Reynolds all choosing Vancouver, it has proven the top choice among pros. We actually caught up with a few of the aforementioned players to get their take on Vancouver, and why they decided to head north.
Quick Overview
Population as of 2006: 578,041
Time Zone: PST (UTC-8)
Area: 114.67 km2 (44.3 sq mi)
Incorporated: 1886
Weather: November-March are rainy/April-October drier, sunnier, with moderate temps
Language: English
Currency: Canadian dollar
Website: http://vancouver.ca/
Why Vancouver?
Here are what a few pros had to say about choosing Vancouver:
Brian Hastings: "For now at least, I wanted to live somewhere with English as a first language, which narrowed it down to Canada, basically. I considered Montreal but thought Vancouver seemed like a better city for enjoying the outdoors and eating healthy, plus I knew several other poker players moving here."
Randy Lew: "I was looking for a place that was close to my home in California, and seeing how Vancouver is close, I decided to go there."
Maria Ho: "I live in LA and I also spend a lot of my time in Las Vegas, so Vancouver was an easy choice because it's so close and is on the West Coast. Plus, I've had the chance to travel to Vancouver for the BCPC and other events and I've always had an amazing time. Its a beautiful city that offers anything and everything you could want: great restaurants, shopping, casinos, beautiful sights, sports, nightlife, etc."
Finding a Place to Stay
There are many ways to find a place to stay in any given city. This includes visiting the city and simply walking around, scouring the Internet for rental agencies (of which there are plenty), shacking up with friends, and even perusing online poker forums for opportunities.
Even though each of these options is applicable to Vancouver, we recommend searching within the poker community and forums to find the best deals and locations. Tons of poker players, including top pros like Hastings and Galfond, have already made the move and helped pave the way by sharing their wisdom online. As Ho attests: "There are a ton of poker players who live in Canada and I have friends there, so I got a lot of great advice from the people I knew already living there. These days with the Internet you can basically do it all online, but it was helpful to have suggestions from people who know the city."
Hasting was also quick to offer his advice: "I used flipkey.com but there are several good rental sites, seems like the easiest way to go."
However, you should know that Vancouver ranks atop the highest housing prices in all of Canada, so it may cost you a pretty penny. It's also worth noting that Vancouver is billed as on of the greenest cities in the world, and according to Mayor Gregor Robertson, "We will be the Greenest City in the World by 2020." Vancouver is surrounded by nature, so it's no surprise they're among the most environmentally conscious cities in the world.
Visa Issues
If you're from the United States and just looking to "visit" Vancouver, or any Canadian city for that matter, you do not need a visa; however, you do need to meet certain criteria. You will need to have a passport, satisfy immigration (what is your reason for visiting Canada?), have enough money for your stay, and proper travel documents. It is rare to be turned away, although it happened to Daniel Cates, but if you're prepared you should be fine.
When asked about the visa issue, Ho seemed to echo the sentiments of her fellow pros: "No, I didn't have to get a visa. From my understanding, an American citizen can stay in Canada legally for up to 6 months out of the year, and since I travel so much on the tournament circuit, I'm planning on splitting my time between Vancouver and everywhere else."
If you're looking to move to Canada, like seriously move and live everyday in Vancouver, then the process is much more difficult and arduous. There are many things you'll need to do in the way of research, preparation, and paperwork, all of which you can read on the Citizen and Immigration Canada website.
How's the Internet?
The Internet in Vancouver is just as good, if not better, than that in the United States. There are plenty of providers to choose from, most offering very affordable options. Online players want a secure and reliable Internet connection when playing, and that is exactly what Vancouver has to offer.
Things to Do
No matter what type of person you are, you shouldn't have trouble finding something to do in and around Vancouver. If you're a wine enthusiast, there are a number of wineries just outside the city such as Pacific Breeze Winery, Isabella Winery, and Lulu Island Winery, just to name a few. If shopping is more your thing, the city of Bellingham, an hour's drive from the Vancouver, is home to numerous outlets featuring cheaper prices than in the U.S.
If you're looking for a bit of nature, then Cultus Lake ought to suit your need. Located 90 minutes away, Cultus Lake offers camping, a water park, golf, and plenty of eateries. Finally, if you want to get out of this world, you'll want to pay a visit to the H.R. MacMillan Space Center. With a theater, Planetarium, and night shows, the Space Center offers something for all ages.
In a nutshell, it's not hard to find something to do in Vancouver, as evidenced by Hastings' recent outings: "I've golfed a few times, played tennis a few times, ran along the seawall a few times, and some friends have said there's good hiking, but I haven't tried that," he explained. "I've seen a few concerts, too, including Pearl Jam this past Sunday — awesome show! I've also had some very good meals here, the sushi especially has been super fresh and awesome."
Sites to See and Places to Go
If you're in Vancouver and looking to see some sites and do the tourist thing, there are plenty of options to choose from. We mentioned some in the above section, but that was just a sample of what Vancouver has to offer. According to Vancouver Travel Tips, here are the "Top 10 Things to Do in Vancouver:"

Stanley Park
Capilano Suspension Bridge
Robson Street
Canada Place
Gastown Vancouver
Granville Island
Vancouver Aquarium
Grouse Mountain
Vancouver Chinatown
Dr. Sun Yat Sen Gardens
When asked what he suggests for entertainment in Vancouver, Lew offered two choices from the list above: "The main attraction for tourists seems to be the seawall that takes you to Stanley Park. It's a long walk, but it's a beautiful and relaxing one! They have a pretty nice aquarium over there which is pretty cool."
Nightlife
Vancouver is known for its notorious nightlife, and there are plenty of hot spots to choose from. If you're into techno and hip hop, you might want to check out the Plaza Club; whereas, if dancing is more your thing, the Tonic Club's three stories of dancing will no doubt appeal to you.
According to GoVancouver.com, here is a list of the Top 10 Nightclubs in Vancouver:

The Tonic Club
Boss Nightclub Vancouver
Bar None
Celebrities Nightclub
AuBAR Nightclub
Richard on Richards
Odyssey Nightclub
Caprice Nightclub and Lounge
Shark Club
Plaza Club
"The nightlife in downtown Vancouver is pretty much like any club in a major city: a great crowd, fun atmosphere, good service," Ho explained. "Although, during one of my trips I was partying with some poker players at a nightclub and basically the Canadian SWAT team busted into the club and interrogated our table and the surrounding tables. They're really on top of the drug scene and apparently thought that because we were spending a few dimes on bottle service that we must have some kind of shady, drug-related career. They ran ID checks and questioned all of us. It was kind of annoying but quite amusing because I had never seen something like that before! Security in downtown Vancouver is no joke."
Beware! Given its close proximity to Seattle, it comes as no surprise that the weather in Vancouver isn't always the prettiest. In fact, you'll want to keep an umbrella and slicker on hand as rain is often in the forecast. In addition, there have been other warnings posted online that warn of the usual beggars, homeless, and property crime, with mention of Vancouver's Downtown Eastside being mentioned more than once.
Like any city in the world, there are certain dangers you should be aware of. Vancouver is no different, but it is modern and quite safe. Just be sure to research any neighborhoods you may be considering and you'll be fine.
On a final note, Hastings warned of the "danger" of joining the Vancouver poker niche: "For me, it's been an adjustment having mostly just poker players in my social circle in Vancouver. I've met some players in Vancouver whom I like very much and enjoy hanging out with, but on some level I feel like my life has been a bit poker-centric between playing a lot of volume and then spending time with poker players afterward. For the previous five years, I socialized with mostly college students both in Ithaca and in Rome, so it's been weird not having that. Time to hit up the UBC bars and meet some I guess?"
Don't forget to follow us on Twitter and like us on Facebook.
Photo courtesy of GoCanada.com