Packing Up to Play Poker: London, England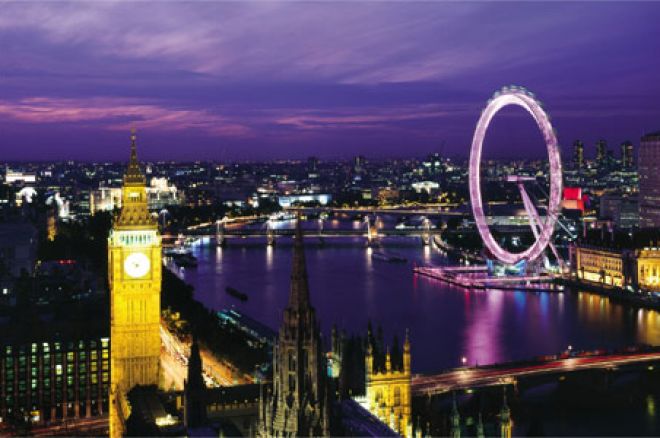 The events of Black Friday have inspired hundreds of poker players to leave the United States and relocate to more "online-friendly" countries. Although moving from one country to another is no doubt a headache, we at PokerNews thought we'd explore some of the more popular destinations to entice any players still on the fence. In our inaugural Packing Up to Play piece, we took a look at Tijuana, Mexico. This week, we've decided to jump across the pond to merry ole London, England!
To get the lowdown on playing online poker in London, we caught up with Paul Gibbons, founder of Healthy Poker, who recently returned to England to play the PokerStars World Championship of Online Poker. Gibbons immigrated to the United States from London in 1981 but returned in 2008. He now splits his time between the two countries and offers some insight for those in the U.S. looking to London as a viable online option.
Known as "PAULGIBBO" online, Gibbons' biggest online score was for $15,000 and, ironically, came on Black Friday. He also finished second in the 2011 Chicago Poker Classic $3,125 Main Event for $140,109.
Quick Overview
Population as of 2010: 7,825,000
Time Zone: GMT (UTC±0)
Area: 1,572.1 km2 (607 sq mi)
Founded: Settled by Romans in 43 AD
Weather: 2.3°C (36.1°F) to 23.5°C (74.3°F) on average
Language: English
Currency: 1 British pound sterling = 1.5771 US dollars
Website: http://www.london.gov.uk/
Finding a Place to Stay
One of the biggest obstacles to moving, whether it is to a different country or just down the street, is finding a place to stay. In our Tijuana piece, poker pro Jason Wheeler advocated walking around town and discovering a place that way. That may have been an option for him since Tijuana was just across the border, but not here because London is an entire ocean away. Of course you could always do an Internet search and go with a rental firm, but Gibbons believe he's found a better solution.
"The best thing, by a huge margin, is to post on PocketFives or TwoPlusTwo and say you want to room with a European pro who lives there (there are many non-English pros living there)," Gibbons explains. "There are few apartments in good neighborhoods for under $2,000 per month, and in a very nice neighborhood, think twice that as an 'ante.' You can live outside the city, say on the coast, for much less and the train takes 30 minutes to downtown from those places."
Visa Issues
Another issue you'll have to contend with is acquiring a visa; however, if you're simply looking for a temporary relocation just to play for a bit, say the WCOOP, then London is perfect because it allows a few options. As Gibbons puts it: "I can come and go as I please, and so can you — up to a point. You can stay up to six months without a visa, then they start to get fussy when you come and go. But if you come and go enough (as you might because of Euro-tournaments), you may be able to evade trouble for a year or more."
He goes on to explain: "You can enter freely without a visa and stay for a long time without working. However, it is worth checking the limits on number of days per year you can reside without an immigration. It won't be a problem while you are there, nobody cares much, but entering and re-entering become a hassle if you take too much 'holiday' here."
Gibbons also noted that if you have Irish roots, meaning one grandparent, you could always apply for a Irish nationality, which would allow you to reside legally in any country in the European Union.
Satisfying Stars
If you're from the U.S. and looking to relocate, you're no doubt hoping to play on PokerStars. Unfortunately you'll have to do more than just pack up and leave the country. In order to regain access to PokerStars, you need to provide certain documentation that shows you took your relocation seriously. Luckily, PokerStars has made this an incredibly easy process.
"You have to open a bank account and provide PokerStars (for example) with mail addressed to you there," Gibbons explains. "The easiest form of ID to secure is an International Driver's license, or UK one. This takes a while, but you can take a month setting up infrastructure while traveling and playing live."
How's the Internet?
There are very few places that have better Internet than the United States, but London is one of them. Let's face it, anyone who has played online poker has experience Internet issues, whether it cuts out at a crucial point in a tournament or during a game-changing hand, nothing can be as frustrating as unreliable service. Gibbons' time in the U.S. gave him first-hand experience as to the importance of having a reliable connection: "I have had to finish many MTTs at Denny's because of bad broadband service here which is a little annoying when you are at a final table and have to drive 15 miles to Denny's at 3 a.m.!"
In regards to the Internet in London, Gibbons doesn't hesitate, "The reliability and speed of broadband connections are much better than in the U.S. (lots of fiber optic cabling)." Indeed, a quick online search turned up dozens of Internet providers. For a detailed list of internet providers, you might want to check out First-4-London.
Things to Do
Instead of suggesting things to do in a city we only occasionally visit, we thought it'd be better to ask someone who lives there and knows the place inside and out. With that said, we turned to Gibbons for his recommendations:
"Apart from hedonistic pleasures, the National Gallery has one of the finest art collections in the world, and the Science Museum has a section on the evolution of the steam engine through rocketry. It is worth a trip through 'the City' (financial district) where you can have a drink in a 500-year-old pub, visit the Tower and the Crown jewels. At any time, there will be world-class theater and live music of all descriptions.
"The most amazing thing about being in London, though, is that you can take a high-speed rail from downtown London to downtown Paris (500 miles away) in about two hours! New York and Chicago are similar distance apart, and with getting to airports, check-in, security, the flight and cab to downtown, it can take three times that! From Paris, the Riviera, Rome, Geneva, Barcelona and Munich are all short train hops."
Sites to See and Places to Go
There is no shortage of places to visit in London. According to VisitLondon.com, the top ten attractions to visit are:

British Museum
National Gallery
Tate Modern
Natural History Museum
London Eye
Science Museum
Tower of London
National Maritime Museum
Victoria and Albert Museum
Madame Tussauds
Gibbons wasn't afraid to add an eleventh to the list: "My favorite part of London is the King's Road in Chelsea. It is a street full of super-model strutting, trendy boutiques, great restaurants and clubs, and where I lived for 10 years. It is also a ten-minute tube ride from the heart of London, restaurants, clubs, bars and of course, casinos."
Speaking of casinos, London is home to 23 properties including Gala Casino, Napoleons, The Casino at the Empire, Golden Nugget Casino, Victoria Casino, and G Casino Piccadilly, just to names a few. The poker scene in London is the icing on the cake for any online player who may seek some occasional live action. According to Gibbons: "London also has over ten very good venues to play live poker, and no-limit hold'em games run from about $1/$3 to about $100/$200. These venues are a lot of fun, great places to hang with other pros and grind, and of course, the European Poker Tour is an excellent tour and you are ten hours closer to the Asian Poker Pacific Tour!"
Nightlife
After grinding in a room all day long, many poker players will no doubt be looking to relax by taking full advantage of the evening. For those interested, London has quite the vibrant nightlife. Soho House, Funky Buddha, Heaven, Paper, London Groove, and the Valmont Club are just a few of the world-famous clubs housed in the city.
"I like clubs and the Ministry of Sound is world famous for its massive size, three different dance floors, great DJs, and it is open until dawn," said Gibbons. "There are now ten copy-cat clubs equally spectacular if that is your poison. Getting into Tramp is not easy, but if you are well-heeled enough, have your 'secretary' call up for a dinner reservation and see if you can represent being a huge baller."
If you're not a fan of the club scene, you could always opt for one of London's historic pubs. Ye Olde Cheshire Cheese, The Punch Tavern, Old Bank of England Pub, The Old Bell Tavern, and Ye Old Watling are all located in Westminster and allow you the opportunity to drink like Dickens.
Beware!
London is an excellent option for anyone looking to relocate for online poker, but there is one major downfall. The cost of living in London is steep. As Gibbons concludes: "In many ways, if the world had a capital, London would be it. It's a crossroad between the East and the West, and the financial and cultural capital. It's the birthplace of modern democracy and the English language. At the same time, it is very expensive. Russian Oligarchs, Wall Street bankers, and Middle-Eastern Princes have been driving up property prices for decades. The cost of living and the number of excellent distractions will reduce ROI!"
Don't forget to follow us on Twitter and like us on Facebook.
Photo courtesy of tourismeight.com