Packing Up to Play Poker: Tijuana, Mexico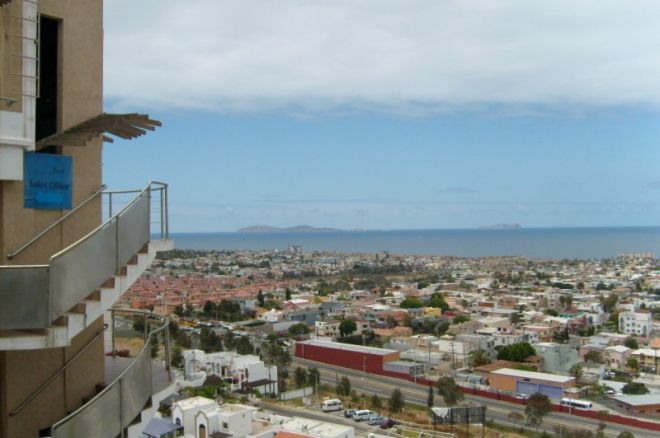 When you think Tijuana, Mexico, thoughts of spring break and tequila no doubt come to mind. One thing you'd be hard pressed to associate with the largest city on the Baja California Peninsula is online poker, but that is exactly what's happened since the events of Black Friday. Located just across the border from San Diego, California, Tijuana and nearby Rosarito Beach, could become the place to go for online degens eager for action.
One man who opted for Tijuana was San Diego native and poker pro Jason Wheeler. "I had been living in San Diego and had a lot of ties to SD," he explained. "I wanted to be close to the city, to be able to go watch a Chargers game on a Thursday evening and be able to grind in Mexico the next morning." Wheeler said he has seen at least 15 online pros in nearby Rosarito Beach.
Canada may be the popular choice for player relocation, but the benefits of Tijuana, combined with its close proximity to the u.S., may change the northern exodus.
Quick Overview
Population as of 2010: 1,300,983
Time Zone: Pacific Standard Time
Area: 637 kilometers squared (245.9 sq mi)
Founded: July 11, 1889
Weather: 13° to 22° Celsius on average
Language: Predominately Spanish, but many areas in the city are English-friendly
Currency: Mexican peso, but U.S dollars are often accepted
Website: www.tijuana.gob.mx
First, setting up shop in Tijuana isn't much of a challenge, as opposed to in other countries. "[The] process of moving to Tijuana was relatively easy," Wheeler explains. "You just have to obtain a visitor visa which is good for 180 days, and then you can get a residency visa if you wish to stay longer. To get the residency visa, you have to show proof of income and that you will not be a strain on the Mexican system."
Wheeler went on to say that re-establishing his online accounts simply required a bit of patience: "Setting up the accounts was not too difficult, although getting accounts unlocked took much longer. Stars was the most thorough, and setting up and building your limits on Moneybookers feels like I gave everything but a blood sample, but I guess I understand why they are being so thorough post Black Friday."
Finding a Place to Stay
If you're looking to relocate to Tijuana, there are numerous ways to go about finding a place to stay. A quick online search reveals dozens of agencies and hundreds of classified ads, so there is no shortage of options; however, Wheeler opted to go a different route. Instead of going through a third party, Wheeler decided to take a trip across the border and find a place the old-fashioned way, by walking around.
"To be honest, the easiest way to find a place is to pick an area you want to live, and then just drive/walk around and look for "for rent" signs, or walk into local condos and talk to the managers," Wheeler said. "A lot of people have used agencies or services such as Baja123, but you are likely to either pay slightly more each month or pay them a finders fee up front. To some it is well worth it. For me, I liked the surprise of what I might find on my own."
How's the Internet?
"Internet connection is good, but because anything can happen down here, its always good to have a backup — e.g., Cable and DSL or Cable Internet plus a 3G card, etc.," Wheeler said. For the most part, Wheeler's sentiments are echoed regarding Internet access in Tijuana. There are plenty of Internet providers to chose from, but like any foreign country, access has been known to be a bit spotty at times. The fact that Tijuana is located just across the border of a major metropolitan area in San Diego helps, so if you take Wheeler's advice and go prepared with a plan B, you won't have to worry about suddenly losing access while final-tabling a WCOOP event on PokerStars.
Things to Do
The westernmost city in Mexico, Tijuana has much to offer. In addition to its close proximity to the U.S., Tijuana is home to the Zona Rio district, which is located north of the city and boasts numerous hotels, restaurants, malls, shops, etc. In fact, when asked his favorite part of the city, Wheeler was quick to mention the district, in addition to nearby Rosarito: "I like the Zona Rio area which is where most of the higher-end shops and restaurants are located. Also the beach areas of playas and Rosarito are really nice. In fact, most Americans that I have met have actually moved to Rosarito because it's a tourist town on the ocean, so it gives them some feeling of home and a better sense of safety."
Rosarito, which is just a $20 cab ride from Tijuana, boasts the best selection of beaches and boating, despite the fact that the latter is a seaside city. However, that doesn't mean there aren't plenty of things to do in Tijuana. Playas de Tijuana is home to the only seaside bullring in the world and features bullfights in the summer months, much to the delight of tourists. Other popular attractions are "Cerveceria Tijuana," a Tijuana Brewery, and the Tijuana Cultural Center.
Of course, if you're an American looking to relocate and want to stick to your routines, Tijuana offers you the perfect opportunity to stay "Americanized." Wheeler explains the sort of things he's done in Tijuana: "Mostly the same things I do in the States: go to movies, out to restaurants, etc. Some of the more interesting things I've done recently is go see Shakira in concert, and we chartered a fishing boat for my friend's birthday down in the port of Ensenada, about an hour and a half south of the border. We caught a lot of fish in between the seasickness."
Sites to See and Places to Go
If you're a golf enthusiast, like many poker players are, then you'll be happy to know Club Campestre de Tijuana (Tijuana Country Club), is located 1.8 miles from the city's center. Not only has the course received decent reviews, but it is also known for being affordable. If you're looking for something a bit more authentic, you'll certainly want to check out El Popo Market. It may not be huge, but this market is chock-full of traditional Mexican items and a smorgasbord of shops.
You may also be interested in seeing the various statues along Paseo de los Heroes, the Arch at the North end of "Revolucion," and even the border gate between the U.S. and Mexico, known as San Ysidro Port of Entry. Usually a border crossing wouldn't garner too much interest, but this one happens to be the busiest land-border crossings in the world and accounts for an estimated 300,000 crossings daily.
Nightlife
Chances are, you won't be holed up playing online all day long, so if you're under 21, Tijuana might be the place for you because the drinking age is 18 in Mexico. While it isn't Las Vegas, Tijuana has plenty of clubs and bars including "La Ballena" in Avenida Revolucion, which was the largest bar in the world when it opened; Baby Rock Club, famous for its rock-like exterior; and Plaza del Zapato, a sprawling complex with a plethora of clubs and reasonably price drinks.
Which does Wheeler recommend? "Nightlife down here is pretty awesome," he explains. "Clubs stay open till the break of dawn, there is even a complex here that has 20 connected clubs with all different types of music called Plaza Fiesta (Zapato) where you can hear everything from salsa to rock music."
Of course there are plenty of others, you've probably heard of places like Senor Frog's and Tequila Sunrise, so options are aplenty.
It's Close and It's Got an Ocean
Tijuana has proven a popular spot for online poker players looking to relocate, and even more will probably do so in the near future. The close proximity to the U.S. is the biggest draw, while the convenience of using the dollar and speaking English no doubt appeals to the average degen. Wheeler is content with his decision and sums up Tijuana this way:
"Being close to the ocean makes life relaxing and enjoyable. Helps me to get outdoors and enjoy it. Being in close proximity to the San Diego airport and to both L.A and Las Vegas (I can drive to both) allows me to live in another country, but also be able to travel a lot of the U.S. live circuit and get to Vegas when the tournaments or cash games are good."
Stay up to date on all the latest news by following us on Twitter and liking us on Facebook.
*Photo courtesy of TijuanaTravelGuide.com