Around the World with Lynn Gilmartin: Moving Down Under Part II

Lynn Gilmartin
Ali Khalil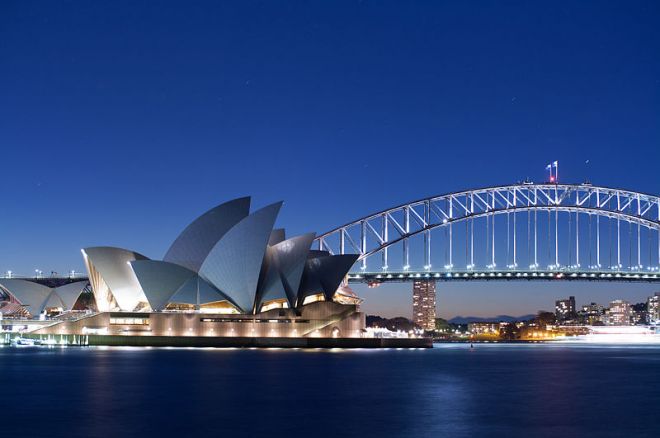 There's no denying that there's an unofficial battle between Melbournites and Sydneysiders about which city in Australia is the best. As a Melbournite, I obviously battle for my hometown in discussions of where the best place is to live in Australia (or even the world). For the years that I've known Australian poker pro Ali Khalil, we've continued to argued this topic whenever we meet.
To be fair, when I visited Sydney for the first time two years ago, I fell in love with it. The city is stunning to look at and is laced with canals throughout many central neighborhoods, creating amazing waterside suburbs high atop cliffs overlooking the city. Best of all, you can travel by water taxi to get around. The beaches are pristine, even the ones close to the city center, which is rare. Bondi Beach is the equivalent to Melbourne's St. Kilda Beach, and while Bondi lacks the cosmopolitan vibe, it kills St. Kilda for the clean beach. All of characteristics make Sydney an ideal place to live; however, I'm also a lover of nightlife, culture and down-to-earth people, so that's why I consider Melbourne the place to be.
In last week's Around the World with Lynn, I wrote about some of my favorite Melbourne neighborhood in hopes of helping any U.S. poker players who are thinking about moving Down Under. In response to this article and in his true Sydney-defensive fashion, Kahlil sent me an email with his summary of Sydney's equivalent neighborhoods. So if you're still considering a move but not sure where, then here is some information written by the patriotic local himself.
The Neighborhoods
Circular Quay / Darling Harbor – The "Grinder with a View" Man
I'll start off by saying that this location is not for the low-limit grinder. These areas are for your more "Balla" type players since accommodation prices are not cheap. You will find mostly apartments and villa-type properties with breathtaking views of the Opera House & Harbor Bridge. Just imagine waking up for your daily grind to the sun rising over two of the world's most iconic landmarks ― it would just be impossible to go on tilt. From a leisure perspective, the possibilities are endless, including being able to dine at Quay (ranked 26th in the world) or jump on a ferry for a short ride to Taronga Zoo and get up close and personal with some Australian wildlife.
Bondi / Coogee – The "Cosmopolitan-Beach-Bum" Man
Bondi Beach needs no introduction. It is one of the world's most popular tourist destinations. Along with what I believe is the best beach in the world, are an array of restaurants, bars and clubs. Bondi also has its weekend markets along the main strip. For the boys, you can't go past the beautiful women that are out and about all year round. And girls, don't forget those lifeguards in their red and yellow budgie smugglers (speedos).
Sydney Olympic Park / Homebush– The Sportsman
Home of the 2000 Olympic Games, this 85,000 seat stadium is the jewel in the crown of Sydney's sporting hub. It is surrounded by smaller arenas, showgrounds, an aquatic center, hockey fields, basketball and tennis courts and much more. Here you can experience rugby league & AFL [Australian Football League] matches every week during winter, cricket during the summer in the main stadium, and the Royal Easter Show. I don't have enough space to list all the sporting events that take place throughout the year; however, Sydney Olympic Park's most important feature is the brewery located right in the center where you can catch a few beers before or after an event — or even during if you are that way inclined.
Paddington / Woollahra – The Stylish Man
This is home to Oxford Street, which isn't just the venue for the annual Mardi Gras celebration. It is also home to an abundance of designer-label boutiques & local Australian designers. If you can't find what you're looking for to pull off that unique stylish look in this district, then you should just give up. As always, there are many bars and restaurants scattered among the shops to keep you entertained.
Leichhardt – The Italian Man
Forget Melbourne's Lygon Street, Norton Street Leichhardt is the "Little Italy" of Australia. Its most notable feature is the "Italian Forum," which looks like the Colosseum when you walk in. Although it may not be as big and you may not be greeted by Caesar releasing a tiger to eat you upon arrival, you will be greeted by "Caesar" (a.k.a Tony, Joe, Roberto or Vincenzo) offering you something to eat at one of the many restaurants and cafes. Norton Street is also home to the annual Italian Fest which is pretty much an Italian food lover's paradise.
Newtown – The Artsy Man
This is a hipster's paradise. Newtown is the home of King Street, which boasts the best (and cheapest) Thai food in Australia and the traditional hipster bars, clubs, and cafes. Newtown also boasts the "Dendy Cinema" which almost exclusively plays art-house films. Newtown also has its very own annual gathering where you can sample everything that this wonderfully quirky area has to offer.
Lynn disappointingly did not feature a "Party Man" area; however, it would be negligent of me to list suburbs in Sydney without mentioning the following.
Kings Cross / Potts Point – The Party Man
It's long-standing history as Sydney's "Red-Light District" really doesn't do justice to the new modern Kings Cross, while it still is very much the red-light district, all the seediness that comes with the territory has long been replaced by some of the funkiest clubs and pubs in Australia.
Kings Cross boasts the largest number of nightclubs per capita than anywhere else in Australia. These clubs operate alongside both the old-school and modern strip clubs which makes the area truly unique. There is nothing quite like witnessing the sheer volume of people at Kings Cross on a Saturday night ― people from all over Sydney converge on this one location to eat, dance and party the night away. Not ready to call it a night at 7 a.m.? That's a non-issue in Kings Cross where some venues hold 24-hour liquor licenses, and you can party right through to the next night if you're inclined to do so.
Of course, sometimes reading about it isn't enough, so to check out some of the sites, sit back and enjoy my three-minute tour of Sydney.
Each year, Sydney is the home to the PokerStars.net Asia Pacific Poker Tour Grand Final. Head over to our APPT video page to watch more videos from our past coverage, and remember to follow us on Twitter.