Around the World with Lynn Gilmartin: Moving Down Under? Pt I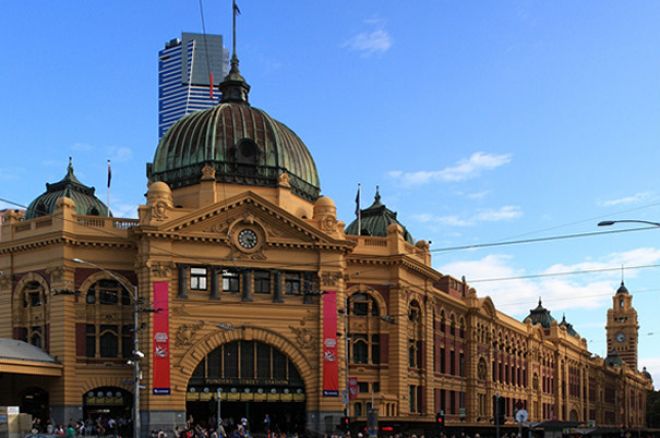 With the onset of Black Friday, full-time poker players are seriously considering (or already have made) a permanent move outside of the U.S. to continue with their online poker careers. While I was in Las Vegas, I met up with some poker players who are contemplating a move to my hometown of Melbourne, Australia – what I like to refer to as the best city in the world.
With Melbourne having such a huge mix of culture, arts, sports, fashion and nightlife, I was inspired to write my notes on the different neighborhoods and share them with you, just in case you may have allowed this fabulous idea cross your mind too.
The Vitals
Ensure that your passport has a long expiration date on it. It must be valid three months beyond your intended stay. You must have a visa or ETA (Electronic Travel Authority) , which is valid for one year. Most airlines will process this automatically for you, so please check when booking. Remember, if you don't have an ETA, you'll be put on the next flight home without even leaving the airport.
If you're entering Australia as a tourist, you must have a flight out of the country, whether it's a return flight home or I suggest you plan a trip to somewhere such as Bali, Fiji or Thailand after three months. Then return to Australia after a couple of weeks of pina coladas in the sun, and repeat. Sounds horrible, doesn't it? You'll only be able to repeat this process once or twice before Australian customs becomes suspicious of you.
If you're planning to stay Down Under for longer than six months, I suggest you get a 12-month e676 Tourist Visa. This must be applied for while outside of Australia. If you're looking to extend your stay while already in the country, the maximum you can extend is up to six months.
More information: http://www.immi.gov.au/visitors/
For information on U.S. Citizens service in Australia please visit: http://canberra.usembassy.gov/service.html
The Neighborhoods
South Melbourne / Port Melbourne – The "Grinder with a View" Man
This area is my first recommendation for any poker player to live in. Besides it being my personal favorite area thanks to the local beach side (Port Melbourne) or riverside (South Melbourne) bars, restaurants, awesome apartments and great vibe, this is also the whereabouts of the country's best casino - Crown Melbourne. So if you think you'll be dabbling in a decent amount of live action, then you don't want to be too far from this "World of Entertainment."
St Kilda – The "Cosmopolitan-Beach-Bum" Man
Keeping with the water theme, the next neighborhood near Port Melbourne, and just a five-minute drive from Melbourne's city center, is one of the most cosmopolitan areas of Melbourne: St Kilda. This is the most popular beach in town, which, to be honest, makes it the least attractive when it comes to actually getting in the water. St Kilda is more for the scenery of the beach surrounded by some of the best bars in the city, endless cafes, markets and street entertainers. This is the place to be if you love a lively neighborhood with a blatant mix of the rich and poor, tourists and locals, all in one funky little town.
Richmond – The Sportsman
If you love sport, then this is the place to live. Melbourne hosts some of the world's greatest sporting events and festivals, with most of them situated in Richmond. I guarantee that after you pay a visit to the MCG for your first AFL match, you will be hooked on our local rules. Recently, a new soccer stadium was erected right next to the rugby grounds, and then across from there you'll find the home of the Australian Open. This is the sporting central of not only Melbourne, but also of the entire country. On top of this, you're right by the Yarra River, which is the perfect setting for your afternoon jog, or beer, or both. Crawling up and down Swan Street is the perfect way to spend your weekends at the countless bars and pubs. The Sidney Myer Music Bowl, tucked inside the Royal Botanical Gardens, hosts the biggest music festivals of the year.
South Yarra / Prahran / Toorak – The Stylish Man
This area is for the trendy, wealthy fashion lover. South Yarra is labeled the trendiest area in Melbourne with endless designer boutiques lining Chapel Street continuing down into Prahran and connecting to Greville Street with the best vintage clothing and collectibles. The neighboring suburb of Toorak is labeled the wealthiest thanks to its extravagant homes and mansions. You don't have to have a bankroll like Ivey to afford to live here, but if you have an appreciation for fashion (or perhaps the smarts to know that fashion attracts plenty of women to your hood), late night coffees and afternoon wines while people-watching, then this is a great place to live. At night, Chapel Street is ridiculously busy with heaps of bars and clubs to choose from, although it can have a slight reflection of scenes from Jersey Shore. If you love that, then see the next location.
Carlton – The Italian Man
This is the perfect place to be if you love your traditional Italian living with a large population of Italians residing in one of the most popular places to dine out in Melbourne. Lygon Street, known as "Little Italy," is full of Italian restaurants and cafes – you cannot walk down the street without getting hustled to come in to every restaurant.
Fitzroy – The Artsy Man
Just a mile out of the city center, Fitzroy is often referred to as Melbourne's "Bohemian Quarter." Loaded with unique shops, cafés and bars, Fitzroy is home to some of Melbourne's best, and quirkiest nightclubs. The main streets are always spilling out with people at night thanks to the law in this tiny area of the city allowing you to drink on the street, which is not allowed anywhere else.
Of course, reading about it isn't always enough, so, conveniently during this year's Aussie Millions I put together the following city tour of just some of my (and my friend's) favourite spots around town:
There are many more areas in this major city; however, these are the main, central areas that I would recommend. Feel free to leave a comment below should you have any questions at all about living in Melbourne.
Because she's not always in her home town, Lynn blogs on PokerNews about all of her travels around the world. Start following her today!