Around the World with Lynn Gilmartin: San Remo Backed Up With Madrid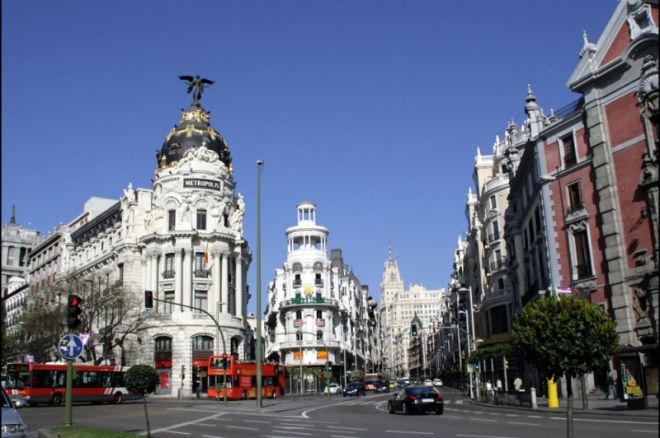 Unfortunately, I am not writing this article based on personal experience, and I won't be joining you in fabulous Italy right now for the PokerStars European Poker Tour. Perhaps you're not there either, and you're sitting at home reading this with as much envy as I am while writing this. Of course, there is no way I could complain as I currently sit on one of many retired grind stations in Kristy Arnett's home in Las Vegas for what I know will be a crazy couple of weeks ahead!
With Black Friday well and truly among us, it will be interesting to see exactly what effect on numbers this will have on major live events such as the EPT. Last year EPT San Remo saw a staggering 1,240 players forming a prize pool of more than €6 million. Will we see an influx of North American pros adjusting to their "new office" in the nonvirtual world? In any case, while we tear up Sin City, most eyes in our poker world will be focused on the City of Flowers for the second-to-last stop on the EPT's seventh season. From there, most will continue on for the usual San Remo follow-up Grand Final. Although, for the first time, the Grand Final has a new home - Madrid.
If you're lucky enough to be in San Remo right now – perhaps you bagged up your chips after a long Day 1a of the EPT Main Event – you're grinding away right now in Day 1b, or you're busto with plenty of days at your disposal in this beautiful city, then you've probably noticed a scooter or two zooming past you. San Remo has more scooters per capita than anywhere else in Italy – and Italy has a few scooters. If you're brave enough to ride one yourself, let alone walk across the street, then it's certainly the best way to get around. Especially if you fall into my third aforementioned category, giving you time to ride along the coast and up into the hinterland for a day of exploration. About 10km northeast of San Remo you'll find Lonely Planet's No. 1 pick for things to do in this city: if you like art, you will love Bussana Vecchia. After being torn down by an earthquake in the 1800s, it was rebuilt in the 60s by artists who took over the region, making it a thriving and world-renowned community of international artists. San Remo was once the home of Monet, so it's easy to see why this region of the world has such an artistic culture.
If you'd rather keep your sightseeing a little closer to the action, then La Pigna is the place to be – a medieval old town center where you'll find the Russian Orthodox Church, the Romanesque-gothic Cathedral of San Siro, the Borea d'Olmo Ducal Palace, the Villa Nobel and the Villa Ormond with a stunning botanical garden. Don't forget your camera!
Less than a week after the Season 7 EPT San Remo Champion is crowned (will Liv Boeree be able to do it again?), most players will move west to one of Europe's most fascinating and beautiful capitals - Madrid. Like most European cities, Madrid is known for its cultural and artistic heritage while boasting some of the liveliest nightlife in the world, but this isn't just any European city. With Monocle magazine ranking Madrid the 10th most livable city in the world and it holding the reputation of the being the fourth most touristic city in all of Europe, you'd be crazy to not set aside some time to spend outside the casino – even starting in the airport when you arrive. Terminal 4 of the Madrid Barajas International Airport is one of the largest terminal areas in the world (over 8 million square feet), designed to provide passengers with a stress-free start to their journey with carefully designed illumination through glass panes, instead of walls and domes, in the roof to allow in natural sunlight.
If and when you plan to venture outside the casino, you'll find that most locals know very little English. If you spent all those years sitting at the back of your Spanish class at school not paying attention, then my suggestion is to save this Spanish phrasebook thanks to Wiki Travel and start practicing some terms on the plane.
Are you a soccer fan? If so, I suggest getting a real experience of a football match by gracing the seats of Santiago Bernabeu stadium to catch Real Madrid play Getafe CF on May 11. Tickets are anywhere between €90-€200 from what I've seen online.
For a drink or two (and a boogie?) at night, head to Malasaña and the area surrounding Dos de Mayo square. For the young ones, head to Argüelles and Moncloa for the college atmosphere, and for some super-chic clubs, you'll find them in Paseo de la Castellana.
For now, I will leave you with Laura Cornelius who was lucky enough to have a day of sightseeing as she shows off some of the gorgeous views around San Remo.
Will you be following the action live at the PokerStars European Poker Tour San Remo and Grand Final? Then the easiest way to ensure you don't miss a beat is by following @PokerNews_Live on Twitter!