Around the World with Lynn Gilmartin: One for the Not-So-Frequent Flyers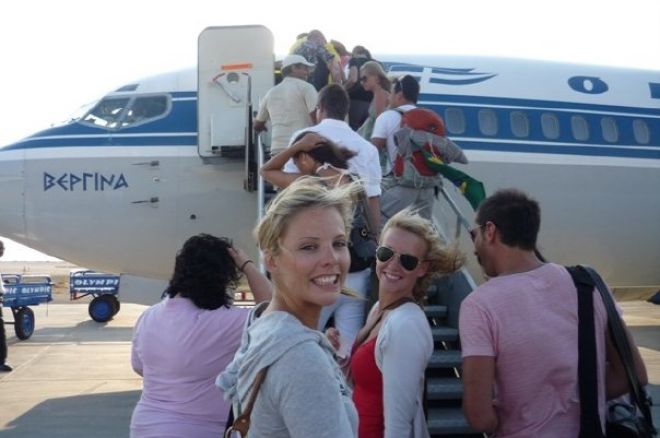 Living in Australia means if I want to go anywhere I have quite a journey ahead of me. Add that to being part of the PokerNews family, and I've done my fair share of traveling, to say the least.
So let's say you've just won a seat online to an international live event, but your passport still shines with its freshly pressed golden emblem of your native land without a crease in its pages. Or is the embassy still waiting for you to submit your passport application for your first venture outside the country? Then allow me to pass on some handy tips I've picked up while building the pride and joy of my international stamp collection.
Noise-Canceling Headphones
What kind of poker player are you if you don't own a pair of these bad boys anyway? Whether you're blocking the barks of overused poker terms at the felt, or the roar of the plane's engine while watching reruns of Curb Your Enthusiasm, spending a few hundred on a pair of Bose, or something similar, will be money well-spent.
Sleeping
You've definitely seen those half-circle neck pillows at your local mall. They are one of the greatest inventions known to the frequent flyer. No matter how many pillows you stuff under your head, it will never be as comfortable as this stable little gem. Not to mention that your neighbor will appreciate your head as far away from his or her shoulder as possible mid-slumber. Make sure you get one that has a strap or a button closure on the two ends – you can then clip it to your bag so you don't have to hand-carry it around the airport.
Sleeping tablets are my best friend for really long flights. Watch a movie over dinner, sleep for eight hours, wake up for breakfast, and you're done! If you're a little uneasy about taking pills, then drink a couple of glass of red wine and they will help do the trick too – but don't go overboard or you'll dehydrate yourself and curse the headache you sport for the rest of the flight and six hours afterward.
Stay Loyal
If you're going to travel in the future, then be smart with your reward points as you could score yourself a free flight. If you travel with various airlines to chase a bargain (as we all do), then having a few miles here and a few miles there won't get you anywhere. Before you sign up for any loyalty program, take a look at the three major alliances (OneWorld, Star Alliance and SkyTeam) and choose one favorite airline from each. Every time you fly, even if it's not with one of your three favorites, you can still use the loyalty program of your favorite from within that alliance to accrue your miles. For example, I'm a member of Qantas Frequent Flyer, which is a part of the OneWorld alliance. I fly a lot with American Airlines also but don't have an AA account because I claim all my points on Qantas. That way, all points from both flights are consolidated to the one program and I can buy more with them through Qantas. Rather than having enough miles on each for a free one-way ticket somewhere, I now have enough miles on Qantas for a free return ticket even further.
Security
No bottle of liquid more than 100ml is allowed in your hand luggage, and all liquids must be in one clear bag. In almost all countries, you need to remove your laptop and bag of liquids from your hand luggage, and in the U.S. you must remove your shoes. To do your bit for world peace and fast-moving security lines, wear easy slip-off shoes and get all of the searchables out of your bag just before you approach the scanner. Unless there's no one behind you, don't pack it all back when they come straight out of the X-ray machine while you block everyone's path; move along tiger!
Consideration On Flight
Yes, you're crammed into a tiny space feeling like a fetus in the womb again, but you're not alone. During meal times we have to put our seat backs up straight while everyone's tray tables are down. Once you've finished eating, don't slam it back to get comfortable again. Take a look behind or do it slowly, otherwise the guy behind scores red wine all over his pants.
When you're squeezing past your neighbors to get out of your seat from the window, don't grab onto the seats in front of you with all your strength for support. If you do, you just shook that guy out of his dreams after trying to get there for three of the longest hours of his life.
When you're up, what's the rush? Got somewhere else to be? Take it easy walking down the aisles to save a few elbows or toes.
A Few Last Notes
All luggage starts to look the same when you're waiting at the baggage claim, so make yours stand out before you fly by tying something colorful to it or sticking on those PokerStars patches you accumulated at your last poker event.
The time in between meals can be a little longer than you'd prefer, so keep some easy snacks in your bag.
If you plan to sleep the entire time, book a window seat for no disturbances and a wall to lean on. If your bladder is the size of mine, book an aisle seat. If you enjoy agony, book a middle seat.
Take extra care in being polite to the check-in staff — they have the power to upgrade you. Make sure you're dressed nicely, though, because they're not going to put you in first class with your ripped sleeve and circa-1995 tracksuit pants no matter how comfortable they may be.
These are just a few tips from a well seasoned (and perhaps slightly jilted) traveler. If you ever have any questions about travel, I would love to help, so feel free to send me a message on Blogs.PokerNews!
We know it sounds hard to believe, but you really can get a free poker bankroll without having to deposit or give your bank details. Check out our exclusive $50 Free No Deposit Sign Up Bonus from PartyPoker.