Around the World with Lynn Gilmartin: Melbourne
There's no place like Melbourne. Yes, I'm probably biased as it's my home, but there are just so many reasons to love it! It hosts some of the world's greatest sporting events and festivals, and the amount of passion around food and wine is amazing. Being away from home makes you appreciate all the little things you take for granted as a kid, so I decided to write about some of my greatest Aussie appreciations.
Vegemite
One of the most common topics of conversation an American will have with an Australian will have to do with how grotesque Vegemite is. The key is to use it sparingly, people! The first time you tried the dark brown food paste made from yeast extract, your Aussie mate probably thought it would be funny to spread it thick like peanut butter on your toast. That's not cool. Even Aussies don't eat it that way.
Care for a Snag?
I was lucky enough to be home for the Australian Federal Election. Without getting into the politics of it, all I can say is, unlike in the U.S., voting is mandatory. It was almost a week ago, and we still have no result because the majority of the voters were uneducated, or all the 18-year-olds voted for the "Australian Sex Party" for a laugh.
Besides getting to revisit my primary school where I realized how small everything is that I used to think was gigantic, my major highlight on every Election Day is the good old Australian Sausage Sizzle. Anything that draws a crowd in this country, no matter what the purpose, even if it's just a Saturday afternoon at Bunnings Warehouse to pick up some timber for your home renovation, will get the local and mighty friendly Aussies to fire up the barbecue and start selling "snags" out front.
A Normal Gym Surrounding
I tweeted last week about the vast difference between a late morning gym session in Melbourne compared to one in Las Vegas. In Las Vegas, silicone on tiny toned bodies became the norm. Suddenly coming back to Melbourne was a positive snap back to reality that the world isn't actually full of strippers, and having a gym full of mothers off duty instead was quite accommodating on the self esteem.
The Language
We're in a league of our own with our lingo down here. Today I was in the post office and the woman helping me said "Ok, no worries, I'll post this off for ya and then Bob's your uncle!" meaning, she will get the job done. Our wacky way with words led me to put Joe Cada, Phil Hellmuth, Barry Greenstein and Erick Lindgren up to an Aussie Lingo challenge during the 2010 World Series of Poker.
Crown Poker
Home, sweet home to the Crown Poker Room. Again, call me biased, but it's definitely my favourite place to play poker. Perhaps it has something to do with all the familiar faces, or the 70 tables they have spaced out so generously across the huge room so you're not left squashed in like sardines, or the selection of weekly tournaments, some that I can actually afford. If you want to rub shoulders with some of your favourite AFL footballers, then the Crown Poker Room on a weekday afternoon is the place to be.
Without a doubt, the best time to be in Melbourne is the second half of January. The sun is beaming, the beer gardens around the city are bumping, the beaches are decorated with tanned bods, the biggest tennis pros are in town for the Australian Open, and of course, the likes of Phil Ivey and Tom Dwan grace the land down under for the Aussie Millions, an event that has put Crown Casino on the poker map.
The second biggest tournament series that the Crown Casino hosts is the Victorian Poker Championship, which is happening right now. I was lucky enough to play in the Ladies Event on Tuesday night, which attracted over 10 tables of beautiful Australian women, such as Jeanie Hachem, Amanda De Cesere, and Mieke Buchen, who you may recognize from the 2010 Aussie Millions coverage. I didn't even make it to the first break, so that's pretty much the end of my story on that event! The highlight of the Vic Champs, though, is the State of Origin. Its slogan - "State versus State, Mate versus Mate" — is pretty self-explanatory. If you haven't noticed already, Aussies are pretty proud of their turf, so having groups of mates battle it out to represent their state is just asking for a passionate event that would resemble something as loud and crazy as what you'd find on the Latin American Poker Tour. Our very own Heath "TassieDevil" Chick had an impressive third-place finish, but it was James "Andy McLEOD" Obst who not only led South Australia to victory but took the first-place prize of $11,000.
The $10,200 High Stakes Hold'em and $2,700 Main Event, both set to be doozies, are coming up this weekend. If you can't join me in the Crown Poker Room, then the PokerNetwork Live Reporting Team will provide the next best thing.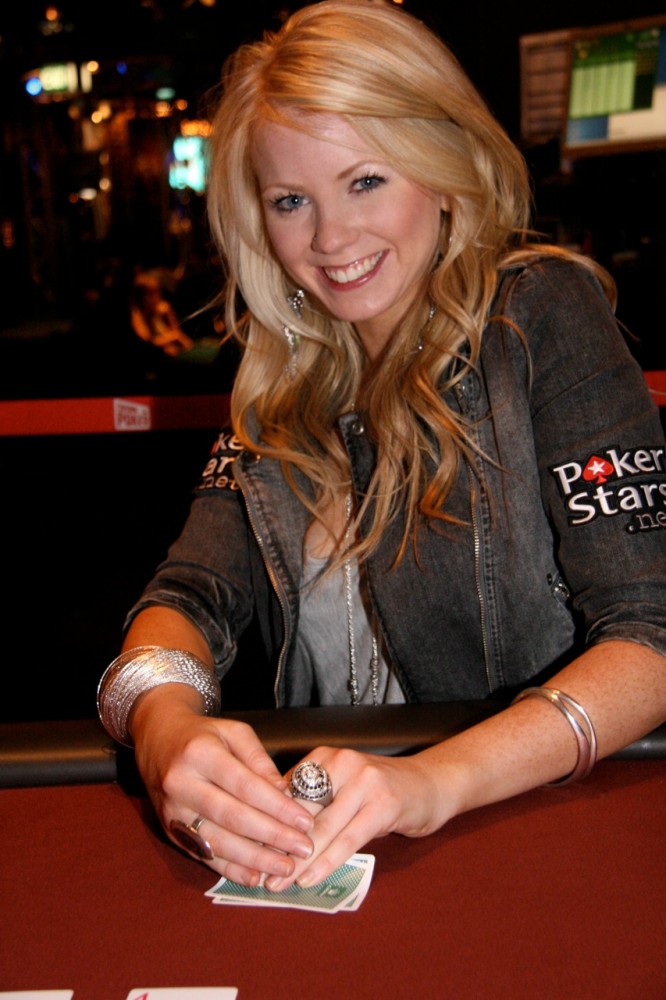 The Must List
If you're lucky enough to visit Melbourne, here are some of my recommendations.
Eat: World Bar – I love this place. It has such a cozy feel to it with indoor fireplaces and live music in a gorgeous spot by the river. The food is amazing, and the bar offers 99 wines and 80 beers from all over the world. On a Sunday afternoon you could be lucky enough to catch my gorgeous friend Coby Grant, singing some acoustic tunes.
Drink: Whether it's day or night, St Kilda Beach is a great spot to head to for a drink. At night, drop in to any bar along Fitzroy Street, and you're guaranteed to share the dance floor with some of the most stunning girls in the city. For a "Sunday arvo" session in the sun, Vinyard on Acland Street is the best spot for a crowded but atmospheric beer outside by the beach. If you prefer a bit of space, then Metropole on Fitzroy Street would suit you a little better, and you could even pick up some gourmet wood-fired pizzas for only $5 each during the week.
Stay: Crown. If you like the smell of rich mahogany and (want to) own many leather-bound books, then the five-star Crown Towers is your spot. If you're more on the modern end of the spectrum, then the Crown Promenade or the newly-opened Crown Metropole are both impressive, not to mention super convenient, with the Crown Poker Room just downstairs. Which leads me to…
Play: Crown Poker Room, d'uh.
See: The Great Ocean Road. If you've driven along California's Highway 1, Victoria's Highway 1 blows that away. If you can't "keep right" on our roads in a rental car, there are plenty of day-trip tour companies, too.
Shop: Chapel Street in South Yarra. This is the fashion hub of Melbourne and a great spot for some of the best cafes, restaurants and bars in the city. At night this area can give a slight reflection of the Jersey Shore. But if you love that, then head to Lygon Street – Melbourne's "Little Italy" – for some of the best Italian food and slicked hair you'll ever come across.
Follow us on Twitter for up-to-the-minute news.