Where Are They Now: The Past Nine EPT London Champions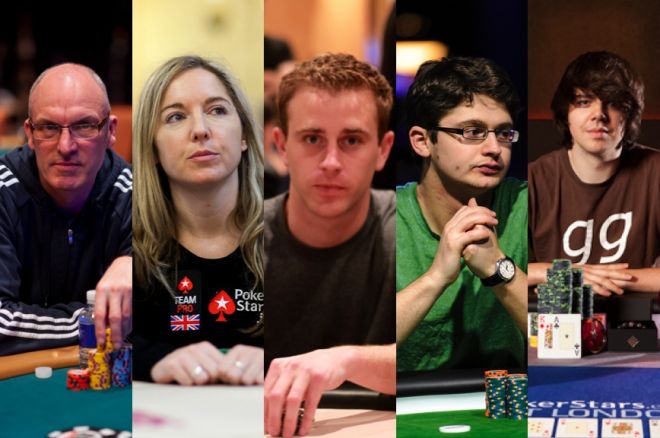 Next week, Season 10 of the PokerStars European Poker Tour continues with the second stop of the season — EPT London. It is one of the few stops that have graced the EPT schedule dating back to Season 1, and it's managed to position itself as one of the most prestigious stops of the year.
That's something Ruben Visser learned last year when he topped a field of 647 players to win the £5,250 Main Event for £595,000. Other winners of the EPT London include John Shipley, Victoria Coren, and David Vamplew, just to name a few.
In continuing with our EPT Season 10 coverage, PokerNews takes a look back at the past nine EPT London champions and asks one simple question: where are they now?
Before we get to that, remember PokerNews will be in London next week to bring you live updates from the three marquee events — the £50,000 Super High Roller, £5,250 Main Event, and £10,300 High Roller.
Season 1 (2004) — John Shipley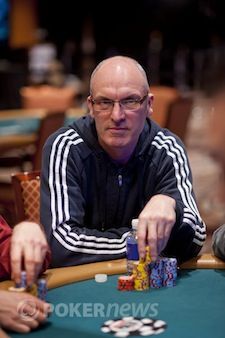 The UK's John Shipley has been a staple in the poker world for nearly two decades, with his first cash coming back in April of 1994 when he finished ninth in a £500 no-limit hold'em event at the Irish Poker Open for £500 — that's right, he broke even. Over the next decade, Shipley notched numerous four- and five-figure scores, including a seventh-place finish in the 2002 World Series of Poker Main Event for $125,000.
Shipley, who was a part of the groundbreaking Late Night Poker, then made history as the first-ever EPT London winner in October 2004. That year 175 runners paid the £4,000 buy-in and created a prize pool of £763,379. Notables Marcel Luske and Noah Boeken both made the final table, but finished in seventh and sixth, respectively, for £14,800 and £16,800. As you know, Shipley prevailed and captured the £200,000 first-place prize.
Since then Shipley has continued to play poker and rack up cashes, most coming at the WSOP in Las Vegas. For instance, in 2008 Shipley finished ninth in a $1,500 no-limit hold'em event for $56,782, and three years later he placed third in the 2011 WSOP $10,000 Pot-Limit Omaha Championship for $369,575 — his biggest career score. Most recently, Shipley finished 472nd in the 2012 WSOP Main Event for $24,808.
Season 2 (2005) — Mark Teltscher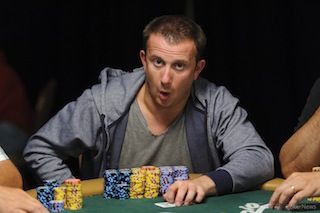 The EPT London returned in Season 2 and the £4,000 buy-in Main Event saw attendance increase to 236 players, which created a prize pool of £1,033,000. Three men from England made the final table that year, and for the second year in a row an Englishman walked away with the title. Mark Teltscher, born January 16, 1980, didn't have a tournament score to his name prior to winning the EPT London, but as soon as he claimed victory he had one worth £280,000 on his résumé.
Less than three months later, Teltscher was once again making headlines when he topped a field of 233 players to win the $5,000 event at the Fourth Annual Five Diamond World Poker Classic at Bellagio in Las Vegas. Teltscher defeated a final table that included Lee Markholt (5th - $42,505) and Michael "The Grinder" Mizrachi (4th - $56,660) to walk away with the $374,965 first-place prize and one of poker's more prestigious titles.
In 2007, Teltscher was a part of a controversy involving PokerStars and the World Championship of Online Poker (WCOOP) Main Event. The username that Teltscher has busted in the tournament, but before long a rumor surfaced that he was playing under a different name, "TheV0id," which was listed under his sister's name, Natalie Teltscher. "TheV0id" went on to win the tournament, but PokerStars disqualified the player and denied the $1.2-million prize. The following year, Natalie filed a lawsuit against PokerStars on the Isle of Man, but after the online site presented their evidence, Natalie admitted it was not her playing the tournament and subsequently withdrew the claim.
Despite that incident, things didn't slow down for Teltscher in the years that followed. He finished runner-up to Sander Lyloff in the Season 4 EPT Barcelona for £673,000, and then five months later finished runner-up to Howard Lederer in the 2008 Aussie Millions $100,000 Challenge for $571,368.
In December of that year, Teltscher was back at a final table at the Five Diamond World Poker Classic, ultimately finishing second in a $5,000 event behind Tim Bullard for $158,710. In the past five years, Teltscher has numerous five-figure scores with his most recent being a sixth-place finish in the 2013 WSOP Event #44 $3,000 No-Limit Hold'em for $92,186.
Teltscher kicked off his poker career on the EPT and has shown no signs of slowing down in the eight years that followed.
Season 3 (2006) — Victoria Coren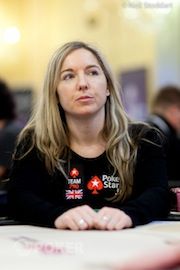 The buy-in for the Main Event was lowered to £3,500 in Season 3, which helped boost attendance as 398 players took to the felt and created a prize pool of £1,393,000. The event attracted some heavy hitters in the poker world including Shannon Shorr (21st - £6,000), Neil Channing (13th - £10,000), and Chad Brown (5th - £58,600), but after three days of intense action it was the lovely Victoria Coren that walked away with the title and £500,000 first-place prize. She also became the first female to win an EPT title.
The London-based Coren was fairly well known on the UK circuit at the time. At the age of 15, she won a competition to write a weekly newspaper column, something she continues to this day as author of a poker column in The Guardian. She also appeared on Late Night Poker, which was the first TV show to reveal the hole cards of players.
Since her big win, Coren has continued to travel the poker circuit as a Team PokerStars Pro. In April 2012, Coren added a second EPT title to her résumé by winning the €5,000 Heads-Up No-Limit Hold'em at the Grand Final for €58,900. Most recently, she finished sixth in the £10,000 High Roller at the EPT/UKIPT London for £67,130 back in March.
Season 4 (2007) — Joseph Mouawad
Once again the buy-in was adjusted for the EPT London, this time jumping to £5,200, and as a result attendance dropped slightly to 392 runners, but the prize pool leaped to £2,038,400. German player Florian Langmann began that year's final table as the chip leader, and eventually made it to heads-up play against online qualifier Joseph Mouawad.
The two battled for less than an hour, and on the final hand Langmann raised preflop and Mouawad called, which brought about a flop of
. Langmann bet and then called off after Mouawad shoved. Langmann tabled the
for middle pair, but it was no good as Mouawad tabled the
for top pair. The
turn left Langmann drawing dead, and after the
was run out on the river, Mouawad captured victory and the £611,520 first-place prize. In addition, the 47-year-old became the first player from Lebanon to win an EPT title.
It was a storybook ending for Mouawad, but his fairy tale ended there. In the six years since his big win, Mouawad has just two tournament cashes to name — second in the 2010 Five Star World Poker Classic $1,000 No Limit Hold'em for $25,500 and eight in the €2,000 No-Limit Hold'em event at this year's EPT Barcelona for €16,650.
Season 5 (2008) — Michael Martin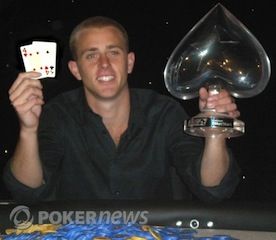 The buy-in remained the same in Season 5, but attendance increased by more than 200 players as 596 players entered the event and created a prize pool of £3,349,200. The tournament attracted some big names and several of them made deep runs including Peter Eastgate (18th - £16,313), David Benyamine (12th - £35,891), and Philippe D'Auteuil (5th - £195,766).
Michael Tureniec began the final table as the chip leader that year, but by the time he made it to heads-up play the USA's Michael Martin had taken the lead. The two battled for approximately 90 minutes before Martin moved all in from the small blind with the
and Tureniec called off with the
. It was a flip, but the board ran out
and Martin emerged victorious to claim the £1,000,000 top prize.
It was Martin's only career victory, but he had some big scores prior to that year's EPT London. In November 2007, Martin finished runner-up in the Master Classic of Poker €5,000 No Limit Hold'em for €368,080, which he followed up with a fifth-place finish in the 2008 EPT Grand Final in Monte Carlo for €421,000.
Since his win, things have slowed down considerably for the man from Washington Crossing, Pennsylvania. He had two cashes in 2009 for $44,621, and another pair of cashes in 2010 for $22,878. Since then, Martin has disappeared from the tournament circuit.
Season 6 (2009) — Aaron Gustavson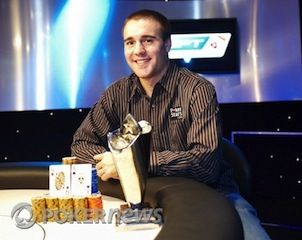 The EPT London continued to grow in Season 6 as 730 players put up the £5,250 buy-in to create a prize pool of £3,540,500. The big story that year was the appearance of Peter Eastgate, who was the defending WSOP Main Event champ, at the final table. In fact, he began the final table second in chips behind the USA's Aaron Gustavson, who held more than a 2-1 lead over Eastgate. Not surprisingly, the duo made it to heads-up play.
After a dinner break, one of the fastest heads-up matches in EPT history took place. Holding a 2-1-chip lead, Gustavson took half of Eastgate's stack on the first hand of heads-up play. Not long after, Eastgate opened holding
and then shoved after Gustavson had reraised. Gustavson called with the
, and in just seven hands, he clinched victory after the board ran out clean. Gustavson, who had won a $1,500 no-limit hold'em event at the 2009 Borgata Summer Poker Open just a few months earlier for $53,592, entered the EPT history books and took £850,000 back across the pond.
Gustavson continues to play poker and has plenty of other cashes since his EPT win. The biggest was for $44,856 when he took ninth in a 2010 WSOP $1,500 no-limit hold'em event. More recently, he won a $1,100 no-limit hold'em event at the 2012 Commerce Hold'em Series for $14,760.
Gustavson, originally from East Northport, New York, now lives in Playa del Carmen where he is currently playing online poker. "I'm super busy with WCOOP and on a very weird sleep schedule," Gustavson told PokerNews.
Season 7 (2010) –- David Vamplew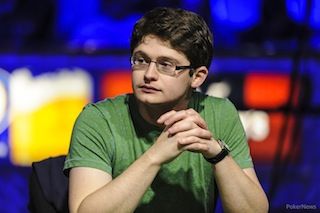 Few players have parlayed their EPT win into a successful career quite like Scotland's David Vamplew, who graduated from Edinburgh University with a degree in math. In Season 7, he topped a field of 848 players, which included defeating John Juanda in heads-up play, to win the £900,000 first-place prize. Since then Vamplew hasn't slowed down. Here's a look at his most notable accomplishments in the past three years:
3rd in the World Poker Tour Venice in February 2011 for €147,970
4th in the 2011 WSOP $1,500 NLHE — Six Handed for $141,030
2nd in the 2013 WSOP Event #2 $5,000 NLHE — Eight Handed for $342,450
2nd in the 2013 WSOP Event #53 $1,500 NLHE for $413,157
In September, Vamplew also placed third in the €2,000 NLHE 8-Handed Turbo event at the EPT Barcelona for €35,040. Needless to say, Vamplew looks to be here to stay, and it all started with the EPT London.
Season 8 (2011) –- Benny Spindler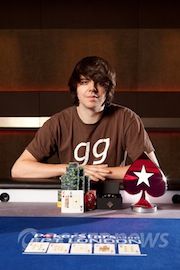 The EPT London took a hit in attendance in Season 8 — 691 players created a prize pool of £3,351,350 — but even so it attracted some of poker's best including Martins Adeniya (7th - £86,350), Kevin Iacofano (6th - £120,000), Juan Manuel Pastor (4th - £200,000), and Steve O'Dwyer (2nd - £465,000). Oh, it also included Benny Spindler, who captured the £750,000 first-place prize.
It was Spindler's biggest score, but just one on an already impressive poker résumé. Not only is Spindler an accomplished high-stakes online poker player (he plays under the usernames "toweliestar" on PokerStars and "psychobenny" on Full Tilt Poker), he had previously made his mark in the live realm thanks to a third-place finish in the 2009 PokerStars Caribbean Adventure Main Event for $1.1 million, runner-up in the 2011 EPT Grand Final €25,000 High Roller for €316,000, and first in the €10,000 NLHE – Single Reload at the 2011 EPT Tallinn for $€49,350.
Since winning the EPT London, Spindler has continued his success. In October 2012, he won the €10,000 NLHE 8-Max at the EPT Sanremo for €253,000, and he followed that up with a win in the €10,600 High Roller at the GCOP for €77,500. He also finished sixth in last April's A$10,000 WSOP APAC Main Event for A$146,205.
Spindler will no doubt be in London looking to capture the title for a second time.
Season 9 (2012) –- Ruben Visser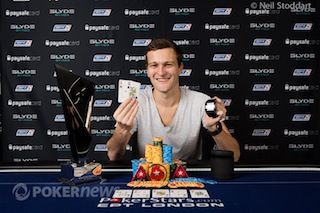 The Netherlands' Ruben Visser was much like Spindler in that he had a successful poker career even before winning the EPT London. For instance, he finished runner-up in a €5,000 NLHE event at the 2010 EPT Grand Final for €171,450; 44th in the 2011 WSOP Main Event for $196,174; eighth in the 2012 PCA Main Event for $156,400; and second in the 2012 EPT Deauville for €152,000.
A year later, Visser would be back at an EPT final table in London, a tournament that attracted 647 players and generated a prize pool of £3,137,950. Visser emerged victorious at that final table, which included Steve O'Dwyer (5th - £146,000) and Theo Jorgensen (4th - £183,000), and he took down his first EPT title and the accompanying £595,000 first-place prize.
Not enough time has passed to ask where the defending champ is, so instead a we'll refer you to Visser's post-victory interview:
Remember, the PokerNews Live Reporting Team will be in London to bring you updates from the £50,000 Super High Roller, £5,250 Main Event, and £10,300 High Roller, all of which you can find in our Live Reporting Section beginning on Friday, October 4.
Get all the latest PokerNews updates on your social media outlets. Follow us on Twitter and find us on both Facebook and Google+!
Executive Editor US, PokerNews Podcast co-host & 2013 WSOP Bracelet Winner.