Where Are They Now: WPT Season II Borgata Poker Open Champ Noli Francisco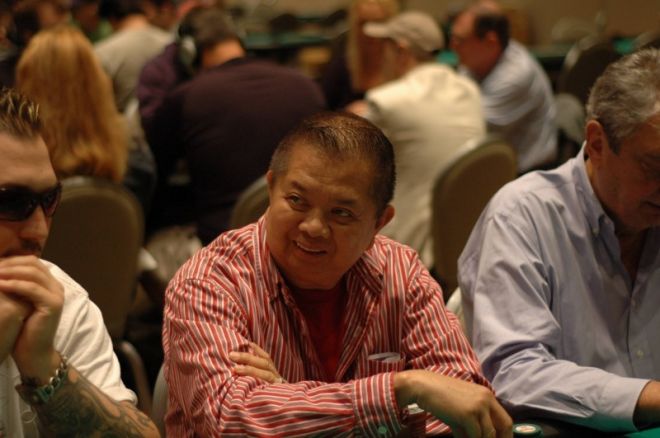 The World Poker Tour is now in its 10th season and has recently begun paying homage to past champions on its broadcasts on FSN. In the most recent broadcast, the Borgata Poker Open was featured. It was in one of these episodes that Tony Dunst reexamined the heads-up battle between Noli Francisco and Charlie Shoten from the Season II Borgata Poker Open, in which Francisco ultimately emerged victorious to capture the $470,000 first-place prize.
The match is remembered as one of the strangest in WPT history, as evidenced by a few unorthodox hands. In one of the hands Dunst analyzed, Shoten called a raise to 70,000 with his 11-big-blind stack. Both players proceeded to check the
flop and
river, bringing about the
river. At that point, Shoten checked his
and Francisco went to bet with the inferior
; however, as he was cutting out chips, Shoten announced a call. The betting amount had yet to be determined, so Francisco bet and lost the minimum. "I said I call to stop you from betting," Shoten explained after winning the hand.
As if things couldn't get any stranger, in the very next hand, Shoten announced all in out of turn while Francisco was in the process of putting out a raise. "It's my fault," Shoten said. This time Francisco made the call with
and was out in front of Shoten's
, but the board ran out
and the latter doubled.
"Noli Francisco is not a man to be outgunned," Dunst explained. "Noli is a man of resiliency. A man that doesn't let one lost coin flip deter him."
Sure enough, Francisco managed to recover and on a
board min-raised Shoten's 100,000 bet holding
. Shoten, who held
, responded by moving all in and Francisco called. The
bricked on the river and it was all over, though you couldn't tell it as both men stood staring at the board in a confused stupor.
Eventually, the situation sank in and Francisco celebrated by raising his hands in the air in what would become one of Season II's most memorable moments. Francisco went on to participate in Season II's Battle of Champions Invitational which included Phil Laak, Antonio Esfandiari, Mel Judah and Hoyt Corkins. Unfortunately, Francisco came up one spot shy of victory when he finished as runner up to David Benyamine.
Season II Borgata Poker Open Final Table
| Place | Player | Prize |
| --- | --- | --- |
| 1st | Noli Francisco | $470,000 |
| 2nd | Charlie Shoten | 235,000 |
| 3rd | David Oppenheim | $117,500 |
| 4th | Carlos Motensen | $70,500 |
| 5th | Mickey Seagle | $52,875 |
| 6th | Randy Burger | $41,125 |
PokerNews recently spoke with Francisco to see what he's been up to since winning the Borgata Poker Open in Season II of the WPT.
Can you tell us what you've been up to since your win way back in 2003?
I live with my wife in West New York. You know where West New York is? That's in New Jersey, west of Manhattan along the river. I'm 72 years old and still playing poker. I go to Atlantic City a few times, maybe twice a month on the weekends. I play poker, but I don't play tournaments. I still enjoy life.
When you play poker, what do you like to play?
We usually play mixed games, like Omaha hi/lo, hold'em, stud, stud eight or better, and those crazy games. I like crazy games, they call me a crazy player.
How did you first learn to play poker?
I've liked cards ever since I was young, like everybody else. When I got here in 1970, I started to play home games while working. In the 1980s, I went to the World Series of Poker and started going to Vegas. I played a lot. I did good at poker. In the 1990s, I just played. Played for fun and mad enough money so I was able to play poker and I was a winning player, so I continue to play and am enjoying it now. I have a lot of friends in poker.
You've got a lot of good results from Las Vegas. What was it like the first time you ever went there?
The first time I went to Las Vegas it was something to learn about — the experience — and it was exciting. I played my first tournament and I had a bet. The bet was whether or not I could make the money, and I think I came in seventh in that first event. From there, I was hooked on Las Vegas. I never won the [WSOP Main Event], I think I played 13 times and never made the money. I came in second a few times in WSOP side events. I went there two or three times a year in the 80s and 90s.
Francisco's Notable Accomplishments
| Date | Event | Place | Prize |
| --- | --- | --- | --- |
| May 1982 | 13th World Series of Poker $1,500 NLH | 7th | $4,920 |
| December 16, 1988 | Hall of Fame Poker Classic $1,500 NLH | 1st | $118,800 |
| May 6, 1992 | 23rd World Series of Poker $2,500 Pot-Limit Hold'em | 2nd | $67,000 |
| May 7, 1992 | 23rd World Series of Poker $5,000 even-Card Stud | 3rd | $36,600 |
| May 7, 1993 | 24th World Series of Poker $2,500 NLH | 2nd | $86,500 |
| Dece May 7, 1993 | 24th World Series of Poker $2,500 NLH | 2nd | $86,500 |
| April 28, 1996 | 27th World Series of Poker $1,500 Omaha 8 or Better | 2nd | $78,945 |
| May 5, 1996 | 27th World Series of Poker $3,000 Limit Hold'em | 3rd | $50,100 |
| January 25, 1999 | Carnivale of Poker II $1,000 7-Card Stud 8 or Better | 1st | $46,800 |
| September 20, 2003 | World Poker Tour Borgata Poker Open | 1st | $470,000 |
When was the last time you played the WSOP?
2004. After I won the Borgata Poker Open. I really didn't want to play tournaments anymore. I had some sponsors who sent me to Europe and to play the WSOP, but that's about it. I got tired and bored.
Tell us a little bit about your WPT Borgata Poker Open win. Did it mean a lot to you?
Oh yes, because that was around the start of poker on TV, and everybody wanted to be on it. I got lucky and it was very exciting. I think I reached my goal. I was so happy to win, I reached my goal. I know it's hard work, and I was happy. After that, I realized the younger players are really good and they're going to be doing better. I'm happy for the experience I had, and now I live a contented life. I'm content with what I did and just happy to be where I am now.
What did your family and friends think after your win? Did you make any big purchases with the prize money?
My kids don't play poker, they're different. My kids are in business or have families. My wife loves poker, she loves me enjoying it. I like it because I get to travel, have vacations at other people's expense as they pay for it when you're doing good, but when you're running bad not so much. I was able to do good on my own and able to do a lot.
The money didn't affect me, I already had what I needed. I played the same stakes, have the same house, all the same things, but it was good. I paid taxes, felt good, felt like a big shot in poker. I had my fifteen minutes, it felt good, but I don't want more. I don't think I could handle more.
Back in the 1980s and 90s, did you ever imagine poker could ever get this big?
There are more players, a bigger market than before. I don't think anyone ever thought it would be this big. Now I believe anything is possible as it came from nothing and became very big. Look at Internet players now, you can play on Facebook [laughs]. Poker's good.
If you love poker, be sure to follow us on Twitter and like us on Facebook for all the latest updates on the World Poker Tour.
*Picture courtesy of the Poker.About.com.
Executive Editor US, PokerNews Podcast co-host & 2013 WSOP Bracelet Winner.