World Poker Tour on FSN: Borgata Poker Open Season X — Part III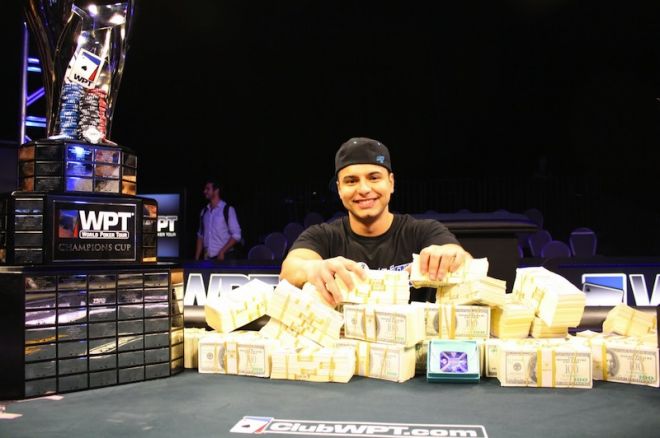 On Sunday, Season X of the World Poker Tour continued on Fox Sports Network with the conclusion of the Borgata Poker Open from the Borgata in Atlantic City. The $3,500 re-entry event, which originally ran from Sept. 18 through 22, 2011, was the largest event in WPT history with 1,313 players.
In Part I, Ricky Hale became the first elimination. It happened when Bobby Oboodi opened for 340,000 with
and was met with an all-in reraise to 2,080,000 by Hale, who held
. The board ran out
, and the 42-year-old from England was eliminated in sixth place for $186,585.
Then, in Part II, Darren Elias was eliminated when he opened for 500,000 on the button, only to have Oboodi three-bet to 1.1 million from the big blind. Elias thought for a moment before moving all in for 3,595,000. Oboodi snap-called and the cards were turned up:
Showdown

Elias was clearly disappointed and found no relief as the board ran out
. He was eliminated in fifth place for $230,610 while Oboodi held a stack that was comprised of nearly 50 percent of the chips in play.
Here's how things stacked up at the top of Part III's broadcast:
WPT Borgata Poker Open Final Table
| Seat | Player | Chips |
| --- | --- | --- |
| 1 | Jin Hwang | 9,400,000 |
| 2 | EMPTY | |
| 3 | Fred Goldberg | 3,240,000 |
| 4 | Bobby Oboodi | 18,810,000 |
| 5 | Daniel Buzgon | 7,865,000 |
| 6 | EMPTY | |
First Hand: Fred Goldberg opened for 725,000 from first position with
only to run into the
of Jin Hwang, who moved all in from the small blind. Goldberg gave it a little thought before saying, "Nice hand," and sliding his cards to the muck.
Only Looked at One: After Jin Hwang opened for 675,000 from the button with
, Fred Goldberg looked down at
and moved all in for 1,185,000. Bobby Oboodi made the call from the big blind, and Hwang got out of the way. "Come on," Goldberg said before revealing his other cards, which turned out to be the
.
Showdown

"I had an ace," Hwang admitted to the two players in the race. The
flop didn't inspire much reaction from either player, and neither did the
turn. "I don't know why you folded, man," Oboodi said incredulously to Hwang after the
blanked on the river, referencing the fact that the latter would have won with a wheel. With that, Goldberg doubled.
"Don't Do It:" Action folded to Fred Goldberg in the small blind and he moved all in with
for 3.315 million. "Do you want to sweat this with me?" Oboodi asked from the big blind. Goldberg leaned over and watched as his opponent squeezed out the
and
. "I call," Oboodi said and it was off to the races yet again.
"I like it, I like it," Goldberg said before requesting his one time. The crowd was on their feet as the flop came out
giving Goldberg a pair of queens and the lead. The
turn prompted a, "Don't do it, don't do it, don't do it," from Goldberg, who added, "He's only got one out."
While that was true, any club would result in a chopped pot, which is exactly what happened when the
peeled off. Goldberg threw his one good hand (the other was in a brace), and uttered some bleeped-out expletives before pulling back his chips.
Fred Goldberg Eliminated in Fourth Place: Bobby Oboodi was first to act and opened for 600,000 with
. Action folded to Fred Goldberg, who made the call with
from the big blind and then checked dark. The
flop gave both players top pair, though Oboodi's kicker was best. He promptly led out for 600,000, Goldberg instantly moved all in for 3.255 million, and Oboodi snap-called.
Goldberg only had a 29 percent chance of winning the pot, which dropped to 17 percent on the
turn. "You gotta make me sweat?" Oboodi asked from the rail where he was watching with friends. Much to his supporters' delight, the
appeared on the river and their man took down the pot, eliminating Goldberg in fourth place for $280,925.
Ones to Watch: In the latest edition of Ones to Watch, which highlights various young up-and-coming poker pros, this year's class talked about Dan O'Brien. His support group in Jason Mercier and Allen Bari, who are among O'Brien's closest friends, impressed his Ones-to-Watch counterparts. Everyone agreed that gave him access to valuable insight, but it didn't help in this tournament as O'Brien failed to make the money.
Daniel Buzgon Eliminated in Third Place: Bobby Oboodi opened for 800,000 on the button with
only to have Daniel Buzgon move all in from the small blind for 5.66 million holding
. Jin Hwang was in the big blind, slowly squeezed out
, and made the call, while Oboodi asked for a count before getting out of the way.
The
flop wasn't particularly good for Buzgon because it gave his opponent a gut-shot straight draw, which completed on the
turn. Despite that, Buzgon could still win with a fourth club on the river, but it was not meant to be as the
rolled off. Buzgon shook hands with both his opponents before exiting in third place for $335,433.
"I was really card dead and just no chips ever," Buzgon said in his post-elimination interview. "It's kind of frustrating, but if you lose a flip, you lose a flip."
Heads-Up Play: Jin Hwang was looking to become just the third player in WPT history to start a final table as the short stack and claim victory, the other two being Phil Laak and Alex Gomes. Not only that, he was looking for a nice parlay because he got into the Main Event through a satellite.
His victory would have made for quite the story, but everything seemed to be going right for Bobby Oboodi, who had dominated the final table. In what would be the last hand of the tournament, Hwang opened for 1.25 million with
and was called by Oboodi who was holding
. The
flop gave Oboodi a flush draw, but both players checked.
The
turn was gin for Oboodi as it gave him a flush and Hwang a pair of jacks. The former led out for 1.6 million, Hwang thought for a bit before moving all in for 12.85 million, and Oboodi made the call after double-checking his cards. "He can't win if it's a spade," Oboodi said as he made his way to his rail. "Spade, spade, spade," Oboodi willed as the
appeared on the river.
With that, Hwang was eliminated in second place while Oboodi became the Season X WPT Borgata Poker Open Champion. "There are just no words, I'm stumbling over my words," Oboodi said in his post-victory interview with Mike Sexton. "It's honestly about time I won this."
Tune in Next Week: Part I of the Foxwoods Poker Finals is set to air on Sunday, April 22, on FSN, so be sure to check your local listings. If by chance you miss it, check back next week for the latest recap of all the action right here on PokerNews.
Past Borgata Poker Open Champions
| Season | Player | Entrants | Earnings |
| --- | --- | --- | --- |
| 2 | Noli Francisco | 235 | $470,000 |
| 3 | Daniel Negreanu | 302 | $1,117,400 |
| 4 | Al Ardebili | 515 | $1,498,650 |
| 5 | Mark Newhouse | 545 | $1,519,020 |
| 6 | Roy Winston | 560 | $1,575,280 |
| 7 | Vivek Rajkumar | 516 | $1,424,500 |
| 8 | Olivier Busquet | 1,018 | $925,514 |
| 9 | Dwyte Pilgrim | 1,042 | $733,802 |
| 10 | Bobby Oboodi | 1,131 | $922,441 |
*Picture courtesy of World Poker Tour.
If you love poker, be sure to follow us on Twitter and like us on Facebook for all the latest updates on the World Poker Tour.