World Poker Tour on FSN: Borgata Poker Open Season X — Part I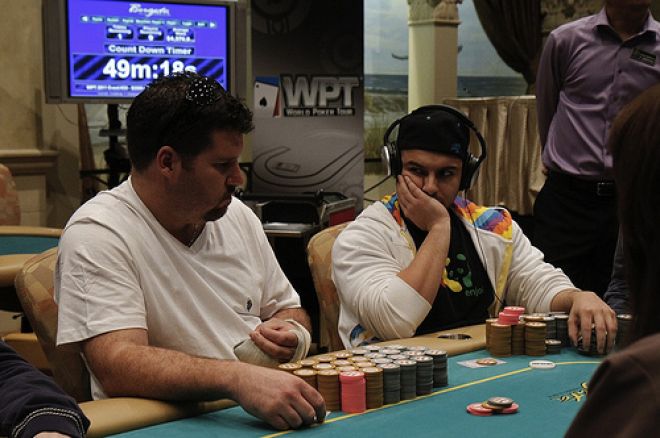 Season X of the World Poker Tour is going strong, as evidenced by its revamped broadcast on Fox Sports Network every Sunday night. The latest episode was Part I of the Borgata Poker Open from the Borgata in Atlantic City. The tournament has been a staple on the WPT dating back to Season II, and this year's incarnation set a record for the largest WPT field ever, with 1,131 entries.
That created a healthy prize pool of $4,220,161, with $922,441 of that reserved for first place. Last year, the boisterous Dwyte Pilgrim navigated a field of 1,042 players, which was also a record at the time, to take home the $733,802 first-place prize. Pilgrim, who rose to fame through the World Series of Poker Circuit, was emotional after his first major win, a moment that is considered one of the best from Season X.
This year, the buy-in was set at $3,500 for the Main Event, which used the re-entry format and originally ran from Sept. 18 through 22, 2011.
Prelude: The broadcast kicked off with highlight from Day 1a, when 460 took their shots at the title, including the defending champ. Unfortunately for Pilgrim, he couldn't survive the day after his
ran into Darren Elias'
on an
board.
Others who had to consider re-entry were Kathy Liebert, Jeff Madsen, Brent Hanks and Maria Ho. Abraham Korotki (260,100), Vanessa Selbst (198,675) and Will Failla (189,500) were among the big stacks at the end of the night with 228 players remaining.
Not surprisingly, Day 1b drew a huge field of 853 players, bringing the total to 1,313, setting a WPT record. It turned out to be a good day for a number of re-entrants including Liebert (67,350), Ho (98,500) and Madsen (216,925), with the latter finishing as the Day 1b chip leader with 524 players remaining and laying claim to a $5,000 bonus.
On Day 2, the 752 remaining players piled into the tournament area and kicked off a day of eliminations. Kenny Nguyen, Ebony Kenney, Liebert and Ho were just a few of the 582 players to hit the rail. David Williams (727,100) and Maurice Hawkins (646,500) finished as the two biggest stacks in the room.
With only 100 spots set to be paid, the competition was fierce as players looked to guarantee themselves a payday. It was on the money bubble when Mark Bramley held
on a
board, giving him the nut straight. Unfortunately, Williams was sitting with
and bet enough to put his opponent all in. Bramley thought long and hard before making the call, finishing as the official bubble boy. "I can fold to anybody but David there. He could have nothing," Bramley said before making his exit.
After the bubble burst, the eliminations mounted quickly. Michael LaRocca (98th - $8,385), Eric Haber (67th - $10,482), Madsen (60th - $11,740) and Yevgeniy Timoshenko (47th - $12,998) all made their way to the payout desk, and they were soon joined by Hawkins, who got his chips in holding
on a
flop only to run into the
of "Miami" John Cernuto. Neither the
turn nor
river helped Hawkins and he was eliminated in 44th place for $14,675. Not long after, Williams followed him out the door, leaving 27 players at the end of Day 3. Will Failla held the lead with 3.255 million.
With just three tables remaining, play was moved to the Borgata Poker Room for the march to the final table. The eliminations kept coming with Selbst being eliminated in 23rd place for $18,868 — her first cash in a WPT Main Event. She was followed out the door by players such as Ryan Eriquezzo (22nd - $18,868), Cernuto (14th - $35,640) and Matt Glantz (12th - $50,315).
It was at that point that Failla, who had won the Legends of Poker earlier in Season X, got all in holding
against the
of Jin Hwang.
Failla had Hwang covered by just one big blind, so it was especially excruciating when the flop fell
to give Hwang a set. The
turn gave Hwang quads, and Failla was essentially out after the
was run out on the river. Sure enough, Failla was eliminated in the very next hand, finishing in 11th place for $50,315. Eventually Doug Kim finished as the final-table bubble boy in seventh place ($148,848), bringing about the official final table.
Vince Van Patten was absent from this week's broadcast, meaning Ali Nejad joined Mike Sexton in the booth. Here is a look at the seating assignment at the start of the final table:
WPT Borgata Poker Open Final Table
| Seat | Player | Chips |
| --- | --- | --- |
| 1 | Jin Hwang | 2,205,000 |
| 2 | Darren Elias | 7,360,000 |
| 3 | Fred Goldberg | 11,480,000 |
| 4 | Bobby Oboodi | 11,140,000 |
| 5 | Daniel Buzgon | 4,710,000 |
| 6 | Ricky Hale | 2,420,000 |
First Hand: With the blinds at 80,000/160,000 and a 20,000 ante, action folded to Bobby Oboodi in the small blind and he limped. Daniel Buzgon was in the big with
and checked his option, leading to the
flop. Oboodi out flopped his opponent and min-bet 160,000, which was enough to take down the first pot of the night.
Short Stack Doubles: Fred Goldberg opened for 345,000 under the gun with
and cleared the field all the way around to Jin Hwang in the big blind. He moved all in for 2,135,000, Goldberg made the call, and the flop came down
, giving Hwang a set. Goldberg had a 2 percent chance of winning the hand, which increased to 8 percent when the
appeared on the turn. He needed a ten on the river to complete the comeback, but it was not meant to be as the
peeled off.
Elias' Key to Success: "I guess to be successful, you just have to keep adapting, keep changing your game because there's always new kids coming up, figuring out what's good. Like even now there's probably some 16-year-old who's better than I am," Darren Elias said in an interview with the WPT. "Just have to stay sharp, keep playing, keep studying."
Ricky Hale Eliminated in Sixth Place: Bobby Oboodi opened for 340,000 with
and was met with an all-in reraise to 2,080,000 by Ricky Hale, who held
. After the rest of the players got out of the way, Oboodi snap-called and was a 67 percent favorite to win the hand. Hale, who had won his seat into the event through a $100 satellite, looked dejected as he put his chips. The
flop delivered Hale salvation, though you couldn't tell it by looking at him as he sat motionless. Perhaps he knew that it'd soon be taken away, and it was on the
turn. This time Hale stood from his seat, shot one last glance back as the
peeled off, and shook hands with his opponent. The 42-year-old from England was eliminated in sixth place for $186,585 . . . "What a parlay that is," Mike Sexton pointed out.
To Be Continued: Who will be the next player to join the prestigious list of Borgata Poker Open winners and take home the $922,441 first-place prize? Part II is set to air on Sunday, April 8, on FSN, so be sure to check your local listings. If by chance you miss it, check back next week for the latest recap of all the action right here on PokerNews.
Past Borgata Poker Open Champions
| Season | Player | Entrants | Earnings |
| --- | --- | --- | --- |
| 2 | Noli Francisco | 235 | $470,000 |
| 3 | Daniel Negreanu | 302 | $1,117,400 |
| 4 | Al Ardebili | 515 | $1,498,650 |
| 5 | Mark Newhouse | 545 | $1,519,020 |
| 6 | Roy Winston | 560 | $1,575,280 |
| 7 | Vivek Rajkumar | 516 | $1,424,500 |
| 8 | Olivier Busquet | 1,018 | $925,514 |
| 9 | Dwyte Pilgrim | 1,042 | $733,802 |
| 10 | ??? | 1,131 | $922,441 |
If you love poker, be sure to follow us on Twitter and like us on Facebook for all the latest updates on the World Poker Tour.
*Picture courtesy of World Poker Tour.