World Poker Tour on FSN: Legends of Poker Season X — Part III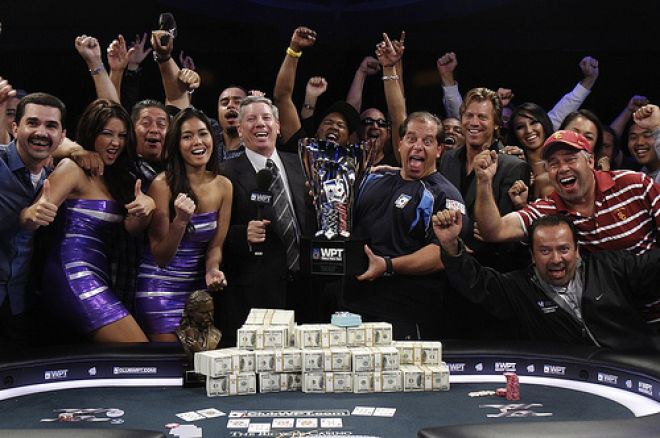 Season X of the World Poker Tour continued on Sunday night on Fox Sports Network's with Part III of the Legends of Poker final table from the Bicycle Casino in Bell Gardens, California. This marked the first time a WPT tournament was broadcast in three parts, part of the WPT's initiative to expand coverage to three hours instead of the traditional two.
In Part I, the early stages of the tournament were highlighted and culminated in the final table where Owais Ahmed became the first player eliminated. In Part II, Will "The Thrill" Failla, Josh Pollack, Adam Aronson, Ken Aldridge and Jeff Vertes all returned to battle for the $758,085 first-place prize.
Both Aronson and Pollack fell in that episode, leaving only three players( remaining from the original field of 757) headed into Part III. Here's how things stacked up at the top of the broadcast:
WPT Legends of Poker Final Table
| Seat | Player | Chips |
| --- | --- | --- |
| 1 | -EMPTY- | |
| 2 | -EMPTY- | |
| 3 | Will "The Thrill" Failla | 4,500,000 |
| 4 | -EMPTY- | |
| 5 | Ken Aldridge | 12,025,000 |
| 6 | Jeff Vertes | 7,200,000 |
First Hand: With the blinds at 125,000/250,000 and a 25,000 ante, Failla raised to 600,000 from the small blind with
and Aldridge defended from the big with the inferior
. The
flop gave Aldridge the lead, but of course, Failla didn't know that as he led out for 800,000. Aldridge eyed his opponent's stack, rubbed his chin, and then moved all in. Failla quickly flashed his cards to the audience and then slapped them into the muck. "Glad you didn't put me in preflop, because I beat you into the middle," Failla said after the hand.
"King, Pair the Board:" In the very next hand, Aldridge folded the button and Vertes came in for a raise from the small blind. Before he was even able to count out the 700,000 he intended to bet, Failla had grabbed his stack and slid it into the pot. It was 2,325,000 more to Vertes, but he wanted counts of both his and Failla's stacks. As the dealer did the counting, Vertes stood, paced, and announced a call.
Showdown

"Diamonds," Failla said after he saw how bad a shape he was in. "Five of clubs," he added right before the dealer put out the
flop. Failla shot his arms in the air in celebration of hitting his card. "Keep it low," he commanded. The
was fairly low, but Vertes seemed optimistic as he picked up an open-ended straight draw. "King, pair the board," Failla chanted as the dealer did just that by putting out the
on the river.
Vertes looked disgusted while Failla, who had just doubled to 6,125,000, went to his rail to celebrate.
Need a Thrill?: "Poker needs a Will the Thrill right now," Failla said during a montage that featured his entertaining antics throughout the tournament. "I hope I can excite people today. I hope I can make people want to watch the fight we're going to have today, because it's going to be a war, I promise you there's going to be a war. Win, lose, or draw, I'm going out fighting"
Too Much Money to Lay It Down?: Failla looked down at
on the button and put in a raise to 700,000. When action reached Vertes in the big blind, he squeezed out
and announced a reraise to 1.9 million. Failla quickly moved all in for 5.7 million, which was about 700,000 less than his opponent, but Vertes was very hesitant. "Is he paired up or what?" Vertes asked.
"I have a pair . . . of balls," Failla quipped. Vertes got a good laugh, as did the audience, but the Canadian was tormented by the decision. Once again he stood and paced about the stage, seemingly talking himself out of what seemed like an easy call.
"I just don't want him to have a bigger pair, and there's a very good chance he has a bigger pair . . . of cards," Vertes said before folding.
Vertes Eliminated in Third Place: With the blinds at 200,000/400,000, Failla opened for 900,000 on the button only to have Vertes three-bet to 1.75 million. Failla immediately moved all in, and Vertes called off for 5,075,000, total.
Showdown

Vertes was a 70 percent favorite and both players were on their feet as the flop came down
. Failla outdrew his opponent once again, becoming a 71 percent favorite, and shot his arms up in the air. The crowd was chanting for various cards, but the
was not one of them. Failla's supporters chanted for a deuce, and while the
was not a duck, it was safe for Failla. "No f***ing way," Vertes said shaking his head as he made his exit in third place, worth $186,400.
"It's poker, it happens," Vertes told Matt Savage in his post-elimination interview. "I've done it to other players numerous times. Very disappointing. I came here to win this thing and I did everything I could to do that. It's just the way it goes sometimes. I'm glad I made it to third place in my first major tournament."
Runner-Runner for Failla: In the second hand of heads-up play, Ken Aldridge looked down at
and opened for 900,000. Will Failla called with
, and then check-called a bet of 500,000 on the
flop. When the
appeared on the turn, Failla check-called a bet of 2 million, and he was glad he did as the
spiked on the river to give him a runner-runner flush.
"The Thrill" quickly led out for 4 million, Aldridge moved all in, and Failla snap-called for 6.525 million total. "Pretty dang lucky," Aldridge said with a smile. "I let you get there."
We Have a Champion: After being left with just 3 million, Ken Aldridge called off after Will Failla moved all in in the very next hand.
Showdown

"No matter where it goes, it was a great tournament, bro," Failla told Aldridge as the two stood side by side waiting for the flop, which came down
. The
turn meant Aldridge needed a four to win or seven to chop, but it was not meant to be as the
bricked. Failla shot his arms in the air for a final time before going to celebrating with his supporters, which included former WPT champ Dwyte Pilgrim.
"Will's worked hard at this," Aldridge told Matt Savage. "I'm just a novice."
"I don't even know what to say. I just know that on August 25, 2001, my son was born and that was the absolute greatest day of my life, and this is the second greatest day," Failla told Mike Sexton with tears of joy in his eyes. "It's unbelievable. Best feeling ever."
Tune in Next Week: The WPT Grand Prix du Paris is set to begin on Sunday, March 10, on FSN, so be sure to check your local listings. As always, you can check back next week for the latest recap of all the action right here on PokerNews.
Past Legend of Poker Champions
| Season | Player | Earnings |
| --- | --- | --- |
| 1 | Chris Karagulleyan | $258,000 |
| 2 | Mel Judah | $579,375 |
| 3 | Doyle Brunson | $1,198,290 |
| 4 | Alex Kahaner | $1,125,900 |
| 5 | Joe Pelton | $1,577,170 |
| 6 | Dan Harrington | $1,635365 |
| 7 | John Phan | $1,116,428 |
| 8 | Prahlad Friedman | $1,034,500 |
| 9 | Andy Frankenberger | $750,000 |
| 10 | Will "The Thrill" Failla | $758,085 |
If you love poker, be sure to follow us on Twitter and like us on Facebook for all the latest updates on the World Poker Tour.
*Picture courtesy of World Poker Tour.