World Poker Tour on FSN: Borgata Poker Open Season X — Part II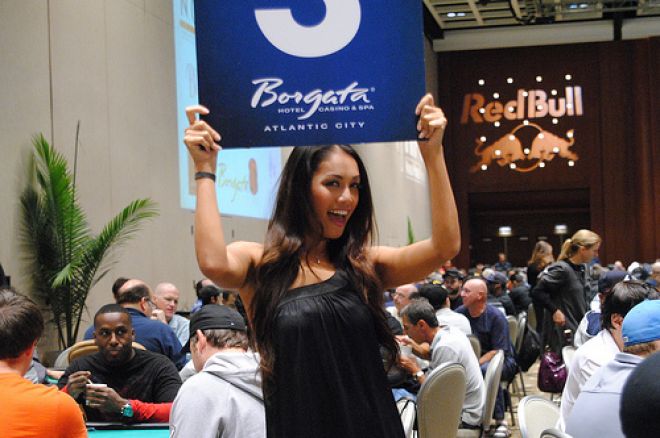 Season X of the World Poker Tour continued on Sunday on Fox Sports Network with Part II of the Borgata Poker Open from the Borgata in Atlantic City. This season's $3,500 buy-in tournament, which used the re-entry format and originally ran from Sept. 18 through 22, 2011, drew 1,313 players, making it the largest event in WPT history.
In Part I, the early stages of the tournament were reviewed and culminated with the final table. It was there that Ricky Hale, who had qualified for the event through a $100 satellite, became the show's first elimination. It happened when Bobby Oboodi opened for 340,000 with
and was met with an all-in reraise to 2,080,000 by Hale, who held
. The board ran out
, and the 42-year-old from England was eliminated in sixth place for $186,585.
Here's how things stacked up at the top of Part II's broadcast:
WPT Borgata Poker Open Final Table
| Seat | Player | Chips |
| --- | --- | --- |
| 1 | Jin Hwang | 3,440,000 |
| 2 | Darren Elias | 9,360,000 |
| 3 | Fred Goldberg | 12,645,000 |
| 4 | Bobby Oboodi | 10,565,000 |
| 5 | Daniel Buzgon | 3,305,000 |
| 6 | EMPTY | |
First Hand: With the blinds at 100,000/200,000, action folded to Fred Goldberg in the small blind and he raised to 500,000 with
. Bobby Oboodi was in the big blind with the inferior
and decided to call, bringing down the
flop. Goldberg wasted little time in continuation-betting 575,000, Oboodi called, and the
was put out on the turn. This time Goldberg checked, and then snap-folded to Oboodi's 555,000 bet. With that, Oboodi took over the chip lead.
Buzgon Overcomes Flopped Set: Fred Goldberg was first to act and opened for 475,000 with
, which was soon met with an all-in shove for 2,625,000 by Daniel Buzgon on the button. "Alright, let's go," Goldberg said after the blinds folded. "I call." Buzgon's tournament life was on the line and he had a 36 percent chance to survive the hand, which dropped to just 4 percent on the
flop.
Buzgon looked dejected as Goldberg's supporters erupted in celebration for their man's flopped set, but the other players at the table pointed out that Buzgon could still hit either runner-runner straight or flush cards to win. It seemed like little consolation to Buzgon, though he did let a slight smile creep across his face when the
was put out on the turn. Goldberg sat motionless staring at the board, and continued to do so even after the
spiked on the river to give his opponent the improbable come-from-behind win, not to mention the 5,650,000 pot.
Hwang Doubles Through Elias: After the blinds went up to 120,000/240,000 with a 40,000 ante, Jin Hwang opened for 525,000 from the cutoff with
only to have Darren Elias three-bet to 1,225,000 from the button holding
. After the blinds got out of the way, Hwang made the call and then moved all in for 1.665 million on the
flop. Elias snap-called with his two overs, but was left shaking his head as he counted out the calling chips.
The stage was pretty quiet, even after the
turn gave Hwang a flush. That's because everyone knew another spade on the river would give Elias the best hand. Luckily for Hwang, running spades wouldn't happen again as the
blanked on the river and sent the 6,290,000 pot to Hwang. Mike Sexton then noted that only two times in the WPT's 10-year history had the player who began the final table sixth in chips went on to win, but Hwang had the chance to become the third.
Who were the other two? Phil Laak and Alex Gomes.
You Race Dirty: In the latest installment of On the Road, a segment that takes a behind-the-scenes look at the WPT, Ali Nejad went and picked up Mely, one of the Royal Flush Girls, for a day at the go-kart track. "You're still going to get spanked at go-karting," Mely said with a smile.
After donning racing suits, the duo took to the track where Nejad, who was filling in for Vince Van Patten, toyed with his opponent by passing her up, slowing down, and then passing her up again. Mely got her revenge by plowing into Nejad, though the latter ultimately crossed the finish line first.
Oboodi Extends Chip Lead: Fred Goldberg looked down at
on the button and opened for 565,000, only to have Bobby Oboodi three-bet to 1,320,000 from the small blind with
. Goldberg made the call and then folded to Oboodi's bet of 920,000 on
flop.
"I love playing poker because I'm interested in, like, the mental aspect of the game," Oboodi said in a montage following the hand. "Trying to understand their thought process better than they understand their own thought process and using it against them. Everything's going pretty well."
Drama on the Rail: During a hand, Bobby Oboodi's rail, which had been pretty rowdy throughout the final table, began to chant "Goldberg," likely in reference to the WCW superstar of the same name back in the late 1990s. This didn't sit too well with Fred Goldberg and he promptly folded his cards and made his way over to the rail where he informed them that they were way out of line and he'd be happy to set them straight. More words were exchanged before tournament officials escorted the railbirds from the area.
Darren Elias Eliminated in Fifth Place: In Hand #67 of the final table, Darren Elias opened for 500,000 on the button only to have Bobby Oboodi three-bet to 1.1 million from the big blind. Elias thought for a moment before moving all in for 3,595,000 total. Oboodi snap-called and the cards were turned up:
Showdown

Elias was clearly disappointed and would find no relief as the board ran out
. He was eliminated in fifth place for $230,610 while Oboodi held a stack that was comprised of nearly 50 percent of the chips in play.
To Be Continued: Who will be the next player to join the prestigious list of Borgata Poker Open winners and take home the $922,441 first-place prize? Part II is set to air on Sunday, April 15, on FSN, so be sure to check your local listings. If by chance you miss it, check back next week for the latest recap of all the action right here on PokerNews.
Past Borgata Poker Open Champions
| Season | Player | Entrants | Earnings |
| --- | --- | --- | --- |
| 2 | Noli Francisco | 235 | $470,000 |
| 3 | Daniel Negreanu | 302 | $1,117,400 |
| 4 | Al Ardebili | 515 | $1,498,650 |
| 5 | Mark Newhouse | 545 | $1,519,020 |
| 6 | Roy Winston | 560 | $1,575,280 |
| 7 | Vivek Rajkumar | 516 | $1,424,500 |
| 8 | Olivier Busquet | 1,018 | $925,514 |
| 9 | Dwyte Pilgrim | 1,042 | $733,802 |
| 10 | ??? | 1,131 | $922,441 |
If you love poker, be sure to follow us on Twitter and like us on Facebook for all the latest updates on the World Poker Tour.
*Picture courtesy of World Poker Tour.