Where Are They Now: 2005 WSOP Main Event Final Tablist, Aaron Kanter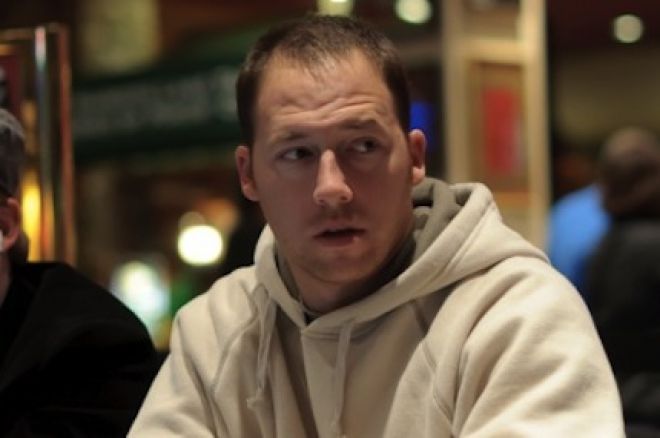 The 2005 World Series of Poker Main Event final table is likely the most memorable final table of the last decade, with the exception of Chris Moneymaker's win in 2003. Joe Hachem, formerly an Australian chiropractor, outlasted the field of 5,619 at the 36th Annual WSOP to claim the $7.5 million first-place prize. He overcame a final table that included Mike "The Mouth" Matusow, Andy Black, Tex Barch, and Steve Dannenmann. Also at that final table, was Aaron Kanter, the latest subject for our Where Are The Now series.
Known as the "Giant Killer," Kanter earned the nickname by delivering a fatal blow to the 2004 world champ, Greg Raymer, who ended up finishing 25th in the 2005 WSOP Main Event, for $304,680. In that hand, Raymer had about 4 million in chips and opened for 100,000 with
. Kanter made the call with
and the two were heads-up to the
flop. Raymer fired out 150,000, Kanter called, and the
appeared on the turn.
Raymer kept the pressure on with a bet of 300,000, Kanter raised to 900,000 with his flush draw, Raymer moved all-in, and Kanter made a reluctant call, creating a pot of 3.51 million. Kanter's tournament life was on the line, so it was no surprise that he shot his arms up in celebration when the
spiked on the river, crippling Raymer.
Since finishing in fourth place in 2005 for $2 million, Kanter continued to pursue his poker career, primarily playing online. However, he did manage to notch some live cashes including a 48th-place finish in the 2007 World Poker Tour PokerStars Caribbean Adventure for $17,787, 18th in a 2007 WSOP $1,500 No Limit Hold'em event for $23,576, third in a 2008 WSOP $1,500 NLHE event for $258,862, and a victory in the $500 NLHE event at the 2008 WSOP Circuit Harvey's Lake Tahoe stop for $15,594.
Still residing in Lodi, California, Kanter has started a family and spends his time traveling between Vancouver and home, an unfortunate necessity to continue playing online poker after Black Friday. PokerNews recently caught up with Kanter to find out what he's been up to, how the 2005 WSOP final table changed his life, and what the future holds for the "Giant Killer."
What have you been up to since the 2005 WSOP Main Event Final Table?
I've just been continuing my poker career, and I've got a family now, so it's been pretty busy with those two things. My wife and I have two kids now; one is almost four and one just turned one. We live in Lodi, California, where I grew up and I've been playing mostly online, obviously up until April. Just hanging out with them, and now I just got a place in Canada. I've been living there and coming home to visit the family.
Where in Canada did you find a place?
The suburbs of Vancouver. It's a beautiful place, especially for a West Coast guy.
What sort of affect did Black Friday have on you an your family?
It definitely hasn't been easy. I've been playing as my main source of income for eight years, and most of that has been online other than the World Series. I've been playing online since college, which is like 11 years ago, so I had gotten used to just being able to play from home, which I think I took for granted now because the traveling, and leaving the family at home, has just been rough on all of us.
Did you ever consider transitioning to live play after Black Friday?
I mean if I did, I'd have to move to a different city anyway. There's not enough live games here in Northern California. I mean you can go to Bay 101, but that's about the biggest. I can make more money per hour playing online than I can live. I could probably move to L.A. or Vegas or something, but I think Vancouver is about the same flight-wise, and I think being able to play online is more important.
Did you have any money stuck on Full Tilt?
I did, but not very much. Luckily, 90 percent of my money was on PokerStars. I'm pretty thankful for that.
In the 2005 WSOP, how did you get in? Satellite? Direct buy-in?
I won a satellite. I think it was the steps on PartyPoker. I think I started with a $50 step or something like that.
Was that the first time you've ever played the Main Event?
Yes. I'd played a couple of $10K events. I hadn't even been playing tournaments that long when I played that one. I started playing tournaments maybe seven to eight months before that.
What was it like going deep in the Main Event, especially in a year toward the peak of the poker boom?
At the time I didn't think too much about it. I was kind of excited as we had a lot of friends and family there. It seemed weird, but I wasn't really thinking about the whole thing, and now going back to the WSOP after that, I feel more aware of how difficult that is. I think I would be more nervous in that same situation now than I was then. I was sort of naive on what was actually going on there.
Can you talk a little bit about your hand against Greg Raymer?
That hand actually came up a few weeks ago. It was rated the number one "Top Ten Bad Beats in Poker" or something like that. In the hand, I'm obviously calling before the flop with
, and he bets on the flop. It was low, and it felt like a continuation bet. The turn gave me a draw and put a scary card on the board because there could have been a four-card straight.
He bet, and I decided to raise three times, which committed I think three-quarter of my chips. He made a good read. Obviously I wasn't used to playing live as much, and I'm sure I probably gave something away at that time that indicated that my hand wasn't as strong as it could be, so he shoved. I was committed at that point so I called and thankfully the
hits on the river. It was a pretty amazing river, definitely the best of my life.
Check out the hand here:
The last year the WSOP Main Event Final Table was held downtown at Binion's was 2005. We've heard it was quite cramped and very uncomfortable. What are your thoughts?
Yeah [laughs]. I mean it's a small place, not really much you could do. I think they had it there because it was tradition. They said we could only have two passes per person to bring people in, so we ended up passing the passes back and forth. Everyone got in eventually, but yeah, it wasn't a big room, but what are you going to do. Everyone was packed in there.
The final table has changed a lot since 2005, especially with the implementation of the November Nine. Is that something you would have liked back then?
I definitely would have like the November Nine. As I said, I hadn't been playing tournaments that long, so I probably could have improved my game, you know, more than a lot of the other players. I'm a little more committed than a lot of players. The fact that I made a deal with PartyPoker the day of the final table, I know if I had the time to negotiate and talk to an agent, I probably could have worked out something long term or a larger amount to begin with.
I think it's great for the game in terms of the players. They get more exposure. Obviously there's a downside that players are going to change the way they play, but I like the upside of being able to do the other things.
After your $2 million score, did you make any big purchases?
Not so much. We unfortunately bought houses, which was a terrible idea for that year, especially in California as the housing market has been pretty bad since then. I wish I had just bought a couple Ferraris instead of a couple of houses, they'd probably be worth more right now, and I'd have a lot more fun.
In terms of fame, did you find yourself being recognized after your final table appearance?
Yeah, mostly at local events like in Tahoe or San Jose, a little bit at the World Series. I wouldn't say it was anything close to what the other guys got, which really didn't bother me too much, I'm more of a low-key guy.
To learn more on Kanter, check out this old-school PokerNews video featuring the "Giant Killer:"
Stay up to date on all the latest news by following us on Twitter and liking us on Facebook.
Executive Editor US, PokerNews Podcast co-host & 2013 WSOP Bracelet Winner.