Preparing for the 2011 World Series of Poker November Nine: Martin Staszko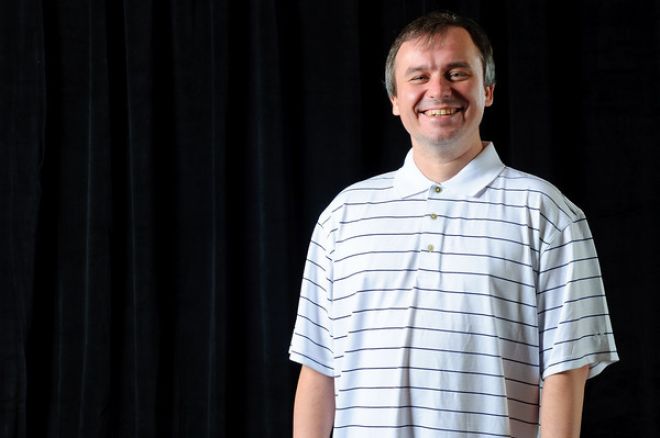 In July, the 2011 World Series of Poker November Nine was set with one of the most unlikeliest of characters emerging as the chip leader: 35-year old Martin Staszko of the Czech Republic. A professional player by trade, Staszko became the first Czech player to ever make the final table, no doubt looking to accomplish the same feat as Jonathan Duhamel, and use the chip lead to claim victory.
Even though Staszko was an unknown player before his deep run in the Main Event, he actually had a successful 2011 WSOP up to that point. Before making the November Nine, Staszko had notched four cashes over the summer, all in low buy-in events. In fact, his best cash was a 39th-place finish in the $1,500 Pot-Limit Omaha Hi/Lo event for $10,156. Needless to say, no matter where he finishes at the final table, it'll be for the biggest cash of his career.
Staszko will begin the final table as the chip leader with 40,175,000, seated directly to the left of current WSOP Player of the Year leader, Ben Lamb. PokerNews recently sat down with Staszko to find out what he has been up to during the past couple of months, and what he has been doing to prepare for the biggest final table of his life. Because Staszko speaks little English, the following excerpt was translated by members of CZ.PokerNews.com.
What was the one hand that was most responsible for your deep run?
There were a lot of hands that helped me; it's hard to choose just one. One important hand happened in the late stages. With ten players left, I won a really big pot with
on a ten-high board against Phil Collins and his
. Thanks to that hand, I had a lot of chips and could play much better.
Also, there was a hand from Day 1 when I was three-bet by an opponent, and I called. I caught a pair with a draw, but because it didn't hit, I had to play it as a set and bet all-in on the river. Fortunately my opponent folded his
, but it took him ten minutes to decide.
It also helped that I won a lot of all-ins, when my better hands held.
After the final table was set, what did you do the rest of the night? Did you go out and celebrate?
I was really tired. During the whole last day, I ate only six bananas, so when the final table was set, I went to grab a meal with two beers, that's all. I got plenty of calls, texts, and emails, so it took me awhile to answer, so I online-slept a bit.
How long did it take for the fact that you made the November Nine to sink in? Has it yet?
I don't know if I realize it yet. It was my first WSOP. One or two weeks before it started, I was watching Days 5 and 6 from a previous Main Event and I thought it was impressive to be as far as they were, but in the end I was able to get even further. It is certainly a huge success for me and for Czech poker.
What have you been up to since the WSOP has been on hiatus?
I was on vacation in Sweden, then played the European Poker Tour in Barcelona. I also did a lot of interviews, and played some online poker.
What was the reaction of your family and friends?
Reactions were great, everybody congratulated me. I thank everyone for their support.
Who will you be bringing to Las Vegas in November to support you?
My parents, brother, and poker and chess friends will come to support me.
Do you feel any extra pressure to perform as the chip leader?
I'm not thinking about that right now. Because I'm the chip leader, there are bigger expectations then if I were a short stack, so the pressure might be bigger. On the opposite side, I have chips, so the risk of busting in the beginning is smaller and that's my advantage, because players with shorter stacks will have to think properly if they want to risk it all.
What's more important: money or the Main Event bracelet?
Bracelet of course. To be at the final table of Main Event is something huge, it may never happen again. I will try to play the best I can, and will give myself the best chance to win.
As part of making the November Nine, you've already taken home the ninth-place prize of $782,115. Have you made any big purchases with that money?
I haven't bought anything big — yet.
Other than yourself, who do you feel has the best chance of taking down the title?
That's a hard question because everyone has a decent chance to win. Second in chips is Eoghan O'Dea, so he's probably got the best chance.
Who would you want to be heads-up with for the bracelet in November? Who would you least like to face?
Well, I would like to make it to heads-up at first, and then I would like to win, so I don't care who my opponent is. All of them are great players, so I cannot wish to be in heads-up with somebody specific, because they'd probably beat me. I am not afraid of anyone. My opponents are solid players, but there is always a way to play against each of them and win.
What are you doing to prepare? Are you getting lessons or advice from anyone notable?
My friend is collecting information about other players. I haven't started preparation yet. I believe I will start in October, but no famous player is helping me with an advice.
Does that include looking at your opponent's weaknesses? Are you scavenging all the information you can get about your opponents?
It would be great to find some weak spots, but I think how they play in the final table of the Main Event at the WSOP will be completely different from any other tournaments, so it is hard to predict the way they will play. I also don't know how my opponents will change their play, so I will have to adjust in November at the Final Table.
Did you have the chance to become close with any other November Niners?
No, I didn't. In Barcelona I met few of them, but we just said "Hi" to each other. There was no time to make relationships. I believe we will meet each other in tournaments in the near future and hope our relationships will be good.
What other events are you going to play between now and November?
I'm not sure. Maybe since I haven't started preparation yet, I will skip all international tournaments and stay to play some local tournaments.
Do you have your entrance music picked out yet, assuming the WSOP does it again this year?
No, I don't. I like Queen, but maybe it would be good to choose something Czech. But I haven't thought much about it yet.
Check out our interview with Staszko that was conducted the day after making the November Nine.
Don't forget to follow us on Twitter and like us on Facebook.