Preparing for the 2011 World Series of Poker November Nine: Sam Holden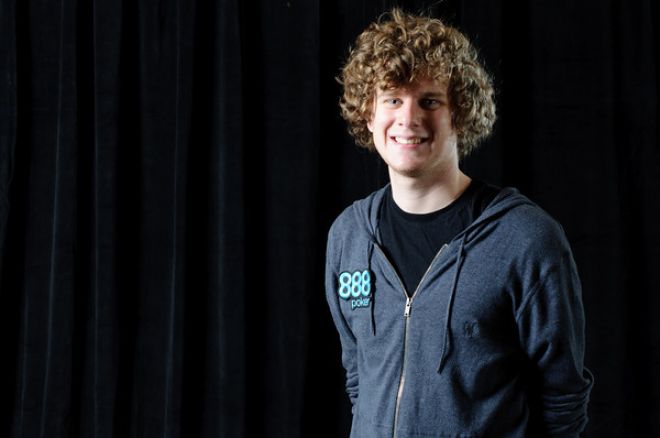 One of the most memorable players from the 2011 World Series of Poker November Nine is the amiable Sam Holden of Sussex, England. Easily recognizable thanks to his lofty curls and his bright blue 888 Poker patch, Holden is a member of Team 888Poker and one of three players at the final table 22-years-old or younger.
Needless to say, making the final table of the Main Event is the biggest accomplishment in Holden's young career; in fact, he had only $11,311 in tournament winnings before playing in his first WSOP this summer, including a win in the UK & Ireland Poker Tour Newcastle 6-Max No-Limit Hold'em in June for $5,785. Obviously Holden took that momentum to Las Vegas, and final tabled the WSOP Main Event, and he is now guaranteed to walk away with a minimum payout of $792,115 (ninth-place money).
Holden will begin the final table as the short stack with 12,375,000, though a quick double would tie him for third place. PokerNews recently sat down with Holden to find out what he has been up to in the past couple of months, and what he has been doing to prepare for the biggest final table of his life.
What was the one hand that was most responsible for your deep run?
There's one hand in particular. I did double up on Day 2 I believe when I got it in with a pair and a flush draw against a set actually, and got there. So obviously that was really, really lucky and the way things worked out, that was a huge moment. You know, anything can happen after that moment and it was obviously a series of events that led to me somehow making the November Nine after that.
After the final table was set, what did you do the rest of the night? Did you go out and celebrate?
I actually didn't. I had a flight booked the day after, and we also had media stuff to do the morning after. So what I did was went to my room and talked to everyone back home, on Skype or social media, and replied to whatever I could on there. I had to pack up my room — this is obviously all at 3 a.m. I packed up everything in my room and had to check out at 11 a.m. I got a few hours of sleep, and then went to the media stuff we had in Vegas, and then flew home that afternoon. I saved the celebration for when I got back to England.
Kristy Arnett spoke with Holden the day after he cemented himself in the 2011 November Nine.
How long did it take for the fact that you made the November Nine to sink in? Has it yet?
I think so, it's difficult to tell. At the point it happened, and for the week after, it certainly hadn't set in it all. At this point, it's becoming a little more real and, you know, doing lots of media stuff becomes more normal. At first, it was so unusual for me having never experienced things like this before. So yeah, at this point it's just about sunk in and I think that puts me in a position right now to put in lots of preparation and hopefully be in the right mindset come November.
What have you been up to since the WSOP has been on hiatus?
I just got back from Paris for the World Poker Tour. I got knocked out on Day 2 there. I've done a few other things, I had a trip up to Edinburgh for a smaller tournament and played a made-for-TV tournament, which I can't talk about the results, but that airs in October. So yeah, I've been playing a little bit of poker and obviously played a little bit online, but there has been a lot of media stuff and life's been very different. It's been very busy, but a lot of fun.
What was the reaction of your family and friends?
Well, they were all pretty shocked. Most of them don't really follow poker that much, I mean they know that's what I do, but they don't really know a huge amount about it. Poker is less in the culture here in England, and people there rarely know about the World Series, obviously all poker players do, but there are some people that don't know anything about poker, so for them it was like a learning experience before they could quite realize what I had done or what I was part of.
Who will you be bringing to Las Vegas in November to support you?
Well, I've got a lot of friends coming out. Several of them have a piece of the Main Event, so obviously they've got two reasons to cheer me on. My parents are coming, my uncle, and a few family friends, you know, my girlfriend obviously. There's a good group, a mixture of non-poker players and then a lot of poker guys that mostly have a piece of the winnings, so it should be a fun group.
What's more important: money or the Main Event bracelet?
I guess the most money comes with the bracelet, so, I guess you kind of get both or neither, but the money is incredibly important to me, having a score like this is mad. I already feel incredibly fortunate to have won the amount that I've won. At this point, I'm not looking much at the jumps. We've already won a lot of money, so it's less of a big jump. We're all looking for that bracelet, so being the World Champion of poker is a pretty incredible thought. Clearly a lot of money comes with that also, so it's a combination of both, that's for sure.
As part of making the November Nine, you've already taken home $782,115 (ninth-place money). Have you made any big purchases with that money?
Nothing crazy. I'm moving house next week, so it was quite nice to be able to get a nice place in London, and just pay all the rent for that upfront, that was quite cool, and paying off all of my student loans. Other than that, no crazy purchases just yet. I'm gonna wait until November to see how much money I've got to blow before I start buying anything too crazy.
Other than yourself, who do you feel has the best chance of taking down the title?
Interesting. I think Martin Staszko being the chip leader, I think obviously he has a fantastic chance, and I think he seems like a great player. To be honest, I think they're all fantastic players, I think everyone has a chance, and I think Martin has the best chance because he has the most chips. I think he handles himself well, and he's also got a good seat draw with Ben Lamb on his right. So yeah, to be honest I really think anyone can win it, and the chip stacks are all relatively similar, so I think anyone can get it, everyone is capable.
Who would you want to be heads-up with for the bracelet in November? Who would you least like to face?
[Laughs] I think I'll answer them both at once by saying that I really don't mind, if I'm heads up, I really don't care who I'm up against. I'm relatively confident with my heads-up game and as I've said, they're all great players, so I'm not going to single anyone out as a big threat or anything. I'd be very, very happy to be heads up, and really don't mind who it is, I just take it in stride and do the best I can with each hand.
What are you doing to prepare? Are you getting lessons or advice from anyone notable?
Well, obviously I'm putting in some preparation for November. I'm not going to give too much away for obvious reasons. I don't want to give information I don't have to to my opponents, but it's really important to look at your own game, and this is an opportunity for the final nine to make as much progress in their game as they can before the biggest tournament of their life. So, I'll be doing as much as I can. As I say, it's always important to look at your weaknesses as a player and that's something I always try to do.
Does that include looking at your opponent's weaknesses? Are you scavenging all the information you can get about your opponents?
Yeah, that's definitely a part of it, you know, trying to gain any information I can from my opponents. I expect their games to change a little bit as well, be it through thoughts they've had between July and November, or changes they've made to their own game. I expect the table in November will have a very different dynamic than when we left it in July because players will have changed. The experience that people have between July and November will change their mindset, so there will be a lot of information to be gained when we sit down in November. Obviously I will try to gain as much information that I can before then, as well.
Did you have the chance to become close with any other November Niners?
It was interesting actually. The nine of us, when we had our media meetings the day after we made it to the November Nine, we spoke about the camaraderie within the group. Obviously it's just sort of a friendly rivalry, but at that point we'd played nearly 80 hours or something of poker, and we were together for that period, so the last few days we were likely playing against each other and at the table for several hours. I don't think any of us are particularly close, but there is a good camaraderie and it's all an experience we're all going through together. I'm looking forward to November, and after that hopefully I'll see them around the scene and be able to have more of a relaxed friendship as opposed to now, which is obviously an intense rivalry because we're in the middle of this huge tournament.
What other events are you going to play between now and November?
I'm going to Cannes for the World Series of Poker Europe, and then I'll be playing the EPT London, which is over here. I think they're going to be my only big tournaments before November. At this point, I don't want to travel too much, there's plenty of other things to be doing, and so I'll save most of my traveling for after November.
Do you have your entrance music picked out yet, assuming the WSOP does it again this year?
No, do we get entrance music? That's cool. I'm a big fan of a band called Arctic Monkeys. They're a British band that I don't think people know much about in America. So I think I'd never forgive myself if I didn't choose something by them, but I'll have to have a little think about that and find something that's relatively poker orientated.
To learn more on the November Nine and everything else poker related, be sure to follow us on Twitter and like us on Facebook.