2010 WSOPE Event #4, Day 3: Hansen and Collopy Heads Up for Title; Play Paused for Main Event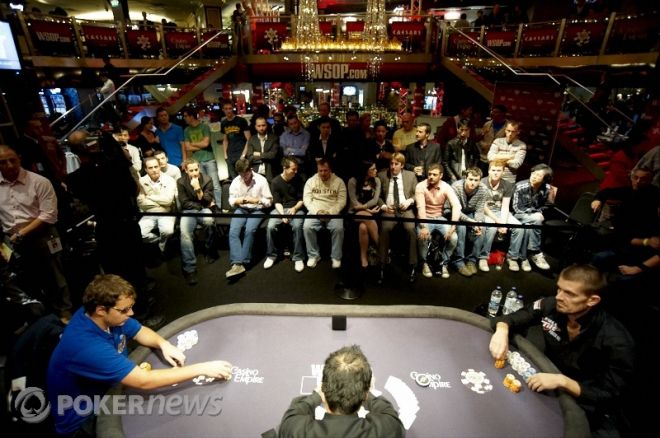 After 12 hours of heads-up play at the 2010 World Series of Poker Europe today, we still don't have a bracelet winner. Finalists Gus Hansen and Jim "Mr_BigQueso" Collopy were tying one round each in the best-of-three format when play was adjourned after 3 a.m. A time for the final round has yet to be decided.
The four players who returned to the Empire Casino for the semifinals of the £10,000 High Roller Heads-Up event were a varied mix of old guard and new - Ram Vaswani and Gus Hansen representing the old-school live players, and tournament specialist Jim Collopy and high-stakes cash player Andrew Feldman representing the online generation. It wouldn't take long to see off Feldman and Vaswani in third and fourth places - but the best-of-three final between Hansen and Collopy would be another matter.
The Hansen vs. Feldman match turned out to be a fairly swift and relatively one-sided affair, Feldman never improving on his starting stack. Eventually he moved in with pocket tens but couldn't hold against Hansen's
and took fourth place for £96,212.
On the other side of the semifinal table, it looked for a while as though Collopy was going to go the same way as Feldman — Ram Vaswani took an early lead, and Collopy soon found himself fighting for his tournament life, a very short stack of chips for a weapon. However, he made an impressive comeback and the chip lead went back and forth for some time until Collopy shoved with
and Vaswani, now short, called all-in with
. Collopy made a ten-high straight, and Vaswani was out in third for £96,212.
The first round of the final was won fairly decisively by Hansen. Collopy never took the lead, and after two and a half hours of seeing his chips head into Hansen's stack, he pushed with
. Hansen woke up with
, which made a jack-high straight for good measure and it was one-nil to the Great Dane.
Round 2 started in much the same way as Round 1 had — Hansen took a big early lead and hung on to it to for several hours. However, Collopy doubled up twice — first, with
, the same hand he'd beaten Vaswani with earlier, and the second time cracking Hansen's pocket kings with
— to even the stacks. In fact, Collopy must be a dog lover as
turned out to be his hand of the tournament. Shortly after his second double-up, Collopy made a full house with
on a
board to take a big chip lead over the by now tilting Hansen, who'd bet all the way and then mucked at showdown. Hansen got his last in good shortly afterwards with pocket queens against Collopy's pocket nines, but the nines flopped a full house and the score was one-all when they called it a night.
Both finalists wanted to play the last start day of the Main Event, as well, so when the casino emptied, it was agreed simply that everyone would be there at noon for the start of the Main Event, and they would work out later exactly when the final would take place.
We'll be at the Empire Casino from noon, as well, so keep an eye on PokerNews.com for further updates from the ongoing High Roller Heads-Up final.
The WSOPE Live Updates are brought to you by Full Tilt Poker, who not only give new players a 100% up to $600 Sign Up Bonus they also hold a monthly $100,000 First Deposit Freeroll for new members!