Five Thoughts: The 2011 November Nine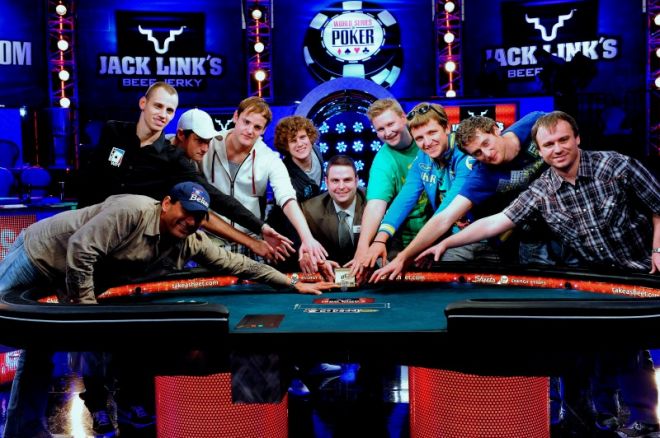 Nearly a week ago, after eight long days of grueling poker, the 2011 World Series of Poker Main Event finally reached the official final table. Martin Staszko is your chip leader with an impressive 40,175,000 (80 big blinds) chips, and is seven million chips ahead of his nearest competitor, Eoghan O'Dea (33,925,000).
For the first time, the November Nine features players from seven countries including the U.S. (3), Czech Republic, Ireland, Ukraine, Belize, U.K. and Germany. There was even slim a chance of a fully diverse final table – Khoa Nguyen (11th place) and John Hewitt (10th place) are natives of Canada and Costa Rica, respectively.
Here's how the entire final table looks:
| Seat | Player | Country | Chips |
| --- | --- | --- | --- |
| 1 | Matt Giannetti | United States | 24,750,000 |
| 2 | Badih Bou-Nahra | Belize | 19,700,000 |
| 3 | Eoghan O'Dea | Ireland | 33,925,000 |
| 4 | Phil Collins | United States | 23,875,000 |
| 5 | Anton Makiievskyi | Ukraine | 13,825,000 |
| 6 | Samuel Holden | United Kingdom | 12,375,000 |
| 7 | Pius Heinz | Germany | 16,425,000 |
| 8 | Ben Lamb | United States | 20,875,000 |
| 9 | Martin Staszko | Czech Republic | 40,175,000 |
After covering (nearly) every day of the 2011 WSOP Main Event and watching the field intently on Day 8, many thoughts are brewing in my head. I'll spare you by just giving you five – perhaps there will be more as the final table nears.
1. John Hewitt blew it
I hate to bash players, and after bubbling the most important final table in the world this is unneeded salt in a deep wound, but John Hewitt made one of the worst calls in Main Event history when play was ten-handed. With the blinds at 250,000/500,000/50,000, Hewitt opened to 1.1 million, and the action folded all the way to Badih Bou-Nahra (unquestionably the tightest player at the table) who moved all-in for 9.3 million. Hewitt called without much thought (leaving himself only eight big blinds) and tabled
. He was of course crushed by Bou-Nahra's
– and lost the pot.
At the time, Bou-Nahra was the only player with less than 10 million chips, and Samuel Holden, Anton Makiievskyi, and Pius Heinz all had stacks similar to Hewitt's (around 25 to 30 big blinds). There was absolutely no reason for Hewitt to call off 70 percent of his stack in that spot, especially if you consider basic Independent Chip Model (ICM) principles. The value of making the November Nine may have decreased with Black Friday and the lack of online poker sponsorship deals, but there is still so much equity in making the final table that risking your tournament life in such a marginal spot just isn't good.
Conversely, Matt Giannetti was patient, and now sits third in chips. He was very fortunate to be dealt two premium pairs and hold, but his patience paid nonetheless.
2. Martin Staszko is an unknown, quiet assassin
Martin Staszko began Day 8 with just over six million chips, and dipped as low as four million before suddenly rushing up to 40 million and ending the day as the chip leader of the November Nine.
"Yesterday, good cards and good flops," Staszko told our own Sarah Grant the day after the final table was set.
Despite being the chip leader, we've still heard very little about or from the soft-spoken Staszko. Well, with nearly $800,000 locked up, the Czech has already achieved his biggest score by making the November Nine. Staszko's highest cash prior to the Main Event came in January of 2010, where he finished 11th in the EPT Deauville Main Event for just $49,547. Staszko (35), much like Badih Bou-Nahra (49), is an elder statesman at the table, but that doesn't mean he has a passive game. When he began to chip up on the secondary feature table during the last day, he did so by three-betting and playing very aggressively preflop. Also, unlike Bou-Nahra, his bet-sizing was consistent with today's standards.
Staszko still remains a mystery, however, and it will be interesting to see how the other players prepare for him entering November. He has direct position on the current WSOP Player of the Year Ben Lamb, but Matt Giannetti has direct position on him, and now that he has chips he can afford to be more aggressive. Can Staszko win with the chip lead like Jonathan Duhamel did last year, or will he fall short as so many others have – most notably Phillip Hilm?
3. No shades, no problem
If you browse through the fantastic pictures captured by our expert photography team, you'll see that no one at the final table was wearing sunglasses. Yes, Anton Makiievskyi had a pair of Ray Bans perched atop his head, but they were never used during play. We thought this was interesting, so we decided to look back and see how popular sunglasses have been at the Main Event final table since 2003.
| Year | Number of Players in Sunglasses |
| --- | --- |
| 2003 | 5* |
| 2004 | 5* |
| 2005 | 5* |
| 2006 | 3 |
| 2007 | 5* |
| 2008 | 3 |
| 2009 | 3 |
| 2010 | 5 |
| 2011 | ? |
* denotes that the winner wore sunglasses.
Jerry Yang was the last player to win wearing shades back in 2007, and, unless Makiievskyi decides to actually use his shades or someone gets cute, the trend will continue this year. This is good for poker not only because shades unfairly conceal one's emotions, but because nobody should be allowed to wear them inside – it's tacky, and you're not that cool.
I'm looking at you Mr. Makiievskyi. You can keep the Ukraine track jacket, just leave the sunglasses at home.
4. Oh yeah, Benba is still pretty good
Ben "Benba" Lamb out Mizrachi'ed Michael Mizrachi this year with his performance at the WSOP. He, like Mizrachi, final-tabled both the Poker Player's Championship and the Main Event, but, unlike Mizrachi, he finished in the top 12 of three other WSOP events. Also, even if Lamb has a poor performance at the WSOP-E, he's still a favorite to win the Player of the Year, because he can earn a ton of points come November.
With a win in the Main Event, Lamb would cement the greatest WSOP run in history. There have certainly been multiple bracelet winners in the past, but Lamb's success came during the most popular WSOP ever. He battled a massive field to final table the Main Event, the best players in the world to final table the Poker Player's Championship, and the youngest, most aggressive players in the world in the $10,000 Pot-Limit Omaha Championship event and the $10,000 Six-Handed Championship event.
Lamb was very aggressive as the November Nine approached but never got out of line. He's right in the middle of the pack with just under 21 million chips, yet is without a doubt one of the favorites to win it all.
5. Let's meet the November Nine
The PokerNews video team did a series of interviews with the players the day after the November Nine was set. Here's one with chip leader Martin Staszko, and the link to the rest can be found below it.
You can be sure that PokerNews will be at the Rio in November to bring you all the action from the felt at the Penn and Teller Theater. Until then, follow us on Twitter for up-to-the-minute news.