Where Are They Now: EPT4 Baden Champ Julian Thew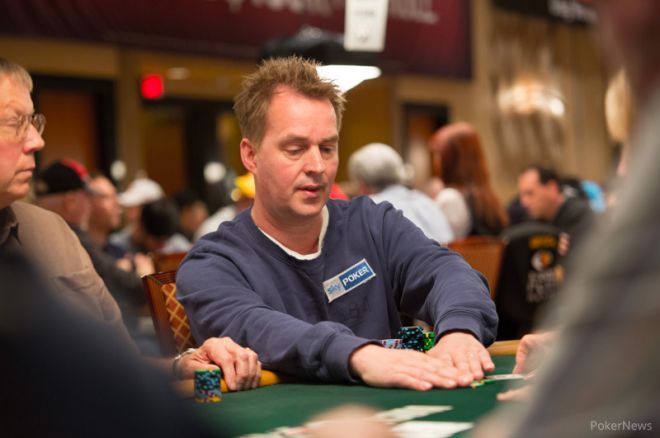 Widely considered the "nicest man in UK poker," Julian Thew is a familiar face on the United Kingdom and Ireland poker scenes. Thew has more than $2.9 million in tournament winnings, with a career-high $947,806 coming from a victory in the Season 4 European Poker Tour Baden.
Thew followed that up with a solid year in 2008. He collected $495,208 in cashes, which included wins in the Deep Stack Extravaganza III $4,850 No Limit Hold'em for $251,001 and Grosvenor UK Poker Tour (GUKPT) Brighton Main Event for $176,000. The victory in Brighton made Thew the first player to win two GUKPT titles – his other was in September 2007 when he took down the GUKPT Plymouth for $119,984. Interestingly, Thew became the first person to win three of those titles when he won the 2011 GUKPT Coventry Main Event for $66,474.
In 2010, Thew managed just $31,758 in tournament cashes, but in the two years that followed he put together six-figure years – something he's on pace to do again in 2013.
PokerNews recently caught up with Thew at the EPT London to find out what he's been up to since making his mark at the EPT Baden.
PokerNews: This is very broad, but what have you been up to since winning the EPT4 Baden?
Thew: I carried on playing on the EPT circuit for another three, maybe four years. I had a really good year the year after, and then kind of struggled a bit. My confidence took a dip, kind of fell out of love with the game. It was all too stressful. I took a break, and I suppose about two years ago I kind of got my mojo back. Nowadays I just play UK and Ireland stuff. I always go to Vegas in the summer for a couple of weeks. I usually do one trip abroad, like I went to Marbella last year.
There's so much in the UK and Ireland now you don't really need to travel, and to be honest I'm not bankrolled for $5Ks anymore. The only reason I played the EPT London Main Event is because I came down for the UKIPT and luckily it was coupled with the EPT, I won a satellite, and I got in. Otherwise there was no way it was on my schedule.
After winning the EPT Baden rumor has it you used your winnings for your family and to put an extension on the house. Are you a big family man?
Yeah, I've got four kids now. I paid off my mortgage; we've got a nice house. I suppose from a bankroll point of view perhaps I wasn't very sensible with my money, but I didn't want to give it all back. On this circuit it's so easy to do. I'm pretty happy where things are now.
We see that you're wearing a Sky Poker patch. What's the story behind that?
I'm very fortune to have been sponsored by them for nearly three years now. They're like a UK and Ireland site with a really good community. It's one of the smaller sites. It's perfect for where I am now.
We understand you knew and played with Sam Trickett before he made it into the big leagues?
We're probably going back like 10 years in Nottingham. I suppose I was a pro then and had some success. There was Sam Trickett and another guy name that came up together. It was pretty clear they both had a lot of talent. I remember talking to Sam maybe four years ago, I think he was in a bit of a lull over here and he decided to go over to South Africa and do the cash games over there. It just kind of took off for him, but everyone knew he had a lot of talent. There are a lot of players with talent, but it takes that little bit extra to get to the top and he's done great. At From Dusk Til Dawn they have a Sam Trickett Room there with pictures of him up and stuffs, it's great.
You were the first player to ever win two GUKPT titles, correct?
Yes, the first to win two and the first to win three [laughs]. I got a third one a couple of years ago. I think there are about four or five of us now with two, but I just recently got in front again.
So between those titles, an EPT title, and all your other poker accomplishments, what is your proudest?
Oh definitely the EPT, and I've been really fortunate when it comes to sponsorship. I feel like that's a nice accolade to have as well. But, you know, the EPT from a prestige and money won standpoint changed my life.
Season 4 was the last time Baden was a stop on the EPT. Would you like to see them bring it back?
I don't play EPTs anymore so I'm indifferent I suppose.
If they did, would you feel obligated to play in it as the defending champ?
No.
Get all the latest PokerNews updates on your social media outlets. Follow us on Twitter and find us on both Facebook and Google+!
Executive Editor US, PokerNews Podcast co-host & 2013 WSOP Bracelet Winner.