Where Are They Now: WPT Season V Borgata Poker Open Champ Mark Newhouse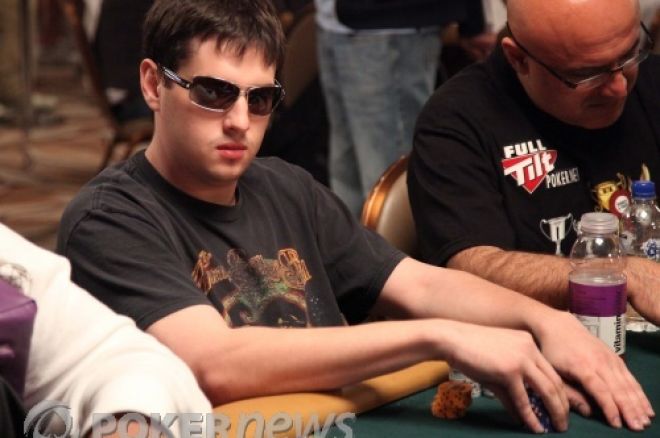 The Borgata Poker Open was introduced to the World Poker Tour schedule way back in Season 2 when the amiable Noli Francisco defeated Charlie Shoten to become the event's first champion. Since then, the event has grown by leaps and bounds, so much so that the past two years' events have set the record for being the largest WPT events ever.
Recent Borgata Poker Opens have featured a $3,500 price tag, but there was a time when it cost a healthy $10,000 to enter, such as in 2006 when 545 players took to the felt. It was a stacked field with players such as Will Failla and Jennifer Tilly making deep runs, though both fell short of the final table in 16th and 15th places respectively.
Speaking of the final table, Mark Newhouse of Chapel Hill, North Carolina, began as the overwhelming chip leader and proceeded to play his way to victory through such opponents as Blaise Ingoglia (sixth - $261,901), Chris Bell (fifth - $314,280), Anthony Argila (fourth - $366,660), David Sklansky (third - $419,040) and Chris McCormack (second - $802,895).
Since his win, Newhouse has remained a figure in the poker world, varying his time between tournaments and cash games.
PokerNews recently caught up with Newhouse, who was kind enough to tell us what he's been up to since winning the WPT Bogata Poker Open.
In 2006 you made a splash in the poker world by winning the WPT Borgata Poker Open. This is a very broad question, but what have you been up to since the big win?
Well, that is a very broad question. I have been playing poker, living the life of a degenerate between Vegas and Los Angeles. Traveled the tournament circuit for a bit and partied in Vegas for a bit. Right now, grinding a lot at the Commerce Casino.
In the 2006 WPT Borgata Poker Open, you navigated a tough field on the way to the final table. Do you have any notable stories or big moments that you'll always have from that event?
I have a few, I went to Atlantic City with the intent of playing cash games and had never played a WPT before this one. Around 5 a.m. the night before the event, my $200/$400 limit hold'em game broke, and, along with two other players from the game, I decided to play a single-table satellite, I won it and didn't sleep before Day 1.
After Day 3, I was playing in a very good $500/$1,000 limit hold'em game and honestly didn't care much about the tournament, I had chips and all my friends were telling me that the tournament is more important and I should go to sleep. In my mind, I thought, "maybe if I get lucky in the event I'll win $20K, but I could win $50K in this game!" Joe Cassidy ended up coming in very drunk and got into an argument with the fish that the game was built around and caused the game to break, so I went to bed.
The biggest, most important hand of my tournament was when there were two tables left. Jennifer Tilly and I were both chip leaders and got involved in a huge pot. I had made it apparent that I had bluffed her in a large pot a few days before, and I feel I have that to thank for her calling in this spot. She opened the hijack and I called the cutoff with
. She had about 1.3 million and I had her covered, as the flop came
. She bet 90K and I called, the turn was a queen, she bet 300K, and I moved in. After tanking for a while, she called me with
, and I now had a massive chip lead over the rest of the field.
From when we got down to 10-handed until we reached the final six, I literally opened every single pot and picked up a lot of chips without seeing flops and managed to go into the final table with over half the chips in play. I remember David Sklansky reached into my stack when I was under the gun one hand, before the cards were dealt, grabbed enough chips for a raise, and said, "You want me to just throw these in for you?"
As I said, I really didn't take the event all that seriously, and didn't take tournaments seriously at all at that time, I was just having fun with it and perhaps that is the reason I was able to do so well. Now I take tournaments much more seriously and try a lot harder and while I've had some decent scores, haven't matched this one yet.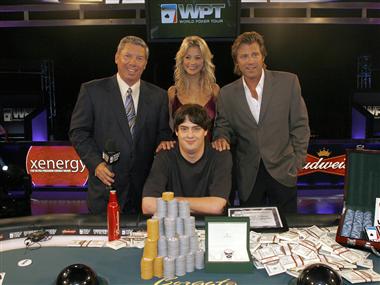 The Borgata Poker Open has exploded in recent years, with field nearly double than when you won. What do you think contributed to the attendance growth?
Well, I think the main factor is simply the buy-in size. It has gone from a $10K to a $3,500, which was a good decision by the Borgata and WPT to make this change in a time when the U.S. economy is down, and they have managed to actually make one tournament bigger, while probably all of their other tournaments have grown much smaller.
Do you still play the Borgata Poker Open? As a former champ, do you feel an obligation to play the event?
I actually haven't been back in a couple of years. I'm mostly sticking to West Coast L.A. and Vegas stuff and not traveling as much for tourneys as I did in the past. I defended the title for, I believe, two years after I won it, then decided I don't really feel like flying to Atlantic City for it anymore. Honestly, the fact that they made it a $3,500, while it has been great for the event, also makes it not really worth traveling for some.
What did you do with the $1,519,020 prize you took home? Make any big purchases or investments?
Hmm...short answer, sort of lost my mind and set it on fire. After the win, I moved into the Commerce, and I made a lot of very poor decisions over the next couple of years.
Right now I am a totally different person than I was then, and I am on the right track. I'm sort of in a rebuilding mode. I have made nearly every mistake you can make in this business and learned from all of them, I am doing my best to do the right things these days and things are going pretty well for me now.
The road to rebuilding is a much longer and slower one than the road of destruction, but with a healthy lifestyle, a hard work ethic, a little discipline, and the experience of past mistakes my goals don't seem all that far away.
You won your WPT event in 2006, which was the peak of the poker boom. Did you gain any notoriety or fame after winning and being on Television?
I suppose I am a well-known name within the poker community, but outside of that, most people on the street wouldn't recognize me as they would Phil Ivey or Daniel Negreanu.
What did your family and friends think of your big win?
They were all very happy to see that I had found success in this business and were supportive.
You relocated to the West Coast after your win? What led to that decision? How do you like living in Las Vegas?
I have lived between L.A. and Vegas since the win, had places in both cities and spend about half my year in one and half in the other. Right now I officially live in Vegas but have actually been in the hotel at the Commerce Casino for about four months or so and will likely be moving back to L.A. after the summer.
I lived in L.A. last year before moving back to Vegas again. Outside of the summer, L.A. is a much better place for poker, but I like living in Vegas better, hence the constant back and forth.
You've continued to play since your big WPT win and have a laundry-list of results. How often do you play poker and what factors do you consider when determining what events to play?
In the last several months, I've been playing poker nearly every day, but it varies. Sometimes I play every day; sometimes I won't play for several weeks. I mostly just stick to tournaments that are in either Vegas or L.A., but if I'm doing well or feel like taking a vacation, I will sometimes travel to Europe or the Bahamas, etc. I would like to make it out to Asia at some point. I don't really see myself doing too much domestic travel for East Coast tournaments any time soon. If I travel for an event, it is more likely that I will travel to a place I want to visit.
What is your proudest poker moment aside from winning the WPT Borgata Poker Open?
Very tough question. I suppose the best answer would just be all that I've learned through my experiences and as much as I've grown as a poker player and as a person over the last few years.
Did you play online poker much before Black Friday?
I've had stretches where I played a lot online. I mostly played high-stakes limit hold'em. I played a lot of online tournaments for a couple of years, mainly because of a backing arrangement. While I was very successful in those (Sunday Million win, a couple of other wins), I really did not enjoy playing them. When I played online, I mostly tried to make big runs playing against all the best players in the world who would be willing to play me at heads-up limit hold'em.
Do you have any money trapped online on either Full Tilt Poker or UB/Absolute?
Luckily, I wasn't playing much online at that time and only had about $700 on Full Tilt. Literally the day before it happened, I bought like $130 on Full Tilt as a favor from a Bellagio dealer who was trying to get rid of it.
You made a deep run in last year's WSOP Main Event, finishing in 182nd place for $47,107. What is it like to go so deep in poker's biggest tournament? How were you eliminated?
I was top 10 in chips at one point in the first level of Day 5 and busted in the second level, so that was not a great feeling. It was the first time I had cashed the Main Event or even made it past Day 2. It really is the greatest tournament of the year and having chips deep in it is a wonderful feeling.
I lost a big pot to the winner, Pius Heinz. The button opened — I believe it was 6K/12K — and he had about 400K. I three-bet the small blind with
and Pius four-bet the big blind. I had well over a million and he had me covered. The button folded and I called. The flop came
, I checked and called his bet. The turn came a
and was checked through. The river was a third
and I decided to fire, made a big bet and was called by
. That was the hand I lost most of my chips on, ended up going broke shipping a short stack over a raise and call with
and getting called by
.
I feel through most of the event I was really playing great poker, I woke up early every day to go to the gym before play. I really took this event very seriously — a much different attitude than I had at the Borgata five years before. I think I did not play as well as I could have on Day 5 and perhaps could have made some different decisions to have a deeper finish.
Will you be playing the WSOP this summer? If so, what events will you play?
I will be playing the WSOP this year. I always say I won't play a whole lot of events, but in the last couple of years, I've played over 20 each. As of right now, I don't plan to play a lot of them, probably just a few of the bigger ones and sort of focus more on cash games, but we'll see how it goes.
If you love poker, be sure to follow us on Twitter and like us on Facebook for all the latest updates on the World Poker Tour.
Executive Editor US, PokerNews Podcast co-host & 2013 WSOP Bracelet Winner.