PokerNews Op-Ed: Ranking the Latest World Champs as Poker Ambassadors — Part II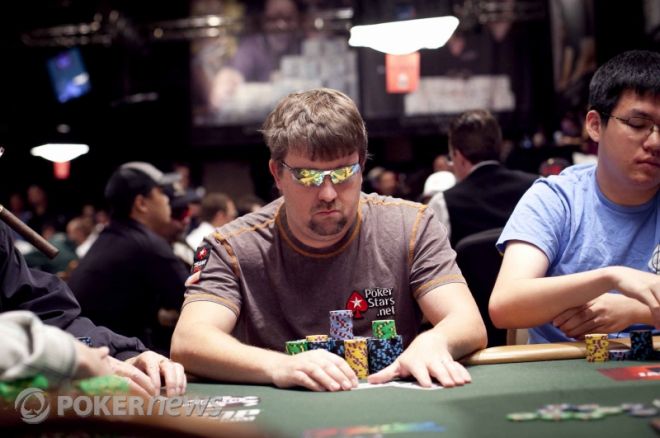 Last week I took the opportunity to establish a set of criteria in the attempt to rank the past eight World Series of Poker Main Event Champions as poker ambassadors. If you haven't done so already, check out Part I for the full story. In the meantime, here is a quick look at the criteria established in that article.
He should cater to the numerous media requests and conducted himself properly while presenting the game in a positive manner.
He travels the poker circuit and attempts to prove to the poker community that he is more than just a one-time luck box.
He puts his winnings to good use, whether that be charity, bankroll management, or securing a future for himself and his family.
He remains relevant in the game after his reign as champion comes to an end.
He is friendly, accessible, and positive when interacting with fans.
By using the above criteria to reflect upon the past world champs, I put together a list ranking the players as poker ambassadors. Those who satisfied the criteria the least, namely Jamie Gold, Jerry Yang, and Joe Cada, were ranked in the eighth, seventh, and sixth spots respectively.
5th - Jonathan Duhamel (2010)
I'm going to keep this one short and sweet. Jonathan Duhamel's time as the World Champ has been limited and he could certainly rise or fall on this list in the coming months. However, I believe he has done a decent job thus far. He was the first Main Event winner from Canada, which resulted in mini-poker boom in that country, and he has embraced that responsibility wholeheartedly.
In addition, most everyone who has met the young Canadian agrees that he is a genuine and amicable guy. Since his win, Duhamel has been on the circuit full time and even notched a first-place finish in the European Poker Tour Deauville High Roller Event for $272,209. He is also active in charity work, having donated $100,000 of his Main Event winnings to a local Montreal charity benefiting children and also participating in the amfAR Charity Poker Tournament at the PokerStars Caribbean Adventure. By all accounts, Duhamel has a bright future in the game.
4th - Peter Eastgate (2008)
Everyone remembers when Peter Eastgate came along and became the youngest Main Event champ ever, wresting the title from none other than Phil Hellmuth. After his win, he immediately agreed to all media requests, limited English and all, signed a deal with PokerStars, and hit the circuit trail. In the year following his big win, he won over $500,000, culminating in a nice title defense, finishing 78th in 2009 WSOP.
In October 2009, Eastgate had his second biggest score, placing second in the EPT London for $843,734. Clearly the young champ was no fluke and just when it seemed as though he would be around for a long time, Eastgate shocked the poker world by announcing his with a retirement in summer 2010. In fact, he proved his point by skipping that year's Main Event. Just like that, one of the best champions in recent memory was gone. Not long after, Eastgate auctioned off his gold championship bracelet to raise money for charity, a decision that was highly criticized but clearly contributes to criteria #3. Fast forward about seven months when Eastgate pulls a Brett Favre by announcing that he is coming out of retirement.
Had Eastgate stayed retired and never played poker again, he surely would have fallen a couple of spots on this list. I'm not a big fan of the retiring-only-to-become-unretired-less-than-a-year-later move. Nonetheless, Eastgate's abilities and charitable actions made it difficult to punish him too severely. It was a close call between Eastgate and Duhamel for the number four spot, but I opted to err on the side of experience. Welcome back, Eastgate.
3rd - Greg Raymer (2004)
On my travels, I've asked various players their thoughts on the 2004 WSOP champ. Galen Hall, who won the PCA this past January, offers his opinion: "From what I hear from the poker community, Greg Raymer is] a great ambassador for the game and a stand-up guy."
I can tell you from experience that Raymer is exactly that, a stand-up guy. Since his big win, Raymer took up poker full time and became one of the game's biggest advocates in Washington D.C. He is always friendly to fans, is a master of mixed games, and had the poker world in disbelief as he went for a title defense in 2005, ultimately finishing in 25th place. Since his Main Event win, Raymer has amassed a respectable $1,789,277 in winnings, not including a WCOOP bracelet on PokerStars. I'll admit that I was among the dumbfounded when PokerStars and Raymer parted ways last month, though I've no doubt he'll land a lucrative deal somewhere else.
Perhaps no one could give "Fossilman" more praise than Chris Tryba, a regular on the WSOP Circuit: "Greg Raymer has been the best by far. He was very high profile in the poker community being a member of TwoPlusTwo and Fargo (I think Fargo is the name) think it's defunct but was a poker group that got together at Foxwoods to play a live series way back in the day, he also had crossover appeal being a lawyer/professional. He is the definition of a class act, and that goes back before his big win."
2nd - Joe Hachem (2005)
Since his big win of $7.5 million in 2005, Joe Hachem has put together quite the résumé including a runner-up finish in a WSOP event and a WPT victory. All told, Hachem has amassed $3,332,376 in winnings between 2006 and 2010 with no less than $100,000 in each of those years, something no one else on this list has accomplished. In addition, Hachem used his Main Event win to springboard into a new profession after he was forced to retire from his chiropractor business back in Australia. Hachem ensured his large family was taken care of back home, before purchasing a house in the United States and hitting the circuit full-time. Clearly, he is the most successful of the past champs.
When applying my criteria to Hachem, I feel he fulfills each one beyond satisfaction. Granted, he has a sort of "Phil Ivey-like" intimidating aura about him, but if fans get through the tough exterior, they'll find a jovial Hachem who is always happy to talk to his fans. He is the "man" when it comes to poker in Australia and is no doubt responsible for the influx of Aussies in the game. Hachem has been around for a long time, and I doubt very much that he'll be going anywhere anytime soon. I could write more on Hachem, but space is limited and his numbers speak for themselves — he is good.
1st - Chris Moneymaker (2003)
I must admit that I was hesitant to put Chris Moneymaker on the top of this list, especially in front of Hachem, and if it wasn't for an impressive performance in January at the PCA Main Event, I doubt I would have. As it happens, Moneymaker had an impressive performance in the aforementioned tournament, finishing 11th out of 1,560 entries for $130,000. Since his win, Moneymaker has amassed only $650,106 in winnings, not very impressive to say the least.
What Moneymaker does have going for him is that he is the man responsible for sparking the poker boom. As such, he will always be relevant and a fan-favorite. People know who Moneymaker is, a fact PokerStars recognizes as they use him as a poster boy for the game. He will always have a sponsorship deal somewhere and will be traveling the circuit. PokerStars Team Pro (Brazil) Maria Mayrinck says it best:
"Best poker ambassador since 2003, I would have to say is Moneymaker. He started the whole poker boom. He made it exciting for someone like me to become very interested in poker. I watched him on ESPN all the way in Brazil and after seeing him with his 'anyone can win' hat, the nines versus ace-queen hand versus Phil Ivey, the Farha call at the final table, his family rooting for him, the story of the $38 satellite he had won on Stars to make it all the way to World Champion. It was a real life Cinderella story. I was in awe of it all and started playing poker the week I saw that. I think the poker boom were 2 factors tied together: Moneymaker + Online Poker at the right place at the right time. If Moneymaker, a really likable, humble, charismatic person, family guy, relatable, funny, etc., hadn't won that year, this boom might've taken much longer to happen, who knows where we would all be right now. The butterfly effect in poker, to me, is really the Moneymaker effect."
Moneymaker satisfies all the criteria, albeit not to the extent of say Raymer and Hachem, but his affect on the game gives him the top spot by default. Moneymaker crashed into the poker world on a massive wave, one he should be able to ride into the foreseeable future.
If you agree or disagree with my list, let me know why in the comments section below.
For all that is PokerNews, be sure to follow us on Twitter and like us on Facebook.