2010 World Series of Poker: Past Champions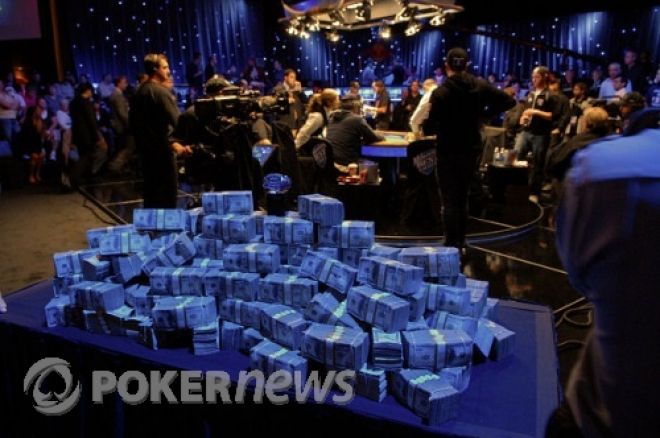 In 2003, the game of poker transformed from a mildly popular recreation to a worldwide craze due to the World Series of Poker Main Event. Like any other history-making phenomenon, the 2003 Main Event brought together a combination of potent catalysts that, when mixed together, produced a creation so extraordinary that its effects changed the way we thought about the game entirely. It is uncertain what the poker industry would look like without increased coverage from ESPN and a guy named Moneymaker, but what is clear is that the impact of the 2003 Main Event was far-reaching and can still be seen today.
Let's now take a look back at the most recent champions, starting with Mr. Moneymaker, and analyze both their impact and what they've done since.
2003 - Chris Moneymaker, $2,500,000
"This is beyond fairytale, it's inconceivable."
Norman Chad has never spoken truer words than these, which described Chris Moneymaker's improbable victory in the 2003 Main Event. Moneymaker, an accountant at the time, parlayed a $40 satellite entry into $2,500,000 changing his life and the future of the WSOP forever. The now Team PokerStars Pro navigated through a field of 839 runners and bested three-time bracelet winner Sammy Farha in a memorable heads up match to top it all off. Less than a year after his Main Event victory, Moneymaker won $200,000 for coming in second at the 2004 WPT Bay 101 Shooting Star event, but his results since have been less than stellar. He's only recorded three WSOP cashes, none of which came in the Main Event, and has failed to land anything higher than a five-figure score. His critics seem to heavily outweigh his fans, but the fact still remains that he played a hand in an epic metamorphosis that would be near impossible to replicate. Only one man could produce the "Moneymaker Effect," so rather than targeting him every time he fails to succeed we should instead thank him for helping the game of poker become what it is today.
2004 – Greg Raymer, $5,000,000
Team PokerStars Pro Greg Raymer was the first Main Event champion directly affected by the poker boom. In 2004 the field more than tripled to 2,576 players and the first-place prize doubled from $2,500,000 to a cool $5,000,000. Raymer bested a tough final table that included bracelet winners David Williams (2nd), Josh Arieh (3rd), Dan Harrington (4th) and Al Krux (6th). Like Moneymaker he did not play poker for a living, instead he practiced law and visited the felt for recreation. The 2004 Main Event wasn't Raymer's first cash however, that came in 2001 where he finished 12th in a $1,500 Omaha Hi-low Split-8 or Better event for $5,345. Unlike Moneymaker, Raymer has cemented himself as one of the top tournament players in the world and since his Main Event victory he's cashed 12 times at the WSOP - reaching five final tables – and won a World Championship of Online Poker (WCOOP) bracelet, taking down a pot-limit omaha with rebuys tournament for $168,362. Raymer is one of the most influential Main Event winners because he embraces being an ambassador for the game he loves. He is very outspoken when it comes to poker and politics and is one of the strongest voices within the Poker Player's Alliance.
2005 – Joe Hachem, $7,500,000
In 2005 the Main Event attracted 5,619 runners, but eventually they all passed the sugar to Australian Joe Hachem. Hachem's Aussie followers pioneered today's cheering section with their flag waiving, loud cheering and of course their chants of, "Aussie! Aussie! Aussie! Oi! Oi! Oi!" He was short entering the final table, but outlasted the likes of Mike Matusow and John "Tex" Barch and defeated another amateur; Steve Dannenmann. Hachem has reached two WSOP final tables – finishing 2nd and 4th – since and took down 2006 WPT Five Diamond World Poker Classic for $2,207,575. With his lifetime earnings over $10 million, Hachem not only followed Raymer's footsteps in winning the Main Event and having continued success, but he too welcomes the idea of being a figurehead for poker. He has played an instrumental role in the Australian poker boom especially concerning the Aussie Millions Poker Championship.
2006 – Jamie Gold, $12,000,000
Jamie Gold, owner of the second most unbelievable surname in this group, captured the Main Event title in its pinnacle year of 2006 conquering a mind-boggling field of 8,773 runners. Throughout the tournament, the talent agent used his Hollywood skills to manipulate and bamboozle his opponents, turning himself into a very polarizing figure. Let's face it, you either love Gold or you hate him. Some of his antics were slightly out of line, particularly the "top-top" speech. Nevertheless Gold dominated the tournament, seizing the chip lead early in the day and never looking back. The final table included very tough players like Paul Wasicka (2nd), Michael Binger (3rd) and Allen Cunningham (4th), but no one was able to stop the force that was Jamie Gold. Unlike Raymer and Hachem, Gold did not step into the role of poker ambassador and was even sued by a Crispin Leyser who claimed they staked him (the ordeal was settled out of court for an unknown price). Likewise, he never considered becoming a professional poker player and returned to Hollywood to continue to work in television production. Gold still returns to the WSOP every year and gets some face time, but you won't find him on the circuit or on the felt very often.
2007 – Jerry Yang, $8,250,000
Perhaps the most intriguing champion on this list, Jerry Yang won a $225 satellite into the WSOP Main Event then topped 6,358 opponents and banked $8,250,000. Yang's crazy play during the final table was jaw dropping and yet he claims he used his psychology expertise to study his opponents and act accordingly. In the end it got the job done and it changed Yang's life forever, but it might have changed the poker world for the worse. For the fifth straight year a non-pro had won poker's biggest event, but this time it was almost too bizarre for it to be enamored. Yang then proceeded to follow Gold's path and has done little to nothing in his role of poker ambassador. He has added three small WSOP cashes to his poker resume, but other than the few seconds of TV time he receives during yearly WSOP episodes on ESPN, Yang has virtually disappeared from the poker world after winning its top prize.
2008 - Peter Eastgate, $9,152,416
Speaking of disappearing…
In 2008 we were introduced to our first November Nine and at 22 years-old Peter Eastgate became the youngest person to win the Main Event. Eastgate was a silent assassin at the final table and eventually outlasted Ivan Demidov after a 104-hand heads-up marathon earning him a whopping $9,152,416. The following year Eastgate impressed many by finishing 78th in the Main Event, but shockingly, before the 2010 WSOP, he announced that he was quitting poker. Indeed he did not play a single event this year, including the Main Event, and instead traveled to South Africa for the 2010 FIFA World Cup. It is unknown when Eastgate will return to poker, if ever, so as it stands his 2008 Main Event win may be the greatest hit-and-run in history.
2009 – Joe Cada, $8,547,042
Speaking of the youngest champion…
Eastgate's record was only a year young when Joe Cada snatched it from him by winning the 2009 WSOP Main Event. Cada, supported by dozens of people sporting Michigan-yellow shirts with his name on them, was very fortunate in a couple of sports and found a way to outlast even the most feared player in the game; Phil Ivey. In the end Cada was heads up with world famous logger Darvin Moon in a match where Moon chose to race for the bracelet holding queen-jack and lost to Cada's wired nines. Cada took some flack for the beats he placed on his other opponents, but after winning the tournament he ended the trend of ignoring the role of poker ambassador. Although he bricked every event he played at the 2010 WSOP, Cada played a full schedule while also doing his part to reach out the fans by signing autographs or simply exchanging friendly "hellos." Hopefully the next champion will follow in Cada's footsteps and perhaps even immerse himself further in the role as poker's newest ambassador.