2010 World Series of Poker Day 39: The Main Event Gets Started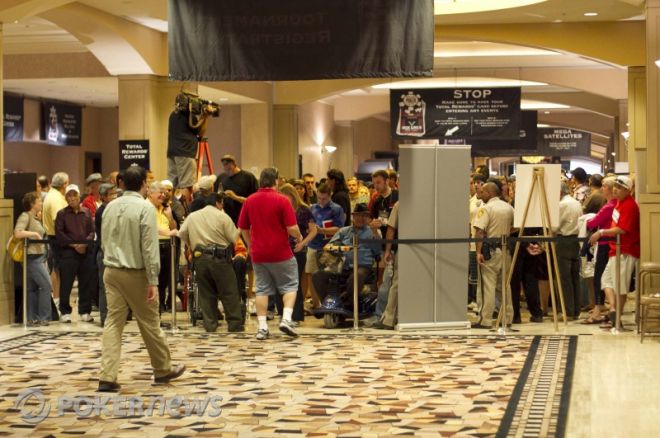 Just over 1,000 players, 1,125 to be exact, came to the Rio to sit down for Day 1a of the 2010 World Series of Poker Main Event Monday. After four-and-a-half levels of play, 819 players remained and Corwin Cole leads the Day 1a pack with 228,200. Dwyen Ringbauer finished the day as one of the chip leaders as well after tangling with Kevin McGowan and Tyler Smith, two guys that were on top of the chip leaderboard throughout a portion of the day.
Ringbauer accumulated a portion of his chips when he opened with a raise from the cut-off, McGowan made the call from the button and Smith added 5,100 from the big blind. Ringbauer and McGowan made the call to see a flop of
. Smith bet 11,300, Ringbauer called and McGowan gave up his hand before the dealer opened the
on the turn. Smith checked, Ringbauer bet 15,000 and Smith called to see the river, the
. From there both players checked and turned over their hands. Smith held two red tens but it was Ringbauger's
that made the best hand and he raked in the pot and added to his stack.
Michael "The Grinder" Mizrachi sits just behind Ringbauer in the fourth spot on the leaderboard. Just before the dinner break Mizrachi's kings bested Mario Doria's tens on a
board to put him at 81,000. "The Grinder" continued to add to his chip stack throughout the remainder of the night, keeping a low profile. He will take a 142,650 stack into Day 2. Other large stacks at the end of the day belonged to Chris Moneymaker, Corwin Cole, Jakob Karlsson and Barry Shulman, who each finished with more than 100,000 in chips.
Fatima Moreira de Melo, Thierry Van den Berg, Steve Wong, Vitaly Lunkin, Lacey Jones, Matthew Graham, Vinny Vinh, Sandra Naujoks, Lee Watkinson and Abe Mosseri also lasted through Day 1 but will return to stacks smaller than 100,000 when Day 2 play begins.
Greg Raymer, 2004 Main Event champion, will not join the ranks of two-time Main Event winners as he was eliminated very early in the day. Victor Ramdin, Isaac Haxton, Mike Caro, Jimmy Fricke and Nikolay Evdakov also saw their Main Event hopes dashed and will not be back for Day 2.
Event #54 and Event #56
Even though "The Big Show" was going on just down the hall from the Pavilion Room in the Amazon Room, two final tables were extended into the fourth day and needed to be played out so that bracelets #54 and #56 could find homes. In Event #54: $1,000 No-Limit Hold'em, it was Dutch player Marcel Vonk who bested the 3,844 player field to take home a $570,960 pay day.
Event #56: $2,500 No-Limit Hold'em, saw 1,941 entries take their seats in hopes of taking away the lion's share of the $4,466,600 prize pool that was generated. Tomer Berda would be the one clasping the gold bracelet on his wrist and taking home $825,976 at the end of the night, after besting Vladimir Kochelaevskiy heads up.
On Tap
Another Day 1 for the WSOP Main Event, this time Day 1b. Everything kicks off at 12 p.m. Tuesday.
Don't miss a second of the action! Follow our WSOP live reporting team here at PokerNews or on our new iPhone app, and as always, on Twitter.