42nd Street: A Weekly Look at the Broadway-Worthy Drama of the 42nd WSOP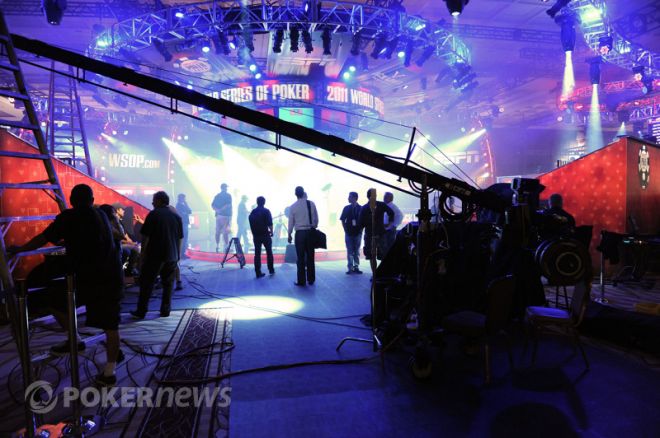 Welcome to the 42nd Annual World Series of Poker - two months of high drama set on poker's biggest stage at the fabulous Rio. Between the posters on the wall of past leading men, the final table stage designed for theater-in-the-round, and the way-out-of-the-closet Chippendales down the hall, it's a regular poker musical that would make 42nd Street proud. This summer we'll bring you a weekly rundown of the biggest stories, most-botched choreography, out-of-control catfights, and award-winning performances from curtains up to final bows at the 2011 WSOP. Cue "We're in the money!" and let the show begin!
Packed House
Some were worried that when the lights went down on the big show this year, attendance would be a little thin. The first five events, however, were full houses. People were badly in need of their poker fixes and couldn't wait to take their seats in a tournament. The first open event other than the $25k Heads-Up, a $1,500 Omaha 8 or Better, reached record numbers, making it the largest live O8 tournament ever. And a giant 865 players ponied up $5k to play the first big no-limit event of the year. We'll see if the registration trend holds steady or if bankroll issues slow down participation as the Series continues.
Drama, Drama, Drama
Every year, players call their shots and risk the last of their bankrolls chasing a bracelet and big score. But this year, walk into the Rio and you're hit by a wall of urgency unlike anything before. Nearly every player you talk to has the same post-Black Friday plan: hit the big time in the next six weeks — or else. There's usually an empty laugh at the end of such a pronouncement, but most players aren't joking. This is do-or-die time. It will make the few success stories this summer seem that much more exciting and the many more near-misses seem extra heartbreaking. And the real pain won't start until after the last bust out in July, when thousands of grinders go home to debate their futures in poker, in the U.S. and beyond. WSOP 2011 has dramatic coda written all over it.
The Ivey's on the Wall
Phil Ivey made his grand entrance several hours into Day 1 without so much as setting foot on stage. Hat's off to a character so big he can make it clear he's the star of the show without needing to show up. The problem is we're not quite sure whether he's the hero or the anti-hero yet. His amateurish press release about defending the honor of jilted Full Tilt players made him an instant symbol of all that is just and right in the world. But it took less than 24 hours of reflection (and bitter counter press releases) to make it clear there was more to the story than St. Phil saving the day.
Full Tilt is certainly not a skillful-enough opponent to cast Ivey as a full-on villain, but it could put enough pressure on him that he may actually need to show his face to regain the halo he was sure would be his. Ivey's stunt brought the WSOP to the big time, taking an off-off-Broadway production straight to the main stage on ESPN. But when the final curtain comes down, even if the general public wants Ivey Wheaties, we may not thank him for calling attention to poker as a risky operation in need of a savior.
Dramatic Duets
Heads-up matches were supposed to be the big story of the WSOP's first week. There is nothing more poetically and visually dramatic than two people putting up a year or two of rent money (for most of us mortals) to test their poker skill one-on-one. The $25k Heads-Up Championship was a brilliant first open event. Enter Phil Ivey (or rather, don't enter, Phil Ivey) and suddenly no one even remembered there was a championship event going on. Heads-up has a right to be annoyed. Its celebrity rider didn't address getting pushed below top billing. And the made-for-TV WSOP Grudge Matches sunk even lower, the scripted drama failing to interest poker fans nearly as much as the high-stakes reality-TV battle unfolding between Ivey and Full Tilt.
Today is comeback time for Heads-Up's status as a main character. It gets first crack as a real bracelet event live streaming on ESPN. And there are some great matches that should take back a slice of the attention. In the semi-finals, it's long-overdue Eric Froehlich looking for a third bracelet and some renewed respect up against wunderkind Yevgeniy Timoshenko looking for another high-buy-in victory. And in the other match, it's will he or won't he (wear a shirt) star Gus Hansen against emo British phenomenon Jake Cody who has a shot at poker's triple crown. Please tell me this gets a little attention in between the Ivey, Ivey, Ivey.
Intermission
So far it appears that World Series staff plan to stick to their new 10-level rule. That means no event will play more then 10 levels a day. The Casino Employee's event, the only tournament to reach a final table so far, stopped for the night with four players remaining and came back the next day to crown a winner. While it's nice for spectators and media to be guaranteed sleep every night, the new format kills the drama of the final table. The prestige of making it to the final felt has melted away, as has the skill needed to manipulate game-flow to your advantage from nine players all the way down to heads up.
Bracelet events used to run long into the night on play-down day, finishing at four or five in the morning when a final table was finally reached. Then the remaining players had a night (or morning) to prepare for their moment in the spotlight and think about their solo choreography. They came back the next day with Rocky music in their ears as they made a grand entrance. And a coherent story built over the next 5, 10 or 15 hours as they battled to a winner. But it seems the final table is a thing of the past. This playwright suggests that if the WSOP is going to add an extra day to every tournament anyway, make Day 3 the play-down day and stop at the final table. Let everyone have their dramatic entrance and curtain call with a distinct final table act on Day 4.
Be sure to follow all the action from the 2011 World Series of Poker on our Live Reporting Page and follow us on Twitter for up-to-the-minute news.