The Ivey Effect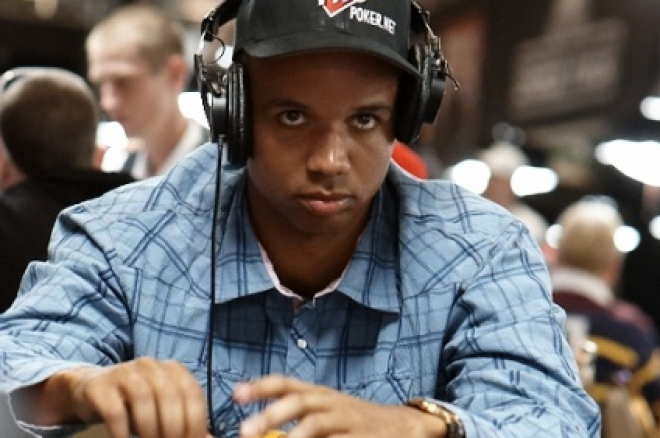 "Michael Jordan is in Paris. That's better than the Pope. It's God in person.''
That was how the front-page story in the France-Soir newspaper began when the Chicago Bulls arrived in Paris, France, for the 1997 McDonald's Championship. You see, Michael Jordan was one of those very few elite athletes that people tended to view as more than human. Here's how Art Thiel put it in his 2001 article Michael Jordan: Modern-Day Icon:
"Jordan was among the handful of sports figures of the 20th century whose virtuosity and personality was so transcendent that he drew millions who otherwise would have no particular knowledge or affinity for the exercise. Jordan's predecessor in that regard was Muhammad Ali, and before him Joe DiMaggio. Before DiMaggio, there was Babe Ruth. Following Jordan is golfer Tiger Woods."
When it comes to poker, there is one man who is regarded as our Michael Jordan. That man is none other than Phil Ivey. Thiel began his article by discussing how Jordan is commonly used as the universal measuring device for greatness. The phrase, "He/she is the Michael Jordan of…" is widely used to describe a person who is the greatest at their craft. When explaining to those who don't know, Ivey is often regarded as "The Michael Jordan of poker," but for those of us so entwined within the poker web, we use a different phrase: "He/she is the Phil Ivey of…"
You see, what Ivey brings to the poker world can only be compared to what Jordan brought to the basketball world or what Woods brings to the golf world. There's an unparalleled greatness that separates him from the rest of the pack. Ask any poker player who the best is and their response will most certainly be Ivey.
Ivey epitomizes the character strength of tenacity and determination, even though you may not see it on the surface. Ivey isn't a flamboyant personality; he's quiet and calculated, but nevertheless, everyone knows when Ivey walks into the room. Even with such a calm and quiet demeanor, Ivey has colossal drive to be the best. It's the type of drive that never allows him to be defeated. Ask anyone who has brought a challenge to Ivey at the table. Once challenged by an opponent, the fury begins and Ivey will look to dismantle that player in any way, shape or form on the felt.
When Ivey comes to play, there's no one better in the game. Period. There's also the fact that he makes opponents quiver when they are pitted against him at the table. Players will lay down sets against him or they'll somehow manage to talk themselves into giving pot after pot to Ivey. Maybe it's his stare, which is known to burn through the souls of players and make them surrender at will. Sure, Ivey makes his mistakes, but they seem to be rare. Even Jordan missed a free throw every once in a while, and Tiger shanked a tee shot out of bounds.
Aside from his ability to make his opponents completely shut down and become puppets in his game, Ivey brings a few more talents to the table that no one else does. Take a look at an instance we reported from the 2009 World Series of Poker Main Event, the event Ivey eventually went on to final-table.
"According to one member of the ESPN camera crew, Phil Ivey's table (Table 90 in the Orange Section) was supposed to be the feature table to start the day. Everyone at the table was not only going to get a chance to play at the feature table with one of the greatest players in the game, but they'd also be lined up to receive about $10,000 in sponsorship money from various companies. Ivey didn't want to be seated at the feature table and he got his wish, while everyone at the table was pretty irritated at this decision."
No one else in poker has the ability to tell ESPN that they don't want to be at the feature table. Ivey showed up late that day, tired and wanting to get some food at his table while he began play. ESPN gave in to his wishes and without a fight, something it would most likely not do for anyone else.
Another thing you'll notice about Ivey if you've ever been around a tournament as the players are about to finish a day and bag up their chips is that Ivey is already out the door — the back door. Ivey doesn't walk through the normal hallways that all the other players do. His escape routes are well-planned ahead of time so he can avoid the crowds. Once again, this is a privilege that only a few select players receive, and Ivey is definitely at the top of that list. He has been seen time and again walking through the back hallways of The Rio during the heart of the WSOP on breaks and at the end of days. Many players are scolded for trying to do the same thing.
After you've noticed Ivey slipping out the back door, you'll also see that his chips are still on the table and not yet in a bag. Then you'll see a floor man come over and count Ivey's chips, fill out his bag and seal it. This is very common, and Ivey always thanks the tournament staff on his way out the door. If any regular player tried to ask the floor to bag up the chips, the floor would probably look at them like he or she was crazy.
As if that's not enough, there was the circumstance this past week in Cyprus for the Full Tilt Poker Merit Cyprus Classic. The $25,000 High Roller Freeze-Out was scheduled to kick off at 4 p.m., but was delayed an hour. The reason? What we were told was "to wait for Ivey to get here." This doesn't seem like a big deal because it's understandable that the tournament staff would want to cater to the biggest name in the game and allow him to get a fresh start, but no one else would have gotten such an adjustment. Tournament directors like to start on time, but this time the exception was made — and that exception was Ivey.
Also, look at when Ivey busted from the 2009 WSOP final table. He left the stage and declined to be interviewed. Any other player would have been obligated to do the interview and felt compelled to obey, but Ivey didn't want to dwell on his bustout and would do the interview at a different time.
Those are just a few of the reason how Ivey affects things that no one else does. Whether or not Ivey wants to be the one everyone's looking at, he is. He influences the players, the media and the entire poker community in ways that no other player has ever done — or will do for that matter. The closest thing to Ivey right now would have to be Tom "durrrr" Dwan, who has somewhat of cult following stemming from the online world. Even with all the online minds that worship Dwan, though, Ivey still has more people railing him when he fires up the virtual felt.
Furthermore, the question can be posed: "What would the poker world be without Phil Ivey?" Dwan probably wouldn't be who he is, and the poker world surely wouldn't be the same. Ask any poker player, even Dwan, they'll surely list numerous ways in which they idolize Ivey or how he has shaped their games. He's the benchmark.
Just recently, ARIA Resort & Casino at CityCenter opened "The Ivey Room". Besides Bobby's Room at the Bellagio named after poker great Bobby Baldwin, no other player in the modern poker era has a room with his or her name attached to it, let alone having a top casino and resort facility knocking at your door to name its exclusive one-table high-limit poker room after you. Doyle Brunson may have an online site that uses his name for branding, but even Ivey has multiple "rooms" on Full Tilt with his name on them.
Often we look back at a person post career, whether it is a political icon, a religious figure or an athlete. With Ivey, it's here and now. He holds plenty of titles, has broken records and won millions upon millions. There isn't a more recognizable face in the game. Many players are synonymous with the game of poker, but Ivey portrays the lifestyle of it all. Hands down, there's never been someone quite like Phil Ivey in poker. He draws comparisons only to those outside his craft who have become icons of their own: Jordan, Woods, Ruth, and Ali. It's not a matter of who we're comparing Ivey to, it's a matter of who compares to Ivey. Right now, there may be people that have similarities to Ivey, but in the end, no one comes close to being Ivey.
Follow us on Twitter for up-to-the-minute news.
Play with Phil Ivey at Full Tilt Poker