The Ivey Room to Open this Weekend at Aria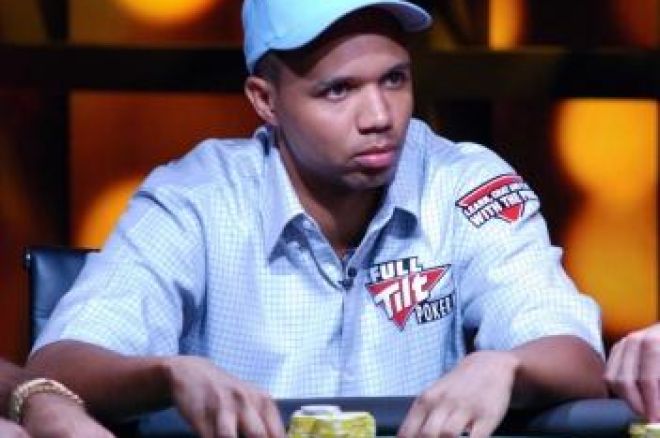 Tomorrow night, the ARIA Resort & Casino at CityCenter will officially unveil its exclusive one-table high-limit poker room. Named for the man his peers deem the best all-around poker player in the world, "The Ivey Room" will open May 22nd with an invitation-only $1 million freeroll in which VIP players will have a shot at a $250,000 first-place prize along with a $100,000 bonus for eliminating the room's namesake, Phil Ivey. The winner will also earn an opportunity to play Ivey heads-up for an additional $250,000.
The Ivey Room provides high rollers with direct access to the cashier's cage, 24-hour table-side dining, and a 42-inch flat-screen television ― essential for sweating all those sports bets. The cage has 480 safe-deposit boxes available so your roll will always be safe.
Ivey was flattered when ARIA President and COO Bill McBeath asked him to lend his name to the room.
"I am honored that Bill and the entire team at ARIA have decided to place my name on their one-table high-limit room. With its recent opening in December, ARIA has established itself as a leader in the gaming industry and I look forward to playing at ARIA's Poker Room soon," Ivey said.
By courting Ivey and convincing him to lend his name to its high-stakes room, Aria is making a very public play for "The Big Game," which is currently stationed in Bobby's Room at Bellagio. The Big Game, however, has always moved around over the years. It has been played at Sam's Town, the Horseshoe, and the Four Queens. For most of the '80s the Mirage hosted the Big Game, and when Bellagio opened in 1998, it made it's home there. Named for Bellagio owner Bobby Baldwin, Bobby's Room opened in 2004 after the post-boom expansion of the Bellagio poker room. Hundreds of millions of dollars have changed hands within its walls, a nice chunk of that loot landing in Ivey's pocket as he worked his way from cash-game grinder to international celebrity.
This is certainly not the first time a Las Vegas casino has sought out a "star" player to endorse a poker room. When the Wynn opened in 2005, it signed Daniel Negreanu as its poker ambassador, and he hosted a series of high-profile heads-up matches in which he took on anyone at any game for $500,000. In 2007, Planet Hollywood signed Michael "The Grinder" Mizrachi as its "in-house poker celebrity." Both of those casino-endorser relationships, however, turned out to be short-lived.
In many ways, the opening of the Ivey Room also symbolizes a generational changing-of-the-guard when it comes to high-stakes cash games. It's not the Brunson Room or the Chan Room. Instead of functioning as homage to poker's past, it's named for the biggest rock star in today's game. The Big Game itself is changing. Although it's often filled with many of the same well-known players of a decade ago, such as Doyle Brunson, David Grey, and Jennifer Harman, the Big Game is increasingly becoming a younger player's game, with players such as Tom Dwan, Patrik Antonius, and Ilari "Ziigmund" Sahamies spicing up the action.
The Big Game is always at its biggest during the World Series of Poker, and this summer will be the real proving ground for the Ivey Room. During last year's WSOP, the stakes were higher than anyone had ever seen before, hitting a zenith over a few days when $20,000/$40,000 limit games and $2,000/$4,000 pot-limit Omaha were running. If Ivey moves his cash-game play exclusively over to ARIA during the WSOP, at least some of the nosebleed-stakes crowd is sure to follow. It'll be interesting to see how Bobby's Room and the Ivey Room coexist if both rooms can sustain traffic or if a proverbial line in the Nevada sand is drawn between the two. It will certainly be a battle for player loyalty on the part of the casinos, so by opening the Ivey Room with a $1,000,000 freeroll, the ARIA is throwing some serious coin behind recruiting high rollers. Bellagio managers should be quaking in their boots just a little; they're already facing steeply declining tournament numbers. Last month's $25,000 World Poker Tour World Championships drew fewer than 200 players and the upcoming WPT Bellagio Cup VI series has drastically cut the buy-ins for the schedule preliminary events, keeping them at a tourist-friendly $1,000.
Will high-stakes players say "there's no place like home" and stick around Bobby's Room or will they follow Ivey across the street to ARIA? We should have our answer in a few weeks as the World Series of Poker gets ready to roll into town.
Are you following us on Twitter yet? Well, why not?